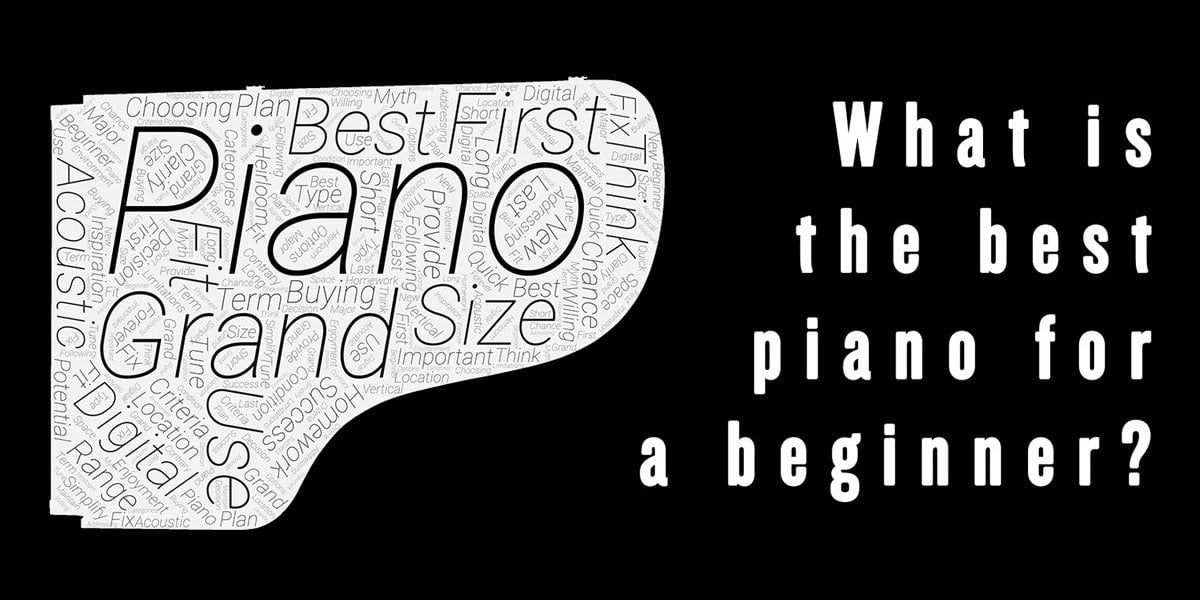 What is the best piano for a beginner in 2023?
M.Steinert & Sons is often asked, "What is the best piano for a beginner?"
Vivian Handis, piano teacher, piano expert and retired team member of M. Steinert & Sons contributed material for this article. Vivian is known to "not hold back" in her conviction that the piano makes a difference, and takes great pride in having served many hundreds of families and pianists at Steinert's over the years.
This popular article has been updated for 2023.
To answer this question, it is first very important to understand that (at any level of proficiency), the instrument is the musician's "tool."
Most of us know that in any professional or recreational endeavor, a better tool increases one's chances for satisfaction and success.
A quality acoustic or digital piano, in essence, partners with the student and teacher to implement instruction, supports effective practice between lessons and awakens the artist within.
The instrument, hands down, makes a significant difference. Without a proper instrument, the learning process is compromised from Lesson One.
Ultimately, the best piano for a beginner is the best quality piano one can afford.
There are a number of best piano candidates and paths to choose from that lead to inspiration. Once understood, the following question is where the journey really begins.
Which piano, and which piano path is the best fit for you and/or your beginner?
Creating the ideal environment for a beginner's piano study.
Consider that a student typically meets with their teacher for a piano lesson (in a studio or school) once weekly, anywhere from 30-60 minutes. In most cases, the student will practice at home during the week between lessons. If the teacher travels to the student, regular instruction may rely exclusively on the piano in the home.
As a result of the current pandemic, remote piano lessons have become increasingly popular, making it even more challenging for teachers and students to create the ideal environment for piano study. Restated, without a proper instrument, the learning process is compromised from Lesson One.
Teacher, Student, AND Instrument – Keys to Success
Many well-intended parents (who may, or may not have ever played an instrument) seek out the finest and most compatible piano teacher for their child. They are willing to pay dearly for quality instruction, which IS worth every dollar of tuition.
Unfortunately, too many of these same parents do not think it is of equal importance to invest in the piano, or "tool" that is the best fit to implement the teacher's instruction, support effective practice between lessons, awaken artistry, ignite inspiration … help actualize their child's potential.
What happens when a teacher cannot effectively teach with the instrument at hand?
What is the outcome when a student cannot read music with accurate translation to the keyboard because they do not have the correct 88 key orientation? Do expression and musicality have a chance when a piano or keyboard cannot express a range of dynamics, sound a pleasing tone, or help develop a budding pianist's technique and discerning ear?
Investing in Musical Success
Considering a child's formative years … this is time we do not get back. What we may get back is the opportunity to begin again, as I experience with adult learners either coming back to piano, or fulfilling a lifelong dream of learning how to play.
A Powerful Message: Your music study is important and worthy
An adult beginner can choose which piano path offers the best fit … a child, however, is completely dependent upon the instrument chosen by a parent or guardian. Children receive a beautiful and powerful message, unspoken, when the best piano a family can afford is invested in, on their behalf.
Whether it is a beginner's first piano or an upgrade at any stage of a pianist's development, the message is the same: Your music study is important and worthy. I/We value, respect, and support you and your hard work, as well as your teacher's hard work. I/We believe in you.
Things to consider when buying your first piano
There is no "one size fits all" when it comes to a first piano, but there are a number of paths for choosing a beginner's best piano fit. First, a few minutes of homework will provide you with the best chance of success, inspiration, and enjoyment!
1-Think about the following criteria and which are important to YOU?
Addressing and thinking about these will clarify and simplify your piano decision.
2-Term of use: Is it a short-range or long-range piano plan?
Are you thinking "quick fix" or a potential heirloom?
3-Type: The Major Categories of pianos:
Do you know about these? Grand Acoustic / Upright Acoustic / Digital
4-Condition: New or used?
Contrary to myth, pianos don't last forever - but sometimes used makes sense.
5-Your Environment and Space limitations:
Are you willing to tune and maintain an acoustic piano? Are there options for the location of the piano? What size and location combo is best?
6-Commitment and timing of ownership:
Will it make sense to rent, purchase, or finance?
7-Features:
Which of these statements might apply?: Touch and tone is the highest priority / Technology is a priority / Practicing with headphones a must
8-Assistance:
Know whether your teacher or a technician is able or willing to assist with the selection process.
9-Warranty:
What level of purchase security are you looking for? Sample warranty terms include Manufacturer's New, a Certified-Used, or a 90-day warranty.
10-Case Design and Finish:
Will the piano be featured in the room, somewhat important, or 'just there'.
11-Investment Range:
The realistic range of investment you might consider today with an eye towards musical growth.
See our article on what does a piano cost for more information on pricing and cost ranges.
Sometimes, you have no idea what is important at this point (that's ok too, we can help!)
First piano options at M. Steinert & Sons
Answers to the questions above may lead anywhere from the purchase of an entry-level Roland digital, to a quality acoustic rental at just over $100 per month, to a Steinway Spirio | r at well over $100,000. The range is truly that wide. Most importantly, if the piano fit is right, the goal of VALUE has been achieved, to provide the best quality affordable piano for a beginner's success, inspiration, and enjoyment.
Picks and Paths: some 2023 piano recommendations for beginners
1) EZ Start rental
Offers flexibility for folks not ready to purchase or who prefer a step-by-step longer-range piano plan with a solid quality acoustic piano. Up to 12 months of rent can be applied toward purchase. Credit approval is required, with arranged automatic deduction payments. See rental page.
2) Digital Purchase
Offers lower purchase price. Never needs to be tuned. Receive 100% of your purchase price as trade value towards any piano of double value for up to 5 years. Roland currently offers desirable interest-free financing for 12 months. Scholarship or value certificate option with school or teacher affiliate on a new digital purchase.
Picks: HP702, HP704 for child/teen/adult. HP704 offers outstanding value over time and is our best seller with state-of-the-art touch and tone, 10-year manufacturer's warranty parts + labor, and piano essentials kit. A student will not outgrow this model quickly. Prices range from low $2K to mid $3K exclusive of tax and delivery.
3) Acoustic Piano Purchase (Steinway, Steinway designed Boston, Essex, Other)
This collection of pianos includes many options in new/used/rental return/trade-in/ and consignment upright and grand pianos. I advise folks if they are stretching their budget to afford a Steinway-designed Essex, it is a wonderful choice. With a Steinway-designed piano, they will benefit from longer sustain, a smooth key action, and a lively colorful tone.
If one can afford a Boston for a beginner, it is my consistent recommendation. Boston is the closest relative to Steinway and offers exceptional value at its price point. You may stay with your Boston for several years, or as I have experienced with many Boston owners, trade up to a larger Boston!
With Essex and Boston, you will receive 100% of your purchase price as trade towards any piano of double value for up to 5 years. Also, any piano, new or used, acoustic or digital, purchased from M.Steinert & Sons receives 100% of the original purchase price for the life of the original purchaser towards any new Steinway & Sons piano of greater value. All pianos come with a warranty: New, Certified, or Used.
Vivian worked with folks who chose a Steinway from the start for their child's music journey, or as adults, are coming back to music (often after decades) to invest in themselves, and in the piano of their highest aspiration. If you are interested in exploring the full Steinway family please visit our pianos as well as the used piano listings. All pianos on our website include pictures, video, commentary and text.
Here are some of the favorite models for beginners. Costs below reflect 2023 pricing. Feel free to inquire regarding current promotions. Also, please ask if we have any rental returns or used inventory. Essex upright: EUP108 - $7,200 plus tax and delivery. Essex grand: EGP173 - $20,900 plus tax and delivery. Boston upright: UP120S PEII ebony polish - $9,800 plus tax and delivery.
Also, the Boston grand: GP156 PEII - $25,400 plus tax and delivery.
Let us help when you're ready
If you embrace these ideas and answer the questions above, we are confident that it will be well worth the self-discovery you will experience on your piano journey! We believe you will be delighted by how efficiently we can guide you to find your best fits, and by how generous we are with our time to do a "deep dive" into any and all models of interest.
And, if we do not have the right piano for you … we will still help! M. Steinert & Sons has adapted to historical events since 1860 and continues to create new opportunities for supporting pianists regardless of where they buy. As we celebrate 160 years, there has never been a better time to welcome a piano home. We look forward to serving you!
Check out our Free Piano Buyer's Guide
We introduced our new PIANO BUYERS GUIDE to help you learn about the amazing world of pianos.