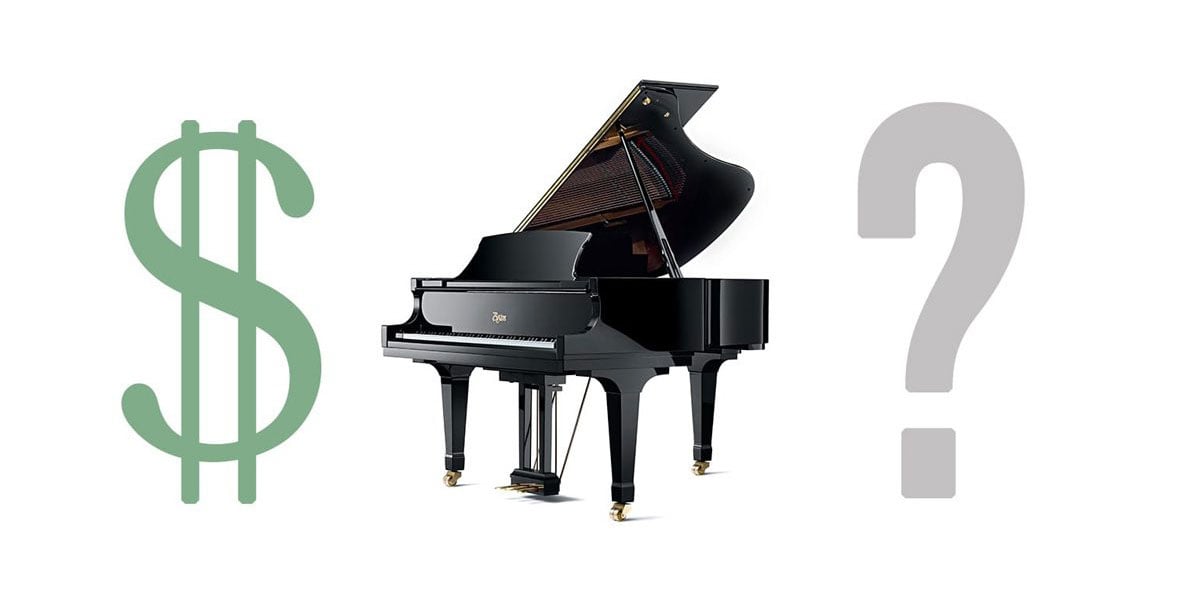 What Does a Piano Cost?
updated for 2023, by Brendan Murphy, President M. Steinert & Sons
---
So, your child seems musical. All those studies you've read about music and brain development are starting to resonate. The piano lessons seem to be sticking. Practicing is one of the only times of day you see him/her calmed, focused, and engaged. The piano teacher is saying the old keyboard is not cutting it.
Or that old piano you got for free from the neighbor is not sounding too good. (I thought it only needed a tuning…?) The piano technician refuses to work on the piano, saying it is beyond its useful life. Perhaps it's time to get a real piano. BUT… What does a piano cost?
I am asked this question almost daily by musicians, pianists, and people just curious about my profession. The history of M. Steinert & Sons and the fact that I'm 4th Generation at the company are intriguing enough for the next question to be "What does a piano cost?" Well, the answer requires some explanation.
Pianos vary significantly in price from a few thousand dollars to over $1m. In this article, I'll address the various factors that affect the cost of a piano and discuss the typical price ranges for different types of pianos.
Type of Piano
First, there are generally three types of piano; Acoustic Grand Piano, Acoustic Upright Piano, and Digital Piano. In this article, we're going to focus primarily on acoustic pianos.
Style – Grand or Upright
The basic style will be the first factor affecting an acoustic piano's price.
Is it a Grand piano or an Upright piano? Grand pianos are typically more expensive than upright pianos because of factors inherent in their design. Grand pianos are larger than upright pianos and require more labor and raw materials than upright pianos. These things alone point to a higher price point.
Manufacturing and Design
Going beyond the piano style (grand or upright), many other factors affect the price, including construction method, design, and materials used. These factors can be simplified into three categories of piano; Handmade Pianos, Production Pianos, and Economy/Stencil Pianos.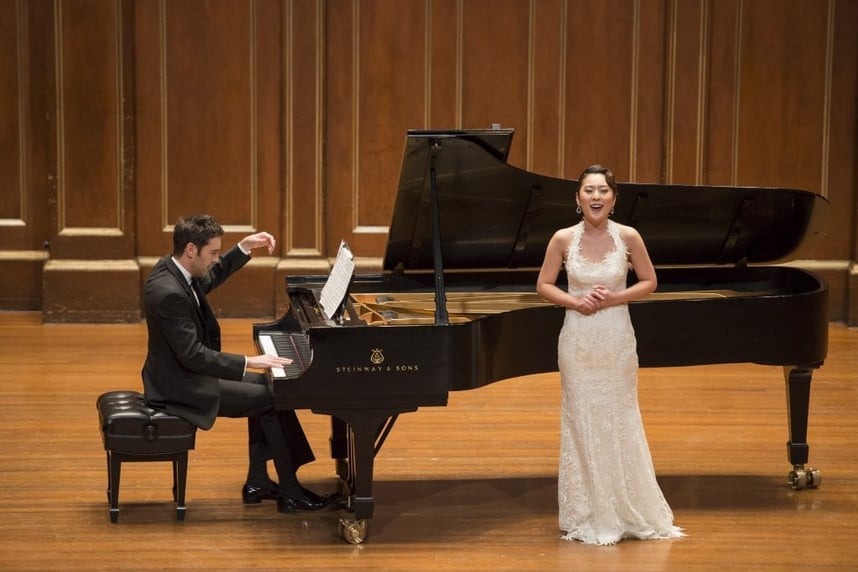 Handmade Pianos
Handmade pianos are instruments in which the production process is typically limited and relies on the skills of the artisans and craftspeople building the pianos. Examples of well-known handmade pianos would be Steinway & Sons, Bosendorfer by Yamaha, Fazioli, or smaller concerns, such as Stuart & Sons in Australia.
Handmade Pianos are typically made to a standard of quality rather than a price point. Handmade pianos are sought after by professional and amateur pianists and music lovers, collectors, and buyers who demand the highest quality.
Handmade grand pianos are typically on the higher end of the pricing spectrum because of the high-quality materials used, more skilled craftspeople, and more labor-intensive processes. Depending on size and model, standard model handmade pianos can range from $60,000 to over $200,000.
See our article on The World's Most Expensive Pianos
Production Pianos
Production Pianos could also be described as "consumer-grade." This piano category is designed by and has materials specified by a manufacturer and utilizes more automation in the construction process than a handmade piano.
Production Pianos will vary in quality and design and thus price point. Still, they often can be a good choice for families looking for a piano that can hold up to consistent household playing. They are typically backed by a solid design and a strong manufacturer's warranty (when new). Some well-known Production Pianos are Yamaha, Kawai, Boston, and Essex by Steinway.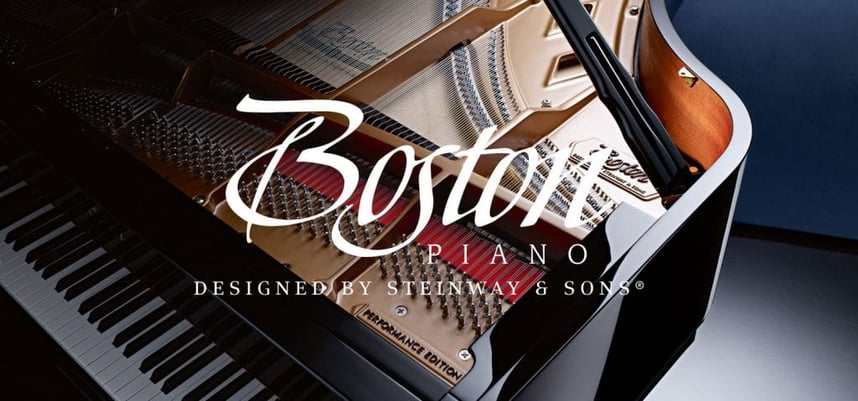 It is essential to know that many manufacturers that produce "consumer-grade" Production Pianos also employ manufacturing facilities and piano designs that fall into the next category, "Economy Pianos."
While the name on the fallboard is the same, the design/manufacturing and quality standard are not comparable. Yamaha, for instance, builds pianos of similar look and size, some of which could be considered consumer-grade, others economy.
Production grand pianos vary in price from about $15,000 to $60,000, whereas production upright pianos range from $7,000 - $18,000.
Economy/Stencil Pianos
At the turn of the century in America, hundreds of piano manufacturers built pianos, including M. Steinert & Sons. Over the years, all of these manufacturing operations went away, except for Steinway & Sons.
Today, companies manufacturing overseas (typically Indonesia and China) have repurposed many old American brand names for their piano designs. Stencil Pianos are manufactured to a single design and have various names depending on the regions they are marketed for sale.
Since the manufacturer uses the same piano design with different names, the piano's name is essentially "stenciled" on. Stencil pianos tend to use lower-quality materials and are built to a price point rather than a quality standard.
Stencil Pianos are a good choice for the non-player that wants a piano for the home-décor design elements it can bring. In many cases, Economy/Stencil Pianos are not a good choice for areas with varying climates and seasonal changes as the instruments do not hold up well to varying seasonal environments.
Economy/Stencil Pianos vary in cost but can be found between $9,000 and $17,000 for a grand piano and $4,000 to $7,000 for an upright piano. For most buyers, the low cost does not make up for the instability and poor tone quality inherent in this piano category.
Additional Features that Affect Price
"Standard-design" acoustic piano costs are described above. A Standard Design could also be considered an "off-the-shelf" piano or a standard model in regular production. These are typically ebony-finished pianos in various sizes/scale designs.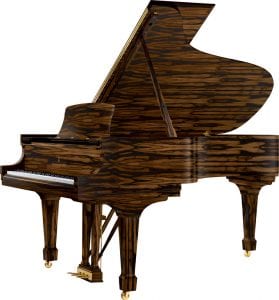 Veneer/Color Options
Most manufacturers offer different veneer and color options.
Veneers often offered on Production Pianos, and Economy/Stencil Pianos are typically limited to mahogany and walnut. This option can add about 10-15% to the price of the piano.
Depending on the manufacturer, these veneers might be low-quality veneers of the original species stained/colored to look like the species specified.
Handmade Pianos offer higher quality veneers and often many more options. Steinway & Sons offers 15 species of exotic veneer in their "Crown Jewel" collection. This will add 15-25% to the price of the piano. Stuart & Sons offers dramatic veneer pairings on every piano; ebony is not an option.
Player Piano Options
Did you know that player pianos have been on the market for over 100 years? Today's player systems have come a long way from the old pneumatic pump actions controlled by paper rolls. The systems of today can be native to the instrument, such as Steinway & Sons high-definition Spirio pianos or Yamaha Disklavier. Other systems from QRS and PianoDisc can be retrofitted to most pianos.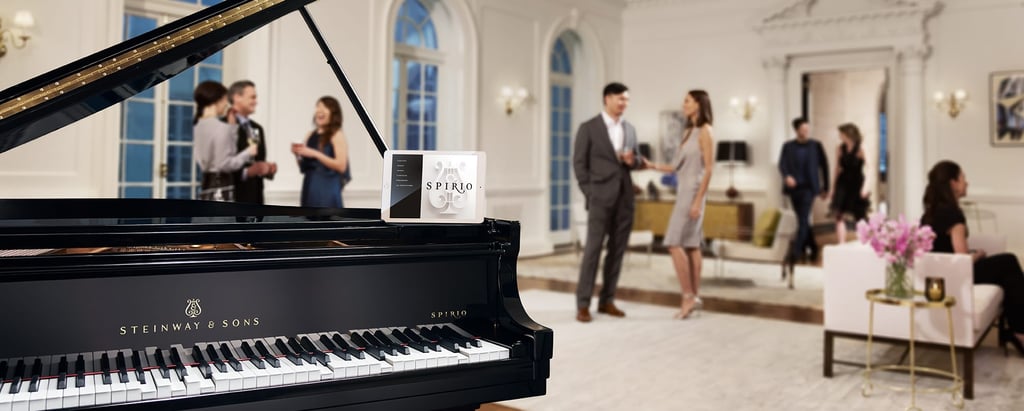 The native systems add about 25-30% to the instrument's price. Retrofitted systems range in price between $7,000 to $15,000. Options such as onboard music, record functionality, and external speaker systems contribute to the price.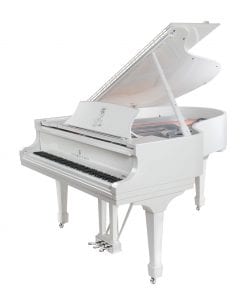 Special Edition Case Designs
Often a manufacturer will offer a special edition case design. This can range from a different furniture style (Louis XV or Chippendale) to unique cases with an impressive range of veneer and color options.
Steinway & Sons offers a "John Lennon" edition piano with design features specified by Yoko Ono, including incorporating John Lennon's artwork on the case.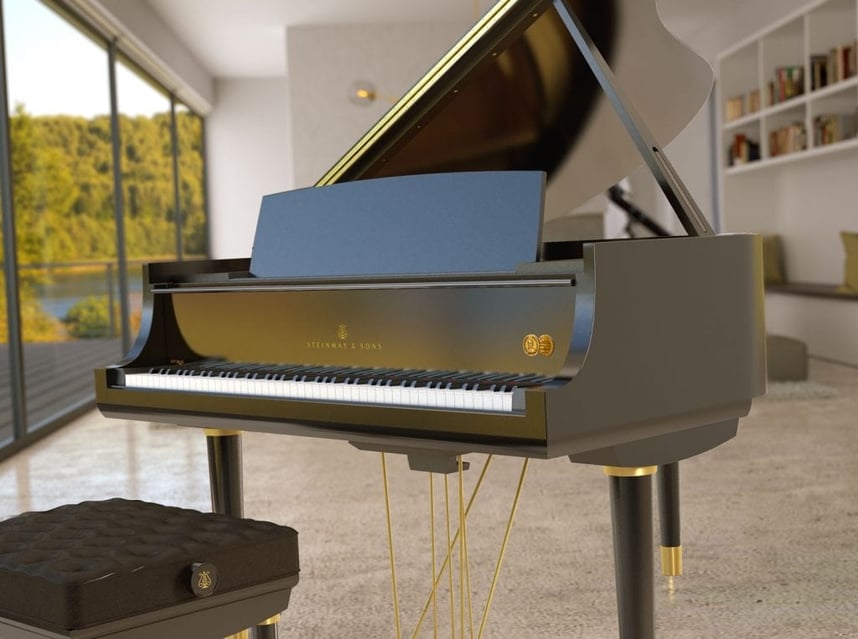 Steinway also recently reintroduced a historic furniture style initially released in the 1940s designed by famed mid-century design firm Teague. Special Edition Case designs can add between 15-40% to the price of the piano.
Limited Edition
A limited-edition case design differs from the above "Special Edition" in that the production numbers are limited. These pianos are produced to commemorate special occasions and special partnerships. Recently Steinway & Sons collaborated With famed designer Dakota Jackson and international concert pianist Lang Lang to create the "Black Diamond" limited edition.
Limited Edition pianos can cost as much as double the standard production model.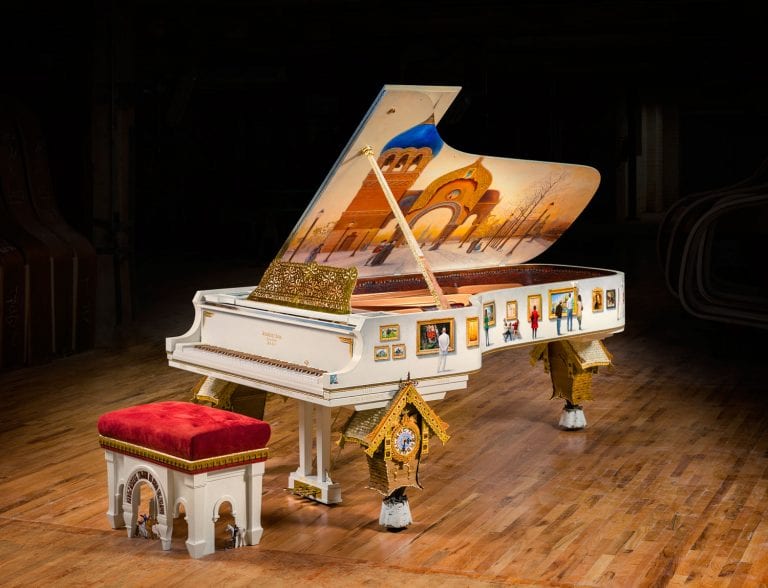 One-of-a-Kind/ Bespoke
Most Handmade piano manufacturers will engage with clients to create a bespoke case design. In addition to clients' bespoke visions, certain manufacturers will occasionally make a single one-of-a-kind instrument to commemorate an event or milestone. These instruments are usually produced in partnership with an outside artist or designer.
In 2016 Steinway & Sons created the Fibonacci for serial number 600000, featuring the Fibonacci spiral illustrating the geometric harmony of nature.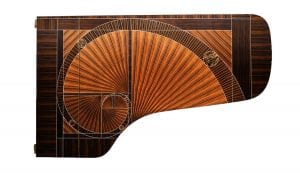 More recently, Steinway & Sons partnered with famed artist Paul Wyse to create the "Pictures at an Exhibition" Steinway to celebrate Modest Mussorgsky's immortal work for solo piano with classical painting, Russian history, and meticulous STEINWAY craftsmanship.
Price ranges vary according to design and detail but often exceed $1m.
New or Used
Unlike many stringed instruments (violins and cellos), pianos do not get better with age. The piano is a percussive instrument subject to tens of thousands of pounds of string pressure. A piano is made predominantly of wood, which is subject to expansion and contraction with seasonal or climatic changes. A piano's value comes from its musical quality, not its age.
Design, craftsmanship, and materials used will determine the useful life of a given piano. Typically only Handmade pianos have significant value as used instruments, but condition and musical quality are the paramount determining factors for the value of a used piano.
In general, a well-maintained used Handmade Piano less than 30 years old can often be valued at 70-80% of a new piano equivalent. Production Pianos less than 10 or 15 years can be valued similarly. Economy/Stencil Pianos often deteriorate rapidly and do not have much value as used instruments.
Of course, there are many variables of a used piano; age, condition, usage/wear, replaced components, etc.