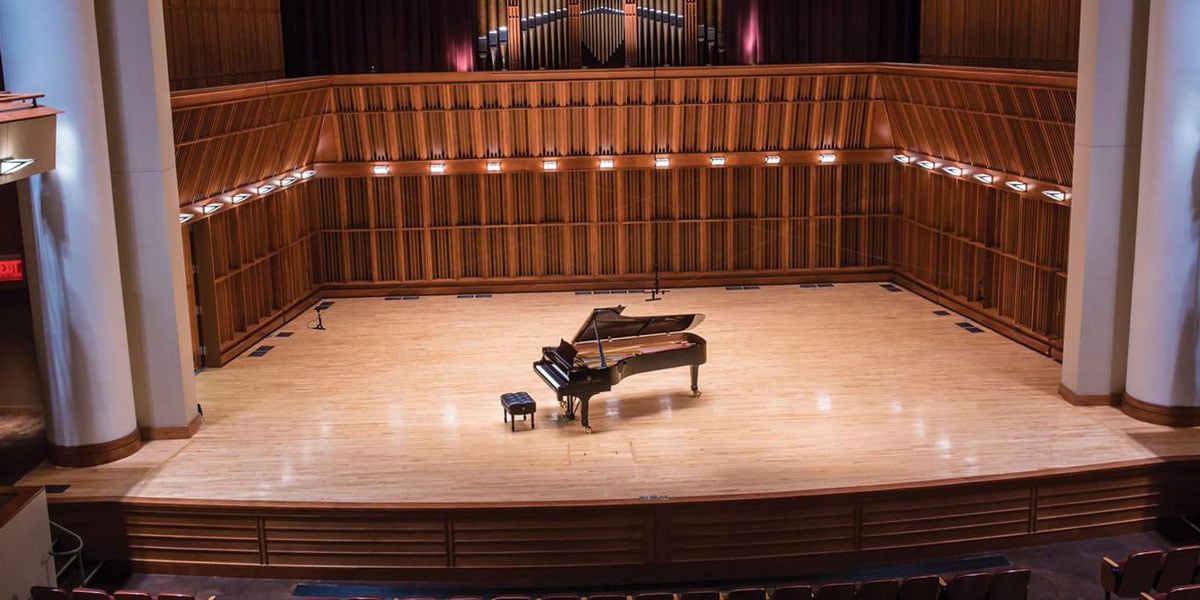 The 12 Most Expensive Pianos Updated for 2021
Most people are fascinated to learn about the most expensive things--whether jewels, or cars, or houses, or clothing. For instance, many people would find it interesting to see the world's most expensive mansions and to know what they cost, such as:
Buckingham Palace, London: $1.55 Billion.
Antilia, Mumbai: $1 Billion.
Villa Leopolda, Villefranche-sur-Mer, France: $750 Million.
Witanhurst, London: $450 Million.
Odeon Tower Penthouse, Monaco: $400 Million.
Sometimes visitors to our Steinway showrooms express surprise at the cost of a new Steinway piano - and we remind them that Steinway is NOT the most expensive piano. We wanted to find out what the most expensive pianos were in 2021 and find out where Steinway landed on that list.
Ordered from high to low - the following is a list of the most expensive pianos that are generally available for sale or from current manufacturers in stock finishes -- not rare historical instruments that are found in museums, or irreplaceable one-of-a-kind Art Case pianos, or unique collectibles—these can exceed $18,000,000.
Note: Pricing on a per-model basis can vary between information sources (we used a combination of internet research, and inside-industry pricing knowledge - last updated 2021).
Most people also know from experience that the most expensive things they buy are not always the best, or don't necessarily meet their needs. When it comes to pianos, you may be surprised to learn the results.
1. Fazioli F308: $347,000
Fazioli was founded in 1978 in Rome by Paolo Fazioli, a musician and engineer who held management positions in his family's furniture factories in Rome, Sacile, and Turin. Fazioli builds only grand pianos (no uprights), about 150 per year.The F308 concert grand is 10'2" long and has 4 pedals like the Stuart concert grand.
Features includes Val di Femme soundboards (like the Ravencroft), adjustable bronze capo d'astro bars, Canadian pinblocks, and two actions and two pedal lyres as options on all models.
2. Stuart & Sons Beleura Concert Grand: $300,000
One of Australia's last remaining piano-makers, Wayne Stuart, custom makes unusual pianos of unusual size--97 keys, 102 keys, and even one 9'10" model with 108 keys (9 octaves)--standard pianos have 88 keys.
Stuart's family-run business in Tumut, southern New South Wales, uses timbers largely native to Australia and incorporates certain technical features that deviate from the norm such as 4 pedals and bridge agraffes. There are two models available, a studio grand 7'2" in length and a full concert grand 9'10" in length. A small number of instruments are built to order each year.
3. Petrof P284 grand piano: $290,812
The Petrof company was created in 1864 by Antonin Petrof who was from the small town of Hradec Kralove, about 150 miles east of Prague in the current Czech Republic. He traveled to Vienna in 1857 to learn piano manufacturing and returned to his hometown to found the Petrof piano factory.
Almost 90 years later, after WWII, the company was confiscated under nationalization and it wasn't until 1990 that Jan Petrof took over to get the company back on its feet with the return of democracy. Made in the Czech Republic, the P284 concert grand is 9'2" and is available only in polished ebony finish.
An unusual feature Petrof has invented and patented is a version of its new grand action that uses tiny opposing magnets on the wippens and wippen rail. These magnets allow for the removal of the usual lead counterweights in the keys and, according to the company, significantly alter the action's dynamic properties.
The new action also furthers the European Union's stated environmental goal of phasing out the use of lead in pianos. The action is adjusted in the factory for a standard touch weight and is serviced in exactly the same way as a standard action.
The Magnetic Accelerated Action, as it is known, is a special-order option on the grands. Petrof also offers as an option the Magnetic Balanced Action, which allows the player to quickly and easily change the touch weight in the range of ±4–5 grams simply by turning a knob.
4. Seiler SE278 Concert Grand: $290,812
Seiler Pianos was established in 1849 in Leignitz by Eduard Seiler and the company eventually became the largest piano manufacturer in East Germany. After WWII the company moved to Kitzingen, Germany where it resides to this day. In 2008 Seiler was purchased by the Korean manufacturer Samick but manufacturing of high-end Seiler pianos remained in Germany.
In 2013 Seiler introduced the lower cost Johannes Seiler series with new scale designs manufactured in Indonesia. Though in business since 1849, Seiler is relatively new to the concert-grand market, having had a 9′ grand in production for only about 15 years. The Seiler SE278 concert grand is 9'2"and it is available only in polished ebony finish.
Some features of this piano are nickel-plated cut thread German rod steel tuning pins, Renner action with hornbeam rail, solid spruce "membrator" system soundboard and white spruce ribs pre-curved and notched to the inner rim.
5. Ravenscroft 275 Concert Grand: $280,000
Ravenscroft Pianos is an American-based boutique manufacturer founded in 2004 in Scottsdale, Arizona. Under the direction of Michael Spreeman, Ravenscroft has cabinets crafted in Germany and shipped to Arizona, USA for customization. The Ravenscroft 275 is 9'0" and is available in polished ebony, pyramid mahogany, or burled walnut finishes.
Some features of this piano are Val di Femme soundboards, CAD optimized actions, multilayer braces with inlaid beech and maple bars, and mahogany and ebony laminated bridges.
6. Steingraeber E272 Concert Grand: $258,250
Steingraeber & Sohne started building pianos in the 1820's in Thuringia, Germany. Today they are located in Bayreuth, Germany and are still run as a family enterprise. The Steingraeber E272 concert grand is 8'11" and is available in polished or satin ebony, walnut or sapele mahogany finish. Other veneers are also available by special order.
Some features of this piano are the Renner action, sympathetically vibrating second soundboard, natural materials and glues, white keytops from cattle bone, Bavarian spruce soundboards and hardened pressure bars and bridge pins.
The Bechstein company was established in 1853 in Berlin, Germany by Carl Bechstein. The company survived through two world wars and many economic challenges and has remained to this day. In 1963 it was acquired by Baldwin, and in 1986 Baldwin sold it to Karl Schulze, a leading West German piano retailer and master piano technician, who undertook a complete technical and financial reorganization of the company.
The C. Bechstein D282 concert grand is 9'2" and is available only in polished ebony finish. Some features of this piano are a European solid spruce untapered soundboard, solid beech bridges with beech cap, mahogany moldings and solid wood laminate beam construction.
8. Bosendorfer 290 Concert Grand: $262,999
The Bosendorfer company was established in Vienna in 1828 by Ignaz Bosendorfer. After his passing, Ludwig Bosendorfer took over and began expanding the company. In 1966 the company was purchased by the Kimball Piano Company of America and subsequently resold in 2001 to Austrian investment banking group BAWAG-PSK.
In 2008, Yamaha Corporation purchased the company, keeping the manufacturing in Austria. The Bosendorfer Imperial concert grand is 9'6" and has 97 keys--a full 8 octaves.
The piano is available in a variety of cabinet styles--Strauss, Schubert, Baroque, Vienna and more. The finishes include satin or polished ebony, white and other colors. Features of this instrument include extra keys, an Austrian high altitude solid spruce pre-crowned soundboard, high tension independent capo bar construction, solid red beech and spruce rims pieced together, hand-wound single looped strings, and more.
9. Grotrian G-277 $233,700
Friedrich Grotrian began manufacturing pianos in Germany in 1835 in a partnership with Heinrich Steinweg (who later emigrated to the United States to found Steinway & Sons in New York in 1853).
Grotrian pianos were well known throughout Europe and well respected and managed to continue manufacturing throughout both World Wars until eventually, in 2015, a Hong-Kong based piano manufacturer under the name Parsons Music Group bought a majority interest in the company, continuing production in the Grotrian factory in Braunschweig, Germany.
Grotrian uses laminated beech hardwood for their grand piano rims and pin blocks, actions made by Renner, solid spruce soundboards like most fine pianos, and employ single-stringing throughout the entire scale. Grotrian uprights possess an unusual back construction with the posts arranged in the shape of a star for equal distribution of string tension.
In 2018, Grotrian introduced two more affordable versions under the label Wilhelm Grotrian. They are manufactured in Asia.
10. Sauter 275 grand piano: $230,000
The Sauter company was established in 1819 by Johann Grimm in Spaichingen, Germany. When Grimm passed, the company was left to Carl Sauter, thus beginning a lineage of Sauters. Sixth generation Ulrich Sauter now oversees operations of Sauter Pianofortemanufaktur in Germany.
The Sauter 275 concert grand is 9'0" and the piano is available only in a polished ebony finish. Some features of this piano are Bavarian solid spruce soundboard, beech pin block, Renner action, a keybed reinforced with steel to prevent warping, and all pianos are fully tropicalized for humid climates. The factory produces about 500 vertical and grand pianos a year in its factory in the extreme south of Germany, at the foot of the Alps.
11. Shigeru Kawai SK-EX Concert Grand: $256,495
The Kawai company was formed in 1927 by Koichi Kawai and seven of his colleagues. Modern manufacturing began in 1955 and by 1963 Kawai centers were launched around the world. Shigeru Kawai are the company's premium grade of grand pianos.
The SK-EX concert grand is 9'0" and is available only in a polished ebony finish. Some features of this piano are Australian wool hammers, a tapered and tuned solid spruce soundboard, alternating rock maple and mahogany rims, hand planed ribs, thinned hammer shanks, and post-delivery service when each buyer receives a visit within the first year by a Kawai master technician from the factory in Japan.
The most interesting fact regarding the New York-based piano manufacturer Steinway & Sons is that although it is the least expensive of the top 12 most expensive pianos, it is professionally and exclusively endorsed by 97% of solo concert pianists worldwide when playing with an orchestra, while all other piano manufacturers combined compete for a fraction of 3% of the symphony market.
Steinway has also been long recognized by piano historians as the world leader in technical and scientific piano innovation having garnered 139 engineering patents to date since 1853, the vast majority of which have been incorporated in some fashion into the other top brands and are now found in virtually every other piano manufacturer's designs.
Each element of the Steinway concert grand has been designed and refined with the world-class performing pianist in mind. From the Rock Maple rim, to the Alaskan Sitka spruce diaphragmatic soundboard the Steinway D is the standard by which the others are judged.
Steinway owns the German Renner action company, the German Kluge key company and the Ohio O.S. Kelly cast iron plate company. Together these Steinway-owned companies supply many of the action and key components for most of the piano companies above.
The Model D concert grand is 9' and is available in 13 different finishes including satin or polished ebony and many exotic hardwoods from around the world. Countless articles and books have been written about this most famous of all piano brands which has been the favorite piano of most of the world's most eminent concert pianists in all genres.
Learn More About the Value of Pianos
The value of a given piano is something that remains somewhere between the heart, head and hands of the player. It's fascinating to learn that the most famous and sought-after and respected piano in the world is not even in the top 10 in terms of cost.
As the New England representatives for Steinway & Sons we like to remind ourselves (and our guests!) that quality, cost, durability and reputation should be primary considerations when selecting a fine piano.
For more, check out our summary of all things Steinway.