Which upright piano is best? Yamaha, Kawai, or a Steinway-designed model?
March 7, 2022 •Stephen Reed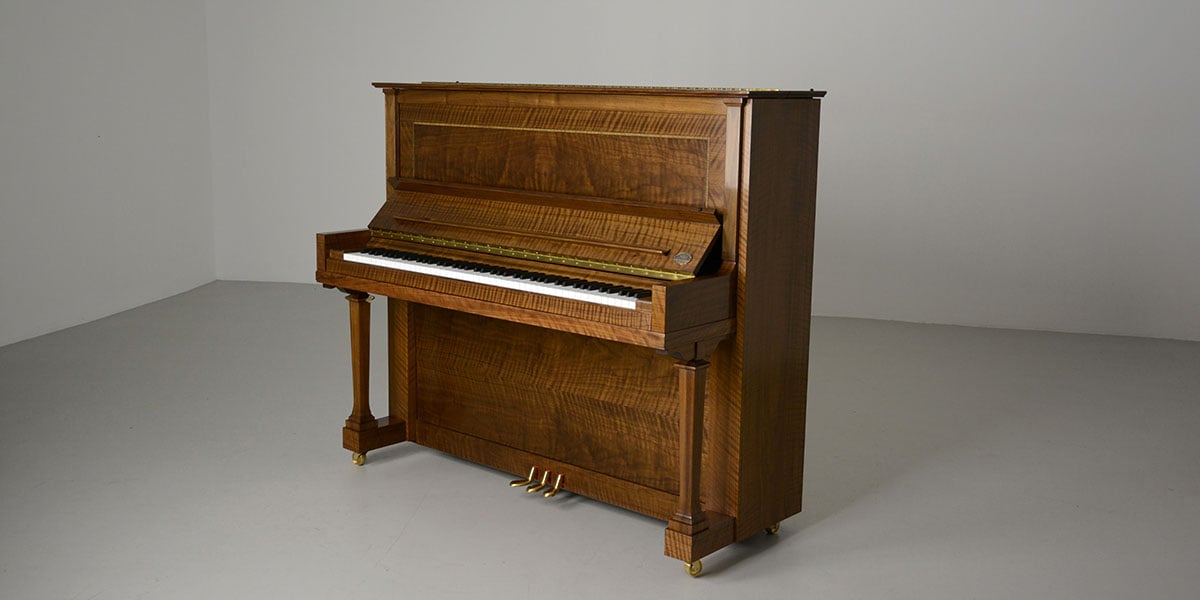 Which upright piano is best? Yamaha, Kawai, or a Steinway-designed model?
by Stephen N. Reed
---
Let's explore the main contenders for "best quality upright" among the models produced today. After all, who would want to select a new upright, only to find out later that a better upright would have only cost a bit more?
Here at M. Steinert & Sons, we've sold thousands of upright pianos over the past 160 years, including the period at the turn of the 20th century when they were intensely popular in America. As an Authorized Steinway Dealer, we naturally believe Steinway pianos have a lot to offer. However, so do other high-quality piano brands, some of which we'll examine in this article.
Then and now, we have helped our customers find the best pianos for them, many of which were upright pianos, whether serving as a beginner's first piano or a starter piano that could lead eventually to a further investment in a grand piano.
By the end of this article, you will understand the upright piano's background and will be familiar with the top upright piano models across several top-quality brands. From these top models, we'll explain which one is the best upright.
Background to the Upright
The immediately noticed difference in an upright piano is that the strings and soundboard run vertically, perpendicular to the keyboard. Early uprights had strings that started upward from the same level as the keys.
As a result, these earlier instruments were considerably taller, providing ample space on the case for a variety of decorative designs.
The strings in today's upright pianos run upward from the bottom of the case, that is, near the floor. This design dates back to 1800, created by Sir John Isaac Hawkins, a leading English piano maker living in Philadelphia.
Taller uprights now the standard
Uprights have come in a variety of heights. The shortest ones are consoles or spinets. Due to their shorter strings and smaller soundboards, they have less power and quality to their tone. The larger upright pianos (more than 50" tall) took off in the late 19th and early 20th centuries and remain the preferred size for uprights today.
Who is a good candidate for an upright piano?
One important difference between the grand and the upright is in the action of both. Grands have a quicker, more responsive action due to the horizontal strings, which allows the hammers to fall naturally back into place thanks to gravity after they strike strings.
The upright's action returns to a resting position with the help of springs rather than gravity alone. As a result, the upright has a different touch.
Uprights, therefore, are not made for the concert stage. A practice room, yes. Definitely the home, especially one with a premium of square feet.
What are some of the top modern upright piano brands and models?
Yamaha has put considerable effort into a comprehensive redesign of their U series of upright pianos. These uprights have refined scale designs, as well as wider music desks for the player's sheet music or music books.
Steve Hauk, Sales Manager for M. Steinert & Sons, says that Yamaha's U Series of upright pianos are well-regarded. He notes that the U-1 (48" tall) and the U-3 (52" tall) are popular first pianos for many piano students.
"Beginning piano students are often enamored with the brightness of the Yamaha sound," said Steve. "In a way, it compliments a lot of the early repertoire, like Bach and Handel. But as students progress musically, more tonal complexity is desirable."
Kawai's K series
Steve Hauk says that Kawai K-series uprights compete with the Yamaha U-series and have a similar tone.
Kawai swears by this composite action, citing its stability. Others maintain that a quality wood action, despite its occasional swelling and shrinking, is still the standard.
Merriam Music has an unbiased take on the wood vs. composite action debate. They state that a composite action might last longer than a low to mid-grade wooden action. However, a top-quality wooden action can last just as long. Additionally, composite actions appear to have no impact on tone. Also, they have no discernible benefit or risk to resale value.
Steve Hauk says that, like the Yamaha U series, Kawai's K series uprights remain a popular choice for first-time piano students. They come in three sizes: the K-400 (48"), the K-500 (51"), and the K-800 (53").
The Essex upright pianos: The beginning of the Steinway sound
Steinway-designed Essex pianos, the least expensive of the three brands in the Steinway Family (Steinway, Boston, and Essex), are considered the gateway to the full Steinway sound.
Steve Hauk cites four popular Essex uprights: the smaller EUP-108 (42"), the EUP-111 (44"), the EUP-116 (45"), and the EUP-123 (48").
"The Essex uprights are excellent for everyday use in the home," says Hauk. "And they are quite affordable. They share many features with the more expensive Boston and Steinway uprights, including a tapered solid spruce soundboard for long sustain, lower-tension scale design for a richer tone, and a responsive all-wood action made from high-quality maple.
One benefit to buying an Essex upright is that any payments on a new Essex (or Boston) can be applied to a later Steinway purchase, per Steinway's Lifetime Trade-Up Policy. This is due to their being a part of the Steinway Family of pianos.
Boston upright pianos: High-grade production pianos
Boston is a step up from its Essex cousin, both in materials and design. Aside from being a production piano in contrast to a handcrafted Steinway, the distinctions between Bostons and Steinways can be hard to discern. Both have the Steinway touch and tone. Both have enormous power in their grands, as well as their uprights.
"When Steinway engineers started to consider their designs for Boston pianos, they decided to get feedback from many music professors," says Steve Hauk. "To a large extent, what you see in today's Boston pianos is what the music professors wanted in a piano. They are built with music conservatories in mind, as well as for residential use."
Steve notes three popular Boston uprights: the UP-118 (46"), the UP-126 (50"), and the UP-132 (52").
"All of these models have an exceptional sustain and clarity, due to Steinway's renowned lower-tension scale designs," notes Steve. "The soundboards are of the highest quality. They each have the Hard Rock Maple you see in classic Steinways, including the patented Hexagrip pin block. All Boston uprights feature the staggered backposts for added structural integrity. In short, Bostons play better and last longer."
Boston's launch in the early 1990's was the most successful in modern piano-making history.
Steinway's handcrafted K-52 upright piano
Steinway & Sons is best known for their iconic grand pianos, whether for the stage, practice room or home. However, they are quick to point out on the upright piano page on their website that their famous Model K-52 is handcrafted in the same Astoria, New York factory as their grands.
Steinway's uprights continue to have the same materials, techniques, conditioning processes and craftspeople. They are simply built in the "vertical department" at the Astoria factory, where the processes are vertically oriented.
Steinway's 1098 upright is no longer in production, though one can still find several of these models on the used piano market. It was a small upright, 46.5" in height.
Currently, Steinway is putting all of its upright focus on the K-52, a large, powerful instrument. Introduced in 1903, the 52" K-52 uses the highest grade of materials and features a larger soundboard than many grands, giving it an unusually resonant voice for an upright.
Many professional piano players seeking an upright piano buy the K-52, because of that resonance and power. Additionally, they like the structural integrity that the solid wood, staggered backposts provide the K-52.
"Steinway doesn't want to cede any part of the piano market," says Steve Hauk. "That's why they have intentionally chosen to retain and refine the K-52 upright over the last hundred years. What gives it that rich, deep sound is its design.
Hauk believes that the K-52 simply has one of the best-engineered scale designs of any piano, grand or upright.
"Obviously, many people need an upright for its smaller size.," notes Steve. "But you know what? When a potential buyer sees that they can get this kind of Steinway sound in a much less expensive package, that speaks to them, too."
What's the best upright piano?
For the aforementioned reasons–a well-engineered scale design, the highest grade of materials, a larger soundboard, and a deep, rich Steinway sound–Hauk believes that the K-52 is simply the best upright piano built today.
"The others we've mentioned are all respected piano brands and models," says Steve. "Yamaha and Kawai each have something to offer. For example, some pianists may prefer the quicker composite-based action in the Kawai piano. Similarly, some jazz pianists may prefer the brighter sound in Yamahas."
But Steve maintains that Steinway's K-52 is unique, particularly its bell-like Steinway sound.
"It's handcrafted, and that adds so much to every dimension of a piano, especially an upright, with its super responsive action," says Steve. "There's a reason Steinway has been making the K-52 since the turn of the 20th century. Professionals and regular players just like them. They like the power, the resonance, and that warm Steinway sound."
Any payments made on a new K-52 can be applied to a later Steinway grand, per M. Steinert & Sons lifetime Trade-Up policy.
Learn more about the cost of modern upright pianos by reading the following article:
How much does an upright piano cost?