How much does an upright piano cost?
February 11, 2022 •Stephen Reed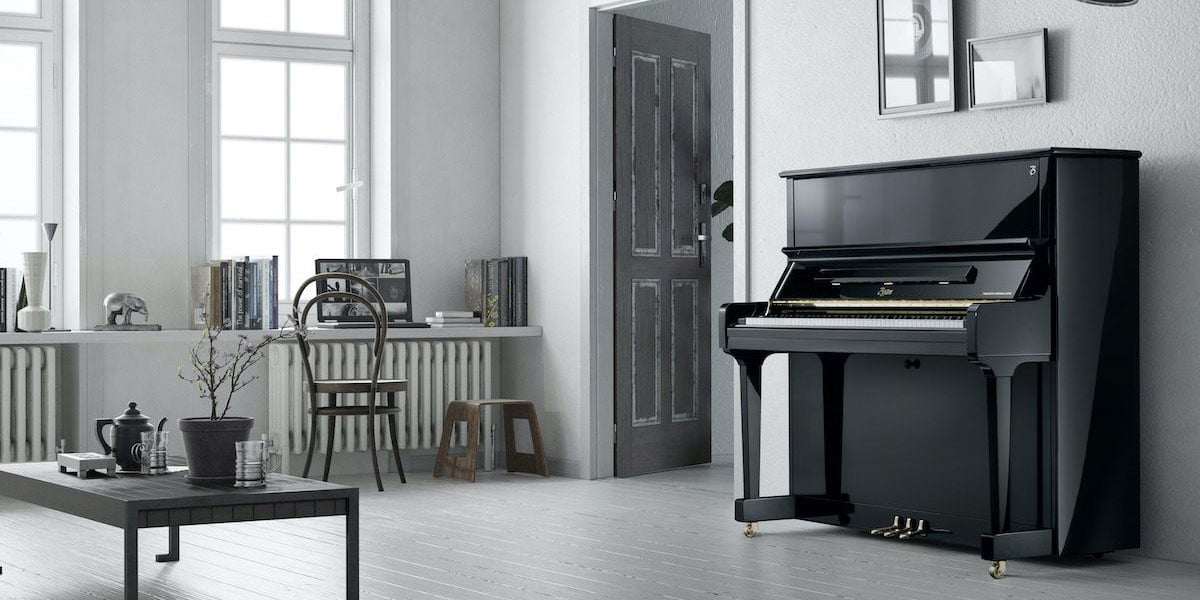 How much does an upright piano cost? (updated for 2023)
by Stephen N. Reed (updated for 2023 pricing and pianos on 1/30/23)
---
Since John Isaac Hawkins built the first upright (i.e., vertical) piano in 1800, these pianos have been quite popular. Their smaller size has made them perfect for use in the home.
Like all musical instruments over the years, the cost of upright pianos has steadily increased, especially in the 2021-2023 period. You may wonder if they are still the most cost-effective way to enjoy an acoustic piano. The answer is yes unless an upright is at the end of its life cycle.
However, uprights come in many brands and models, new and used, and the savvy buyer will investigate the range of upright options in the current market.
Here at M. Steinert & Sons, we have listened well to our customers for over 160 years, allowing us to help them find the right piano for each of them. Uprights can be an excellent first piano for many in terms of price, size, and learning to play the piano.
By the end of this article, you will become familiar with several upright models across a range of prices. As a result, you'll be better positioned to choose the upright piano that is best for you.
Low-end uprights: $0 to $1,000
At the low end of the upright spectrum, one can expect to find many free pianos, which are generally worth what you pay for them. We examined this before in a previous column.
Occasionally, a used upright piano from a reputable brand may be found if the owner wants to expedite the sale of their piano. Craigslist and other sites like it might have the occasional deal in this range - but keep in mind moving costs and the potential for unknown issues.
Threshold of reliably playable used uprights: $1,001–$3,000
Within this range, a recent and more lightly-used upright is possible in fair to good condition if from a reputable brand. The difference between these uprights and those in the $0-$1,000 range is the quality of the brands of the used pianos available.
Examples in this range, as advertised online*, include:
Used Kawai 48" professional upright, $2,980
Used Young Chang upright, U-131, $3,000
*Please note that used piano prices posted here and online are ballpark figures, not actual values. Those can only be estimated after review by a trained independent technician. Age and musical quality are critical factors in determining value.
The better used and new economy/stencil uprights: $3,001–$6,000
We see better quality used uprights and even the beginning of some brands' economy uprights in this price range.
However, for many buyers, the relatively low cost does not make up for the instability and poor tone quality frequently found in used pianos within this range. Stencil and economy pianos are manufactured to a single design.
Stencil and economy pianos tend to use lower-quality materials and easier-to-build designs. They are built to meet a price point rather than a quality standard.
Examples include:
Used Baldwin 248-A professional upright, $4,740
Used Yamaha M-1A upright, $2,650
New Economy Yamaha upright B-1, $5,399 (updated for 2023)
New Kawai 506N upright, $5,595
Good new and quality used uprights: $6,001–$10,000
Within this range, one's options greatly expand when buying a good, production upright, whether new or used. The quality of new and used uprights in this price range is higher.
Buying new in this range allows for some significant benefits, including multi-year warranties and, for Steinway-designed models, a Trade-Up policy that allows all of one's investment in a new upright to be applied later to a new Steinway if desired.
This range begins to allow for some used handcrafted pianos, like Steinway and Bosendorfer.
Examples include:
Top-quality production uprights, along with select used models: $10,001–$20,000
This range covers most quality new production brands and top-quality used models. For example, the Boston, Steinway's top brand next to Steinway itself, has some new upright models within this range. Also, better quality used handcrafted pianos are available.
New Kawai upright K-400, $13,095
New Boston upright 126E, $16,400
New Yamaha upright YUS1, $16,999
Used Steinway upright Model 4510, $13,500
Used Bosendorfer upright 130, $12,557
This is the range in which one's quality options for a new upright piano really kick into high gear. The selection includes a wide variety of excellent new production pianos and a growing number of new handcrafted pianos.
Examples include:
A good upright is better than a poor grand
Hopefully, the examples of used and new uprights above give you a better idea of what you can get within each price range. We want to offer one thought for your consideration on your buyer's journey.
A poor or mediocre grand is not better than a fine-quality upright. Indeed, fine uprights are several times more costly than lower-quality grands. It is not merely the design that establishes the overall quality of a piano but the materials and workmanship. Only the best grands are better than the best uprights.
But if a grand piano isn't an option right now, then getting the best possible quality upright is a fine choice, especially in terms of fitting the space available in one's home and the space within your checkbook.
Ultimately, a good quality vertical piano will outperform and outlast a poorly made, inexpensive grand piano.
Age is a significant factor in an upright's price
The best way to get a feel for the differences between upright models is to try some models yourself. We encourage you to go to other stores first to try their models. Then come to M. Steinert & Sons to look into the uprights in the Steinway family of pianos; Steinway, Boston, and Essex.
The upright models in all three brands possess the Steinway tone and many of the same materials. Boston and Essex are production uprights, while Steinway's K-52 is handcrafted. Any payments on a new Boston and Essex can be applied to a later Steinway purchase, per Steinway's lifetime Trade-Up policy.
For more information on New vs. Used pianos and how pianos age, click here.