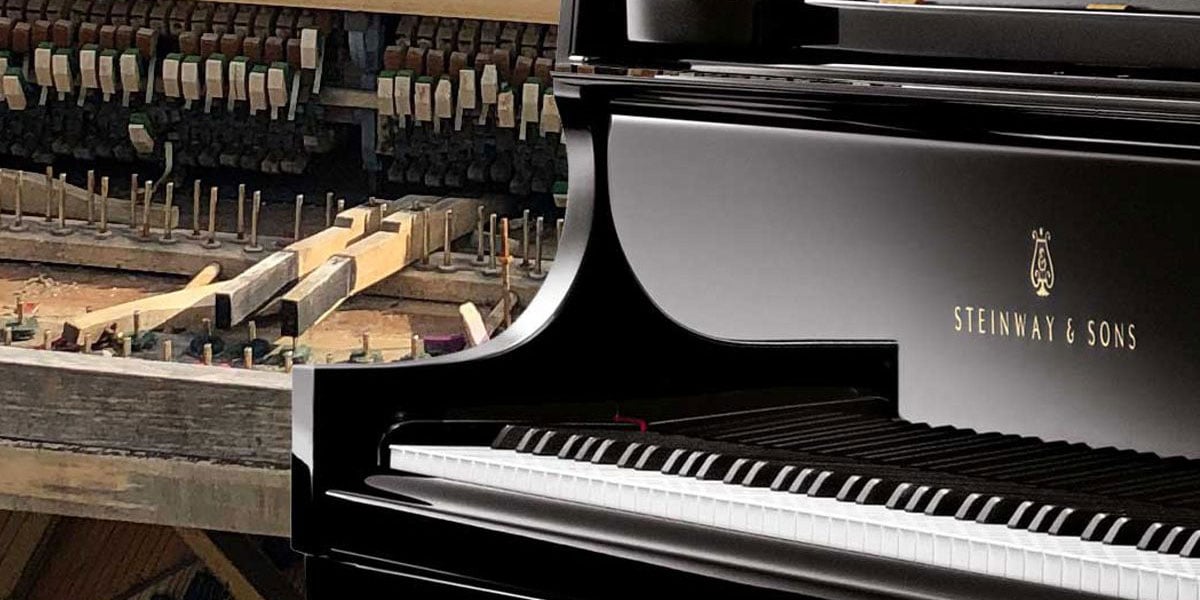 TOP 9 PIANO-BUYER QUESTIONS 2023
After 160 years in the piano business in greater Boston - we've heard just about every piano question imaginable! From "can I trade my car for your piano" to the recurrent "what's my old piano worth?"
Here's a look at our top 9 frequently asked piano buyer questions updated for 2023:
1. What is the best piano for a beginner?
While the specifics have changed this year, the general rule remains: You won't be a beginner for long! The best piano for a beginner is one that can meet the individual's musical intentions and goals.
Some beginners hope to become advanced pianists, even professional performing pianists; other beginners want to get their feet wet, so to speak, to see if they will like it. Some beginners imagine piano playing as a hobby at most; others devote themselves to becoming the best pianists they can be. The more demanding the goal, the more important the quality of the instrument.
For the serious student, growing into a piano makes sense. Standards for touch and tone are set early in the learning process. For the casual learner without high aspirations, an entry-level vertical or digital piano can be a logical choice. Many stores allow trade-up credit to facilitate easy upgrades over time.
Steinert's Vivian Handis wrote a fantastic article on this topic.
Steinert Tip: Check out the Roland HP704, Boston UP120s, Essex EGP173
2. Is Craigslist a good place to search for pianos?
This answer has changed over the years. At one point, Craigslist had a certain 'ethic' and a sense of fair play about it, but now it's largely the last refuge of worn-out pianos. Generally speaking, Craigslist is a very risky place to buy a piano due to the general ignorance of the piano's true condition by both the buyer and the seller. Without significant technical skills, it is difficult for a non-expert to know whether a piano will hold a tune or play properly. More subtle, but important, is to know whether it's lost its bearing (a piano technician's term for the bridge's height relative to the strings). See Four questions to ask before accepting a free piano
A piano technician, or at the minimum, an experienced pianist, should evaluate a used piano. Consulting with someone who knows what to look for will give you a sense of the remaining musical life (if any!). Where there are no guarantees, there is no recourse if one brings home a clunker.
Steinert Tip: Consider the value of a Trade-in Policy and sufficient Warranty protection.
3. Are digitals as good as acoustics?
With advances in technology, this feels like an increasingly relevant question. Yet, digital and acoustic pianos still offer very different piano-playing experiences.
The sound of acoustic pianos is achieved naturally through vibrating steel strings, resonant woods, and natural dampening and friction-absorbing materials such as felt and leather. The feel of an acoustic piano is derived from its often unique combination of key length and action design. Acoustic pianos are the only instruments that offer true traditional piano sound and touch.
The sound of digital pianos is achieved electronically. Digital pianos offer many types of simulated instrumental sounds, as well as recording capability, Bluetooth, MIDI, computer compatibility, educational apps, etc.
Recently, pianos from Roland have incorporated acoustic modeling technology to recreate elements of overtones and harmonics into their piano sound. The key feel of a grand is also replicated through mechanical means in some of these newer Roland models.
They have the advantages of complete silence by means of headphones (great for families, neighbors, and roommates; footnote: many acoustic pianos today can also be retrofitted with silent systems), no tuning or action adjustment costs, and smaller physical size for those in smaller homes, or who plan to move the instrument frequently.
However, digital pianos cannot exactly replicate the sound or touch of an acoustic piano--they can only simulate it--and as with most electronic devices, their components deteriorate over time. They tend to be less durable than high-quality acoustic pianos.
If one is a traditional piano purist, only the acoustic piano will do for both touch and tone. Some piano teachers accept only students who are practicing and playing an acoustic piano.
Steinert Tip: Bring in your teacher and a favorite piece of music - and try both types of pianos!
4. How much does a used Steinway cost?
Of course, that depends on age, condition, size, finish, availability, and other factors. In short, the reality is that some used Steinway pianos are essentially worthless (more below), while some rare art-case Steinways have set records (see the Alma Tadema piano at the Clark Art Institute in Williamstown purchased for $1.2 million).
If the Steinway has been rebuilt or restored in any way, other factors may apply such as where the work was done and the qualifications/skill level of who did it, whether or not genuine Steinway replacement parts were used, which exact parts were replaced, and which were not replaced, etc. Some liken this process to purchasing a used high-end automobile… who performed the service, and what parts were used?
The open market range of "Used Steinways" is very broad due to the extreme range of quality and age. Generally speaking, one should expect to pay about double for a new Steinway than for a rebuilt Steinway, unless the piano has been completely rebuilt at the Steinway factory, which costs about 20% less than the new model of similar size.
At some point, even a Steinway becomes a non-musical entity with no real value - other than its "shell" value (a term for the wholesale value of the rim/plate). Many are excited to learn about the inheritance or acquisition of a Steinway, only to find out a short time later that it will require a complete restoration to be usable. A Steinway factory restoration costs as much as 80% of new.
New Steinway prices range from the mid $80,000 range to over $200,000 depending upon size, finish, and other criteria. Rebuilt Steinways tend to range from about $30,000 to $100,000--again, depending upon the vintage, size, finish, amount and quality of work done, etc.
Used Steinways of recent vintage are usually worth more than rebuilt old Steinways and are generally valued at roughly 75% of the price of a new Steinway.
Steinert Tip: Two recent articles on Steinway aging and Pricing:

5. Should I rent a piano first?
When faced with the cost of paying for lessons AND buying a piano, many become concerned with the overall cost to even 'try' the piano. Sometimes, the instinct is to try and get by with a substandard used piano or cheap portable keyboard. Yet, this early stage is the period where sound and touch quality can really make a difference as interest is being fueled. Great beginnings often make for great outcomes! So, if the budget or the commitment is limited, a rental could be a good option because it will still provide a high-quality piano experience. The key to a successful piano rental experience is to keep a path toward a purchase that doesn't lose your initial investment in the rental.
At M. Steinert & Sons, with our EZ-Start program, 12 months of rental payments may be applied toward the purchase of the rental piano or any other piano that we sell. At the end of the rental period, the return transportation cost must be paid by the renter. EZ-Start rental fees and the available piano models may be viewed at http://msteinert.com/a-buyers-journey/piano-rental/.
Other pianos can be rented as well. The monthly rent is 3% of the piano's purchase price. You can rent indefinitely and the minimum period of time is 3 months. The delivery cost and the first month's rent must be paid upfront with an approved credit check followed by a monthly billing cycle. Six months of rent can be applied towards purchase.
Steinert Tip: We affiliate with many regional teachers and offer special pricing through them - ask your teacher if they're connected to M. Steinert & Sons.
6. Will you buy my old piano?
In general, we do not buy old pianos, but we will consider taking an old piano in trade for a better piano. The old piano must be evaluated by one of our piano technicians or sales staff and a trade value (if any) assigned to it. Our recent article on What Is My Piano Worth is a great way to understand the variables in older pianos.
In some exceptional cases, we will agree to consign newer Steinway pianos that are in excellent condition. A consignment agreement is discussed with the owner if both parties are interested in this arrangement.
For information on the age of your piano visit: http://msteinert.com/a-buyers-journey/how-old-is-my-steinway/
Steinert Tip: Learn more about our Certified Piano Program - if you think your piano might fit here - let's talk.
7. What is my old piano worth?
Currently, there is no industry-wide accepted used piano "bluebook", as there is for automobiles. Ultimately, one is pricing the musical art, or musicality, of which a piano is capable, which will vary widely in each case. There is no established or industry-standard valuation formula for used pianos. See What Is My Piano Worth?
Steinert Tip: For more information about what happens to pianos as they age, see: http://msteinert.com/blog/new-vs-used-steinway/
8. Can I get a better price?
Price should reflect actual value, as the price of anything is established by its true value. Assuming the seller's honesty, if a piano is discounted, that is its true value at that point in time.
Some piano stores and brands post significantly inflated MSRP (manufacturer's suggested retail price) on their pianos and offer large percentage discounts to give the impression of attractive values (mark it up to mark it down etc.) --but in reality, the price for which the piano is sold is the only thing that determines its true value.
Other piano stores and brands, notably Steinway, and M. Steinert & Sons, do not engage in such strategies. Any price discounts will be done only for legitimate reasons such as length of time in inventory, true current condition, maintenance history, availability, etc.
If there is a discount, it is due to some legitimate reasons such as inventory aging, overstock, musical considerations, a very limited-time promotion, some cosmetic flaw, etc.
Steinert Tip: Call us. If you reside in our market area (Greater Boston/Eastern Massachusetts), we are committed to earning your business.
9. Why should I do business with you over someone else?
We'd like to think we have something for everyone, but it ultimately depends upon your particular piano needs, budget and preferences. We also believe that the reputation, stability, and longevity of a dealership are important for piano ownership since every acoustic piano requires basic maintenance.
Some popular piano brands change dealerships every few years. One popular piano brand has seen three different owners/dealers in the last 9 years. M. Steinert & Sons has been in business in the Boston area for over 160 years and has been the sole Authorized Steinway dealer for the region since 1869.
M. Steinert & Sons is the official supplier of pianos to the legendary Boston Symphony Orchestra and nearly all other leading musical institutions and venues throughout New England. We work with private teaching studios, community music schools, and pianists of every level while supporting the local music community and economy. We've made a serious commitment to keeping the piano a vibrant force in music-making in our region!
Learn more about us at: http://msteinert.com/about-m-steinert-sons/steinerts-history/
---
The Steinert Piano Finder
Personalized Recommendations of 3 pianos for you
Let us help you find a piano that matches your needs and budget