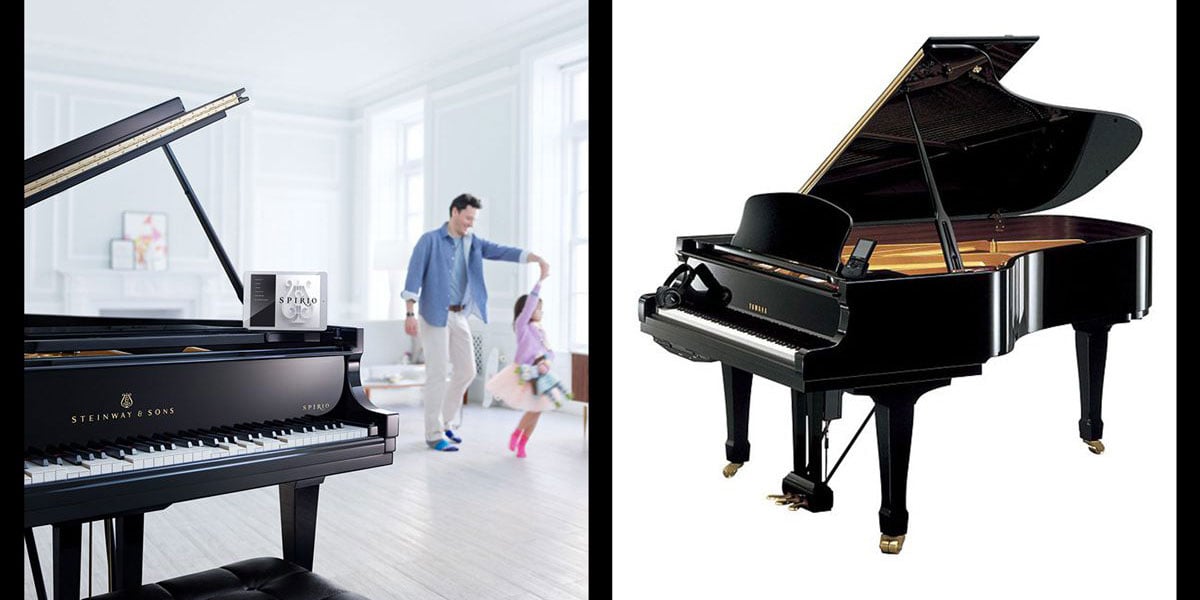 Spirio vs. Disklavier
Which is the better 21st Century self-playing piano for you?
by Stephen N. Reed
updated September 20, 2022
---
The self-playing piano renaissance
Player pianos have a long and storied past, going back to the 19th Century. What started as a novelty became a best-selling musical instrument. Just as the smart TV is the home entertainment center today, the player piano was the center of the home at the turn of the 20th Century. This was the golden age of player pianos.
The player piano continued its roll until the phonograph and radio came along in the 1920s. Those two inventions essentially wiped out the player piano.
Two generations later, in the 1980s, player pianos made a comeback, utilizing cassette-based players, followed by floppy disks, CDs, and now wireless self-playing pianos.
Modern player piano technology
Modern player pianos can both record and playback performances. Yamaha's Disklavier has been doing that for many years. The more recent entrant, Steinway's Spirio | r, features a high-performance quality playback AND record system.
Plus, both have content libraries that are digitized from early 20th Century recordings of famous composers and pianists. We'll take a look at this technology, along with other key similarities and differences between the Disklavier and Spirio below.
As Yamaha and Steinway & Sons have emerged as the two piano companies that have put the most significant investments into creating the 21 Century player piano, a closer look at both is helpful to any buyer looking into one.
A brief look at the Yamaha Disklavier and the Steinway Spirio
Yamaha's Disklavier: Out of the gate early
In 1982, the Yamaha Corporation introduced the first Disklavier self-playing piano in Japan. In 1987, the first Disklavier was sold in the United States, the MX 100A, a studio model upright. Shortly after that, the first Disklavier grand, known as the Wagon Grand ( "Wagon" came from the large rolling cart required to hold the hardware) was rolled out.
A third early model, known as the MX80 series, was created in the early 1990s. Like the prior models, the MX80 series recorded on floppy disks and recorded performances in a Yamaha-proprietary file format.
This was a forerunner of the subsequent industry-standard file format known as Standard MIDI Files. Technical innovations found on these early model instruments included hammer sensors for recording, recording and playback of incremental pedal data on the Wagon Grand, and moving pedals during playback.
Since then, Disklavier has gone through many changes, including those in the chart below.
Enter Spirio: A new chapter for Steinway & Sons
Spirio was a new direction for Steinway, which had staked its claim on the meticulous, handcrafted quality of its pianos, their unique tone and touch, and their preference among the vast majority of professional concert pianists.
Could a company steeped in high musical performance also develop a self-playing piano designed more for home entertainment?
Since introducing the standard Spirio Play model in 2015, Steinway has risen to the challenge, making sure that each part of Spirio was up to Steinway's historic standards of quality. For example, a recording option was not originally available in Steinway Spirio pianos.
However, after significant research and development, in 2019 Steinway introduced the Spirio | r, which is capable of both reproducing and recording high performance piano music for later playback.
Similarly, while Disklavier has already implemented Remote Performance Technology, which grew in popularity for distance learning and remote performances during the pandemic, Steinway's engineers the latest high-resolution Spirio | r recording technology in November 2021.
In the end, whichever one's preference between the Disklavier and the Spirio, no one can question the financial and philosophical commitment of Steinway in their pursuit of creating the best 21st Century self-playing piano.
Disklavier vs. Spirio comparison chart
| Item | Yamaha Disklavier | Steinway Spirio |
| --- | --- | --- |
| Approach to Player Piano Design | Yamaha C series | Steinway & Sons historical designs - adapted for the Spirio integration. |
| Year Introduced | 1987 | 2015 |
| High Resolution | PRO models only | Yes |
| User Experience | Many complicated features--not easy | Easy |
| Separation of Core Player System From Rapidly-Changing User Interface | Average | Excellent |
| Soft Play and Repetition | Above average | Excellent |
| Proportional pedaling | Yes | Yes |
| Operates keyshift | Yes | Yes |
| Remote Performance Technology | Yes | SpirioCast - Released in November 2021 |
| Immunity to Line Voltage Variation | Above average | Excellent |
| Supports Recording | Standard, digital recording on all but low-end models | Spirio | r included the highest performance recording possible |
| Included Music | 500 of 11,000+ pieces given at installation. More songs available at additional cost. Also, Disklavier Radio. | Complete 4,482 piece library given at installation. 3-4 hours of new music added free per month. |
| Proprietary Music Catalogue | Disklavier E3 Artists. Live video events available. | Steinway Artists. Spiriocast library growing |
| Quality of underlying instrument | Yamaha--manufactured in a production environment. | Steinway--handcrafted with over 100 craftspeople involved. Steinway tone and touch. |
| Cost | Ranges from $28,899--$225,000 | Ranges from $113,700--$243,400 |
A deeper look into some of these player piano facets
The interface and remote control
Over the years, Disklavier models have utilized a range of devices that were used to operate the piano. These included a control box mounted on the piano, infrared handheld and Wi-Fi controllers.
A variety of devices have been used to control the instrument, including buttons on a control box mounted on the piano, a Java app running via a personal computer, and other apps that run on IOS-based devices.
All Disklaviers have an option for remote control. In most cases, this has been a line-of-sight remote that uses infrared signals (much like a typical TV remote).
Disklavier PRO models have a detached interface. Disklaviers are equipped with non-contact optical sensors but also incorporate continuous grayscale shutters on the hammers to measure their speed and distance.
The addition of continuous grayscale shutters for each hammer allows the user to natively record and playback high-resolution performances with 1023 levels of key and hammer velocity as well as 256 increments of positional pedaling using Yamaha's proprietary XP format.
Spirio has 1020 levels of key and hammer velocity, along with 256 increments of positional pedaling. The Spirio system is operated through the Steinway Spirio App, which provides a seamless interface to the piano and is both intuitive and easy to use.
Whereas Yamaha's Disklavier system relies on MIDI data, low resolution data files, Spirio is recording at the highest resolution possible. Steinway has created a proprietary data file format that captures the nuances and full range of emotion from each artist's level of performance, resulting in a heightened level of playback.
The Spirio's nuanced playback comes from a combination of both the proprietary data file format, along with the Spirio's ability to replicate smaller increments of velocity on both the hammers and proportional pedaling.
This recent technology captures a range of subtlety and nuance that, before now, has not been possible.
Ease of use: people won't use difficult technology
The advent of a detachable interface, one everyone can learn to use in an hour on a familiar iPad or equivalent has made the 21st Century self-playing piano extraordinarily popular.
Someone with very little experience with technology can suddenly entertain dinner guests like a tech pro, simply by accessing a selection of songs from the proprietary music catalogs provided by Yamaha and Steinway.
Having said that, the Spirio may have benefitted from getting in later than the Disklavier, as the Spirio has a reputation for having technology that is easier to use. The Disklavier can take up to four steps to access the piano's technology, while Spirio often only requires one step.
Today's piano buyer is still buying for the sound experience; they don't look forward to complicated, multi-step ordeals. On the question of ease of use, Spirio wins hands down.
Recording and remote performance technology
The Disklavier has Remote Performance Technology, and Spirio rolled out its version in November 2021. During the pandemic, this technology became better known and quite popular for its distance-learning capacities.
For example, a famous musician, college professor, or high school instructor could offer a masterclass to students located remotely.
The Disklavier features a silent play option, which means that a player can practice silently.
The playback on the Disklavier and the Spirio both have high levels of reproduction. Both also have MIDI-editing software. This allows one to record without rerecording the entire piece.
Spirio | r has an iOS app to edit high-definition recordings. Yamaha does not provide software to edit Disklavier Pro recordings.
Proprietary music catalogs
Both Yamaha and Steinway offer sweeteners to their piano purchases through their respective Proprietary Music Catalogues. Steinway knew that Yamaha had the jump on them, having unveiled the Disclavier a decade earlier.
Since rolling out Spirio in 2015, Steinway has outpaced Yamaha in the number of high-performance recordings available to their customers. At their current rate, Steinway's number of recorded songs should overtake Yamaha's in five years.
Notably, Steinway gives all of their Steinway Artist songs--now over 4,450 tracks--as part of their piano sale at no additional charge.
Yamaha has always taken a different approach to its music catalog. First, they have roughly 11,000 songs in their catalog, and their system can handle vocals and background music, not piano music alone.
However, Yamaha usually provides a number of free songs away at the close of sale; their customers have to purchase any others afterward, at an additional cost per song or album. Also, if Disklavier's music catalog sounds a bit dated, it is: their prime years for new recordings were in the 1990s and early 2000s, most of which is not recorded in high resolution.
In contrast, the Spirio musical catalog contains not only vintage classical and jazz recordings but many new recordings by contemporary piano artists.
Both Yamaha and Steinway deserve credit for their investment
Both Yamaha and Steinway & Sons deserve great credit for developing the self-playing piano as a 21st Century combination of an acoustic piano/home entertainment center.
Both companies have invested millions of dollars in design, cutting-edge technology, and marketing to restore the piano to the center of hundreds of thousands of homes worldwide.
As just one indicator of Spirio's rise in popularity, over a third of all new Steinways sold today are Spirios.
While there is no question that the evolution of the Disklavier plowed the ground for any self-playing pianos to follow, Steinway & Sons has invigorated the self-playing piano market with a more usable interface, more recent activity on Music Library production, and the highest resolution of playback yet created for this kind of piano.
On the other hand, the Disklavier has earned applause lately for its performance during the pandemic as a Remote Performance Technology, which allows for remote performances, master classes, and other forms of remote learning.
With the addition of Spiriocast in 2021, Steinway & Sons is now pioneering a Steinway-caliber roster of 'live' performances.
Competition is good for piano buyers as well as for Yamaha and Steinway. As each company strives to make their self-playing instruments even more sophisticated, both will be kept on their toes and will show prospective buyers their updated versions of the 21st Century player piano.
In the end, despite other technological differences, the choice may simply come down to whether the buyer wants a manufactured Yamaha or a handcrafted Steinway for their 21 Century player piano.
Summary: an in-store visit is always educational
We have taken a deeper look into the differences between the Yamaha Disklavier and Steinway Spirio in this article and hope that it helps you to choose the best 21st Century self-playing piano for you.
But an instrument this technologically advanced needs to be seen and heard up close and personal. Towards that end, we hope you will fill out the form below to make an in-store appointment with our informed and helpful M. Steinert & Sons staff. They are available at either of our two locations in Boston and Newton, MA.
For further reading, please see these additional articles on the Steinway Spirio.
Could the Spirio ever become obsolete?
How much does a Steinway Spirio cost?
Spirio Pianos at M. Steinert & Sons
---
Request a Spirio Demonstration