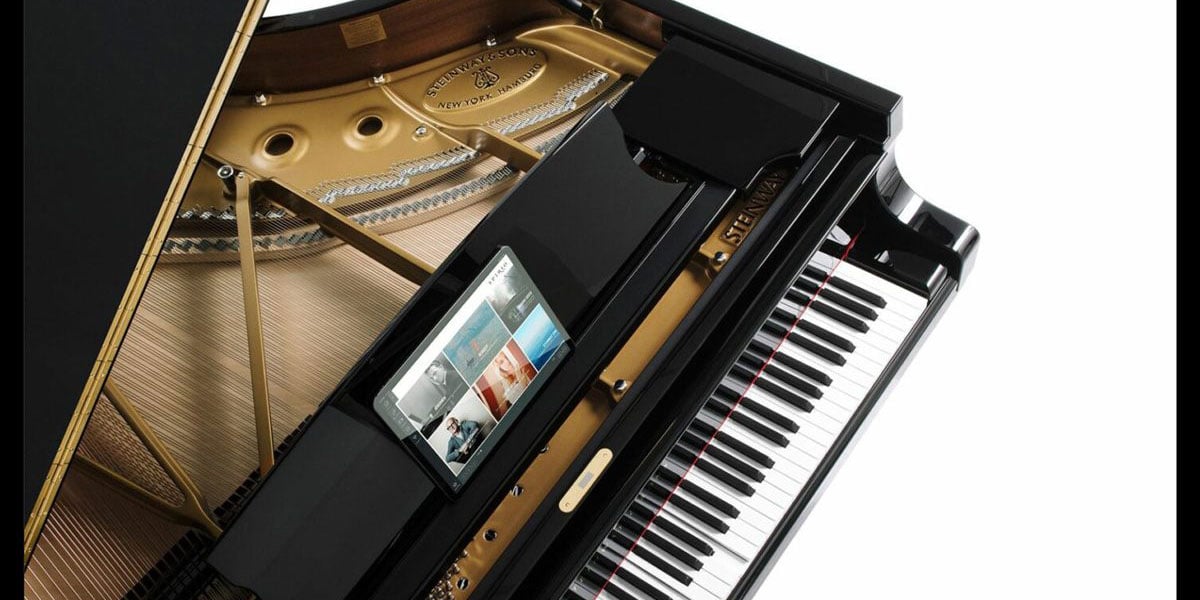 A Steinway & Sons self-playing piano for the 21st Century
by Stephen N. Reed
---
After five years on the market, Steinway's Spirio high performance audio technology is gaining popularity. Indeed, one out of every three new Steinways sold today is a Spirio.
But is the Spirio worth it?
After reading this article, you will be familiar with what we feel are the best reasons to step up to a Spirio for your Steinway Model B, M, or D. M. Steinert & Sons has been a Steinway distributor for New England since 1869 and has seen various models of player pianos over the years.
"The Spirio includes a high resolution musical library, live performance capability, and recording," said Chuck Johnson, Marketing Manager for M. Steinert & Sons.
"We've seen different attempts at player pianos, having served the New England piano market for over 160 years. Spirio is the most well-designed, easy to use, self-playing piano we've ever sold."
Reasons a Spirio is worth it:
1. It's 100% Steinway
First and foremost, a Spirio still has the broad palette, warmth and depth of tone, powerful resonance, and unmatched touch response—just like any other new Steinway.
The artisans at Steinway & Sons install Spirio technology at the time of manufacture, ensuring no alterations in the musical performance, nor compromise in the instrument's beauty. The benefit to the buyer is that they have both a new Steinway grand but also Spirio technology with all of its functions.
2. Easy to use
While Spirio is state-of-the-art technology, Steinway has made it simple for anyone to use. An Apple iPad is included, and the varying Spirio functions are easily controlled with the corresponding app. Training is offered, but rarely required - it's that easy to operate.
After working with every after-market player system in the piano business for over 30 years, we are continually impressed by the simplicity of the Spirio's access to the genres, performers and songs we wanted to hear. When something is easy to use, it tends to get used, and is worth owning.
3. The entire Spirio Content Library included at no extra charge
The exclusive, high-resolution library features over 4300 pieces and is updated with 40-50 new pieces every month at no additional charge.
This includes a growing number of classical virtuosos, jazz legends, today's latest pop artist hits, and historical performances by Steinway immortals like Rachmaninoff, Gershwin, and Duke Ellington.
4. New high-resolution technology developed for Spirio
Much like the megapixel revolution of the digital camera, Spirio offers the high-tech benefit of exclusive, high-resolution recordings, preserving all the music. Every nuanced, dynamic level from infinitesimal gradation of hammer velocity as well as every shade of resonance from proportional pedaling.
The result? Experiencing performances captured by great pianists of today and yesteryear that are indistinguishable from their live performances. We're not talking about mere recordings from your CD collection.
This is like having the ghost of George Gershwin, Duke Ellington, or Sergei Rachmaninoff playing the keys on your Steinway Model M, B, or D grand--exactly the way they performed them decades ago
5. Spirio extends the piano's use
Spirio provides additional, high-resolution audio entertainment long after children who play the piano are out of the nest. Moreover, the different functions Spirio provides can re-ignite an interest in music and piano playing.
For example, one M. Steinert & Sons customer decided to step up to a Spirio because her daughter, who was taking lessons, was beginning to lose interest in the piano.
Spirio has done exactly what her mother had hoped: rekindle her daughter's interest in the piano. Exposure to all of the different musical genres and soon live recordings in real time has made music fun for her again. Indeed, their Spirio has brought the whole family together through music.
6. Perfect for those who want a Steinway but who don't play often
Spirio provides a Steinway grand piano that has increased value for music lovers who do not play or who do so seldom. For these customers, a Steinway grand with the Spirio feature-set makes for a more valuable, easy to use, frequently-enjoyed instrument.
The value for them is two-fold: they have both a traditional Steinway grand for the occasions when they need it, while also enjoying a high-performance Spirio system for regular use.
7. Spirio is a powerful, educational tool
The Spirio is also excellent for teaching and collaboration, allowing players in different locations to share their own recordings with one another. Today's Rodgers and Hammerstein can brainstorm from their own homes, if needed. Remote learning possibilities abound for musical educators with the Spirio, as well.
The Steinway Spirio: The future is now
The years of testing Spirio's capacities by Steinway craftspeople, engineers, and technicians yields tremendous value to the Spirio experience. One out of every three new Steinways purchased today is a Spirio, an indication of their growing popularity with Steinway owners.
M. Steinert & Sons has been serving New England with Steinway's range of pianos since 1869. We were part of the 2016 rollout of the Steinway Spirio because we were impressed with the carefully-researched interfacing of the latest high resolution, audio technology and the classic Steinway craftsmanship.
We encourage you to come see and play a Spirio for yourself at either of our two locations. For more information, please contact M. Steinert & Sons by filling out the form below.
Schedule a visit to one of our showrooms in Boston and Newton to try a Spirio for yourself. Until then, learn more about the Spirio models.