4 reasons a Spirio piano is a perfect fit for your school or university
August 13, 2021 •Stephen Reed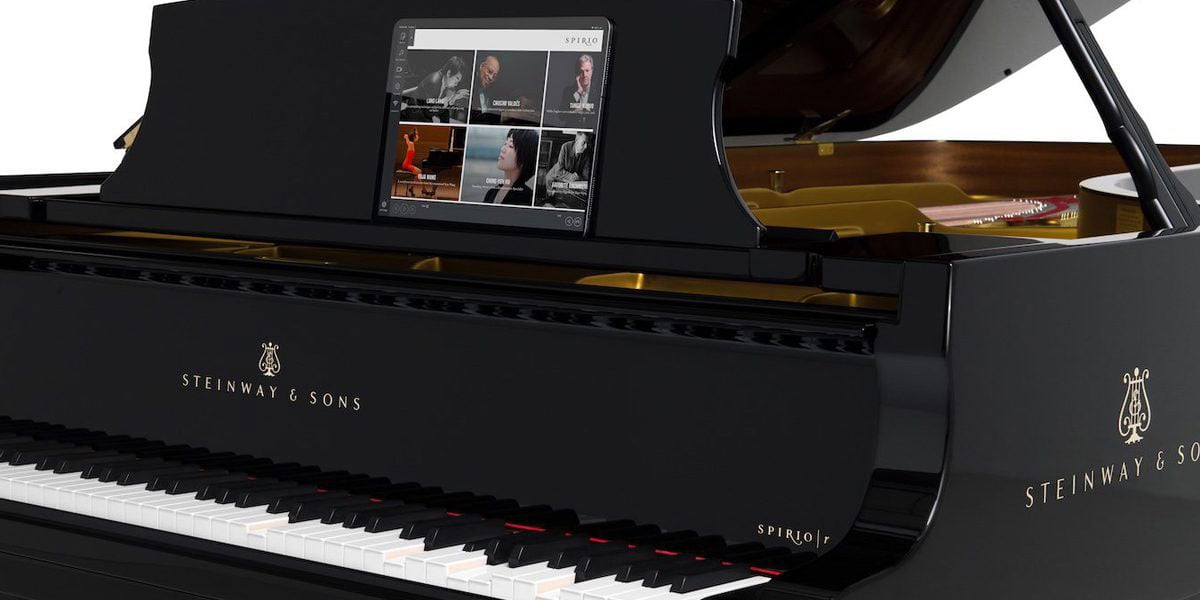 4 reasons a Spirio piano is a perfect fit for your school or university
by Stephen N. Reed
---
A separate iPad interface allows for exceptional ease of use for faculty and students.
Much has been written about the Steinway Spirio's musical and entertainment value in the home. For many thousands of satisfied owners, the Spirio has reclaimed the piano's historic place in the center of the home. For good reason, nearly half of new Steinway pianos purchased today are Spirios.
The Spirio provides hours of practice on a high-quality piano, as well as the joy of perfecting a piano piece. Now, with the latest high resolution technology, Spirio's allow their owners to play, record, and soon participate in remote performances and masterclasses.
But what about the use of a Spirio in a school or institution of higher education? In this article, we will examine four reasons they should consider buying a Spirio.
4 reasons a Spirio is a perfect fit for your school or university
1. Steinway: Enduring, handcrafted quality
Spirio is a great long-term investment
For an institution like a fine arts department in a school or institution of higher education, grand pianos are among the top equipment assets as they are among the very few instruments a student cannot bring with them.

Choosing the right piano becomes a tremendously important decision, as it will be with your institution for many years.
The most critical factor regarding any institution's consideration of purchasing a Spirio is the fact that it is designed and created by Steinway & Sons engineers and craftspeople. The handcrafted quality of a Steinway piano has made it a legendary brand, with a tone and touch that are unique in the world of music. Plus, they are built to last.
For institutions, a Steinway will be the longest-lasting equipment as well as the one with the lowest cost to maintain over time, as they are designed specifically for the rigors of this use. The approximate lifespan of a well- maintained Steinway piano in an institution is 40-50 years.
One is hard-pressed to find another instrument or piece of equipment at an institution with that kind of durability and cost-effectiveness.
Concert pianos tend to be cycled out of major concert use into a secondary performance or rehearsal role sooner than that.
Unlike other widely-used institutional equipment, pianos must accommodate a diverse range of playing or teaching styles and tastes. Steinway & Sons pianos are strongest in their versatility to fulfill this role in all academic spheres.
Steinway's reputation is a draw for prospective faculty and students
For generations, Steinway craftspeople have helped to build the company's reputation. They are seen as legendary masters at their craft--any institution can feel proud to partner with such skill and passion.
Additionally, Steinway & Sons pianos are a perpetually positive force for recruitment of new faculty and students.
For example, institutions of higher education and private schools with Fine Arts programs may also have primary/secondary piano offerings that stretch far beyond those students whose focus is music.
As a result, a Steinway piano potentially impacts all students interested in taking piano or music lessons at a school.
For those students and faculty already immersed in music, many of them seek out schools with Steinway pianos. They are associated with a benchmark of excellence in education, instruction, and a commitment to providing the best equipment on which to learn.
In short, Steinway's reputation can easily redound to a school and pay significant dividends in the form of student and faculty recruitment.
2. Remote learning technology
Remote learning is now a requirement for institutions in a post COVID-19 era, offering the ability to audition, study, and perform, with the unique SpirioCast technology soon allowing for the reception of live piano content, starting in November 2021.
This places Spirio in a perfect position to support higher education and musical institutions in offering more variety in its courses as well as offering recruitment to expand to previously inaccessible markets.
For example, Texas A&M University's Commerce Department recently announced it has become an All-Steinway Spirio school and looks forward to utilizing Spirio's remote learning capacities.
Spirio is a Steinway & Sons piano built with durability, ease of use, and lifetime updates in mind for the institutional market. Any institution investing in a Spirio is offering its constituents the finest equipment for the study of music and the performing arts. Other benefits include:
Offer practice and performance level consistent with the reputation of one's institution
Provide equipment consistent with what is found in major concert venues around the world
Retain and attract the elite and motivated artists/musicians
Enhanced ability to recruit students that have many choices
3. Workshop tool
In order to meet the continuously evolving standards and career opportunities in the competitive workspace, institutions need musical equipment that meet modern, rigorous standards.
This same equipment must provide students with the most current methods of education and professional development--if those same students are going to compete later in their chosen career areas.
In a college or university music department, the pianos are a primary asset in attaining these goals, with Steinway's Spirio being the only instrument to offer students the capability to record, edit, and playback captured piano playing, all in the highest resolution available today.
Spirio features the world's highest resolution curated library of 4,300+ performances by classical, jazz, and contemporary Steinway Artists, free and updated monthly at no extra charge to students and faculty users.
Moreover, these students and faculty utilizing a Spirio at their school or a nearby musical institution will have access to the world's highest resolution curated library of 4,300+ classical, jazz, and contemporary Steinway Artists, free and updated monthly at no extra charge for students' access through their institutions.
Spirio also features advanced connectivity options, including HDMI output to broadcast to classroom projectors or other screens, as well as MIDI In and Out to connect with applications for notation, interactive learning, recording and more.
Spirio is this conduit to connecting music and the growing world of internet connectivity and technology enhanced learning.
4. Spirio is an exceptional tool for institutional advancement
The same self-playing piano that is at work in a morning remote learning or notation session with students in different locations can also be found later that same evening, adding to the entertainment at a fundraising event.
Supporters of your school will be intrigued by the quality and varying functions of Spirio, making it an easy conversation starter at school functions.
For development functions, a Spirio is fully capable of helping you with the following:
Engage and re-engage the donor base in new ways through the Steinway experience and story
Attract new donors utilizing donor engagement opportunities unique to Steinway (artist connections, factory tours, global dealer network)
Reaffirm the identity of your institution as cutting edge in all aspects
Spirio is a unique, multi-tasking instrument
When one considers the different educational and development uses for a Steinway Spirio, a more versatile, harder working instrument would be difficult to imagine.
At M. Steinert & Sons, we have been helping schools, colleges, and universities across New England with their piano selections since 1860. Our seasoned salespersons have deep experience in education and music, enabling them to easily understand which options would work best for you.
Read more about Spirio in the articles below and consider a visit to one of M. Steinert's two showroom locations in Boston and Newton. Or we would be glad to come to your campus first for an assessment of your school's particular needs. Please fill out the form below so that we can get in touch with you.
Could the Spirio ever become obsolete?
How much does a Steinway Spirio cost?