What is the difference between the Boston and Kawai pianos?
February 2, 2022 •Stephen Reed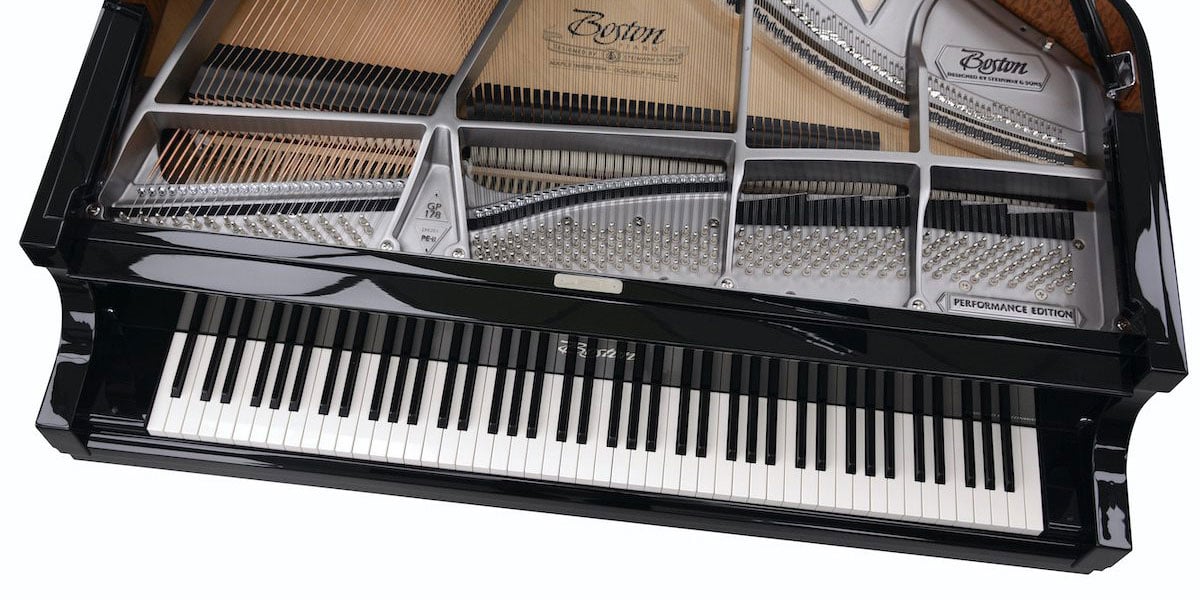 What is the difference between the Boston and Kawai pianos?
by Stephen N. Reed
---
The Boston piano line is produced in a Kawai factory in Japan but is designed by Steinway engineers. Some understandable confusion has resulted from this arrangement.
True, despite having many of the same features as a Steinway, the Boston is built outside the Steinway Factory by an Original Equipment Manufacturer or OEM. Kawai is the chosen OEM partner for the majority of the Boston line of pianos currently. So is the Boston just a Kawai?
Actually, Kawai is simply one of the OEM providers for Steinway, hired to produce the Boston in Japan to Steinway's strict specifications. As a result, even though the Boston is built in the same facility by some of the workers who build Kawai's line of pianos, Boston's design and materials are quite different from Kawai pianos.
In order to better understand the OEM / Designer relationship, let's explore a well-known product outside the piano industry; a product that you probably have in your pocket right now, you may even be using it to read this article: a smartphone.
Everyone is familiar with Apple's iPhone and Google's Android-based phones. Did you know Google Android phone and Apple's iPhone are both manufactured by the same factory? It's true. Foxconn is an Original Equipment Manufacturer for many different brands of smartphones.
Despite being manufactured by the same company, no one considers the iPhone just another Google Android phone. This is because the Original Equipment Manufacturer's role is to simply produce the phone as designed and specified by the designer.
Google's design and specifications differ greatly from Apple's design and specifications. It is the same with the Kawai factory and Steinway & Sons. Kawai's role is to simply manufacture the Boston piano according to Steinway's design and specifications.
M. Steinert & Sons has been in the piano business for over 160 years, helping individuals and institutions to discover the best piano for their particular needs. Since their rollout in the early 1990s, Boston pianos have been among our most popular models for customers looking for a high-quality piano at a reasonable price.
By the end of this article, you will understand the differences between a Boston and Kawai piano, most importantly in the overall design but also in the materials used to create the Boston.
What is the Boston Piano?
Steinway & Sons set out to build the best piano possible beginning in 1853 in New York. Over the years, that mission statement has resulted in well over a century and a half of proud Steinway owners and inspired musicians. Over time, the costs of producing Steinway & Sons pianos have increased precipitously.
In the early 1990's Steinway & Sons recognized that while their pianos were still the best in the world, the price-point was becoming unattainable for many musicians and institutional clients (schools, churches, etc.). So, they took their century of piano design and manufacturing experience and set out to design a new line of pianos called Boston.
Steinway designed 5 distinct grand pianos and 4 distinct upright pianos at Steinway & Sons' New York factory. Once the designs were completed in New York, Steinway set out to find an Original Equipment Manufacturer.
The Kawai factory was known for having a consistent output and consistent product. It was for this reason that Steinway & Sons entered into an OEM/Designer relationship with the Kawai Corporation.
As Kent Webb, Steinway & Sons' Manager of Technical Services and Support, has noted, a great chef can prepare two different recipes in any sufficiently-equipped kitchen.
That is the case here. Steinway recognized the consistency of the Kawai factory's production and their ability to produce a piano to a set standard of quality. Together, they have proven that two quality piano lines–different in nearly every respect–can be built in the same production facility.
The Kawai design
Kawai produces consistent quality production pianos and has deservedly attained greater acclaim in the past two decades. What easily distinguishes them from other production pianos is their ABS plastic and carbon fiber components for their pianos' newer actions.
Kawai suggests that ABS plastic and carbon fiber material makes their actions stronger than all-wooden actions in other lines like Boston.
This is a key selling point for Kawai. As a result of this ABS plastic and carbon fiber action, Kawai maintains that they are more consistent than all-wood actions. However, Kawai continues to make its keys and hammer shanks of wood, so they seem to still value some wooden parts.
In contrast, Steinway-designed pianos like the Boston have all-wood actions, which avoid the risks involved with having plastic/wood parts that aren't as compatible.
For example, while wooden action parts expand and contract as a result of ambient humidity changes, they are doing so at the same rate. The entire action expands and contracts together.
As a result, all-wood actions have less of a chance of having the glue joint break. Thus, all-wood actions are known for their stability.
Wood action parts also have different tensile strengths when compared to plastic, which affects the overall feel for the pianists. Pianists tend to enjoy playing a wood action.
Still, Kawai aggressively markets their actions, highlighting what they call long-term precision and a highly stable touch and tone.
Japanese pianos from Yamaha to Kawai have often been described as having a clear, simple tone, not very complex. Bostons, like Steinways, have a warmer, more rounded tone, and have much of the same complexity as a Steinway.
Let's take a look at some of the other Steinway-design features built into the Boston that makes them different from Kawai and other piano lines.
The Steinway-design elements present in the Boston
Susan Kenagy is one of the Steinway engineers who designed the Boston from the ground up at Steinway & Sons' New York factory, calling upon 165 years of piano manufacturing.
In a recent conversation with M. Steinert & Sons, Kenagy noted that, while the Boston and the Kawai do have the same legs and pedals, when it comes to the features that determine touch and tone, the two brands are quite different.
The Boston now has the same kind of Hard Rock Maple used in Steinways for its inner rim. This produces less vibration and less absorption of sound than the Kawai.
"The Boston has a different wide-tail design rim shape, cast iron plate, low tension scale and string length, bridge, pin block, action, and front-end aesthetics," notes Kenagy. "Plus the Boston now has the same kind of Hard Rock Maple used in Steinways for its inner rim."
This provides more stability of the soundboard and less absorption of sound into the rim than the Kawai.
Kenagy also notes that the entire Steinway family of pianos–Steinway, Boston, and Essex–all have similar tonal characteristics because of their design.
This tone is distinctive, quite different from the Kawai. The Steinway family of pianos has a tone that is noted for its longer, sustaining tone, warmth, and greater dynamic range. "They have this same kind of tone due to the design recipe they share," Kenagy notes.
But Kenagy says that having brands with a range of tonal qualities is not a bad thing at all. "That's the great thing about humanity," she says. "We like different things." Some pianists may prefer a more clear sound, while others like the warmer, even tones of the Steinway family of pianos.
"Different brands have a different tonal target," Kenagy notes. "One brand may be aiming towards a different part of the market, which is fine."
Other Steinway-designed features used in the Boston include:
All-wood action, providing greater stability and touch profile preferred by pianists;
Sitka Spruce soundboard, providing a bigger, fuller tone;
Solid copper-wound bass strings, ensuring pure tone for the life of the instrument.
Kenagy notes that Steinway and Kawai teams work very closely to adhere to quality standards. She notes that the two companies act very collegially and meet frequently online and in-person to review any spec or design changes.
Boston has more differences through innovation
Boston's engineers are always innovating and improving their instruments. Of course, the great advantage for Boston pianos is their relationship to Steinway. Everything that Steinway has learned about piano design and construction from their long experience is considered in the design of the Boston—musicality, longevity, durability, and future residual value.
The Boston 178 PE II grand piano. The PE II series has several improvements, including a lower-tension scale, resulting in a deeper, clearer bass, better treble sustain, and more transparency in the tenor range.
In 2009, 18 years after the launch of Boston in 1991, Boston's first Performance Edition models were rolled out, further distinguishing Boston pianos from other brands.
This first Performance Edition included the patented Octagrip pin block, which gives the Boston a smoother pin turn and more consistent pin torque. This allows for more precise tuning.
In keeping with Steinway's design experience, Boston pianos are constantly improving. The Performance Edition II rolled out in 2016, includes a lower-tension scale, resulting in a deeper, clearer bass, better treble sustain, and more transparency in the tenor range.
Additionally, the PE-II features a luxurious Pomelle Sapele veneer on the inside rim of Ebony finish grands and a rose-gold colored plate. Black felts have been added for the plate, under the fallboard, and around the pedals.
Playing a Boston and Kawai is the best approach
As you've learned, no, the Boston is not a Kawai. They are two separate pianos designed by two different companies.
This matters on several levels, including Boston's trade-in policy. When you purchase a Boston from M. Steinert & Sons, you get our Lifetime Trade-up Promise: full value trade to a new Steinway for your life.
The best way to discern the differences between the Kawai and Boston lines is to test some of their models for yourself. At M. Steinert & Sons, we encourage our customers to make informed decisions, so that they have no regrets later. We want you to have the best piano for you.
Going to a Kawai dealer, then coming to one of our two showrooms in Boston and Newton, will allow you to determine which piano is best for you. One of our senior piano consultants will be glad to show you our Bostons and any other Steinway-designed models.
Until then, you can learn more about Steinway-designed pianos by reading these articles:
Differences between cheap and expensive pianos
Going from vertical to grand: one customer's story