What is a Steinway factory tour like?
November 9, 2021 •Stephen Reed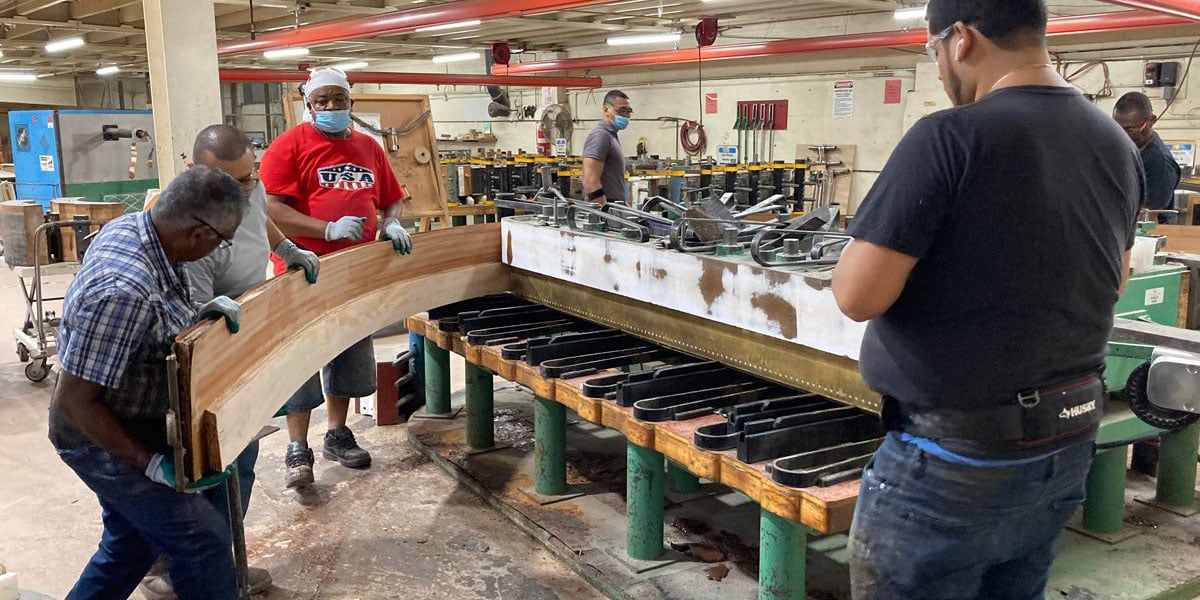 What is a Steinway factory tour like?
by Stephen N. Reed
---
A Series of Pleasant Surprises
You've been impressed, even inspired by the sound of Steinway pianos at concerts or in friends' homes over the years. Their golden tone and stylish black glossy finish--it all speaks to you.
So what is a Steinway & Sons factory tour like, you ask?
A Steinway factory tour is a series of pleasant surprises, beginning with your entrance into the factory. Though attractive, the front door to the Astoria, NY facility is unassuming. Upon entering, you'd never know that the building's small foyer will be leading you into a spacious 500,000 sq. ft. facility, just minutes from downtown Manhattan.
So this is the place they build the famous Steinway pianos.
The next pleasant surprise you experience is the wide range of courteous employees at this Steinway factory. From the janitorial staff running the vacuum cleaners, administrators greeting you warmly as you await your tour, your guide, and all the Steinway craftspeople you meet on your tour--everyone is genuinely welcoming in Steinwayland.
Indeed, any notion that staff working for a world-class brand like Steinway might be aloof is immediately dashed as you go through your tour. The craftspeople are pros and accustomed to visitors looking in on their work. They can remain focused on their work while also engaging visitors on a tour.
"Treat every customer in a courteous and professional manner." These words, found in Steinway's Standard of Excellence Customer Code, are truly embodied by Steinway staff.
By the end of this article, you will know more about the inner workings of Steinway's Astoria, NY factory and some of the key parts of Steinway pianos that have made them the standard of the industry for many decades.
Each craftsperson leads to the next
Steinway & Sons staff member Cameron Underhill took our tour up and down the different floors of the Astoria facility, giving us an education one could only get by seeing this complex process up close.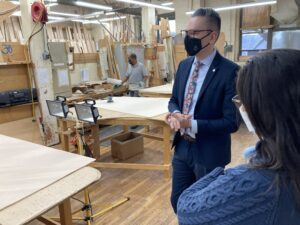 Steinway & Sons staff member Cameron Underhill gives a great, multifaceted tour of the Astoria facility.
As we went through the hour and a half tour, the fact that a Steinway grand piano takes about a year to be completed increasingly made sense. Each craftsperson, whether they are a woodworker, painter, or keyboard specialist is each part of a well-considered, systematic stream to assemble the next Steinway.
You feel like you're witnessing the same process used 100 years ago to make Steinways--because you are! Steinway still produces unique handcrafted pieces, finishing 3-5 pianos per day at the Astoria facility.
Except for some high-tech cutting machines, the entire tour is a rare and pleasant throwback to an earlier time in American manufacturing when the decisions made by highly-skilled craftspeople affected the quality of the final product.
Witnessing the Bending of the Rim
Our tour was fortunate in being able to see several Steinway workers bend the rim for a Model D Steinway concert grand piano. They carefully glued several thin, 20 ft. Hard Rock Maple boards together, stacking them on top of each other.
After letting the glue settle, the Steinway workers then hoist the stacked, glued boards in the air, over their heads, looking like dockworkers as they take the rim over to the rim mold.
Seeing how the thin stacked maple boards are flexible enough to be bent around the rim mold, then clasped into place reminds us that this is the only way for Steinway to provide such a bent rim. This couldn't happen with a single board of wood.
But stacking thin boards of maple together does the trick, even as those boards later look like a single, beautiful, and functional rim. When we see a finished grand piano later, with just such a beautiful rim, it's hard to believe that those bent rims needed to rest for up to 16 weeks to settle following that wood-bending process we witnessed.
So why all this fuss about Steinway's patented one-piece rim process? The rim plays a key role in supporting and enhancing the acoustical properties of the piano's soundboard. Its stability, durability, and strength together create and improve on the distinctive "Steinway sound."
Today's Steinway rim allows Steinway's patented Diaphragmatic Soundboard to vibrate freely and to generate a truly golden tone.
Seeing how the Diaphragmatic Soundboard is made
As alluded to earlier, the other critical part of the Steinway grand piano's acoustic properties is the company's patented Diaphragmatic Soundboard, made from panels of close-grained Sitka Spruce glued together. The soundboard is thicker in the middle, tapering to its edges.
When passing through the "belly department" of the factory, we saw several light-colored wooden soundboards getting prepped for installation. Each soundboard must be perfected before installation since the soundboard and bridge must be able to manage 20,000 pounds of string pressure while also producing a range of sounds, piano and fortissimo.
Steinway's soundboard is known for its ability to respond to a pianist's subtle playing to bring out their emotion. The soundboard is considered the very heart of the Steinway tone, color, and richness.
Checking out where the action is
The "action" of the piano is self-defining: without the action, there would be no sound produced. The action in a Steinway piano responds to the touch instead of being forced into action.
A piano's action refers to the slender, wooden hammers, covered in special wool felt. These hammers are what strike the strings when keys are played. Each piece of this mechanical part of the piano has to be tested by several different people to guarantee rapid, sensitive movement in the coming years.
These little hammers are the reason why grand pianos must have sturdy, huge rims and soundboards. Just as an automobile engine has a heavy case around little pistons firing hard, so must a Steinway grand piano rim and soundboard absorb and contain the sound the hammers create.
Tone regulation: Sensitive ears needed
Tone regulation. Here then was another fascinating stop on our tour--and one so different from any other facet of the operations. The sensitivity involved in getting each key's tone pitch perfect reminds one of the fairy tale "The Princess and the Pea."
Tone regulators note minute differences in weight with great skill, adding small weights to any key that needs it to have the right tone. Tone regulators can spend up to 60 hours per piano, helping it to become a beautiful musical instrument.
If you can recall doing a delicate titration exercise in your high school chemistry lab, measuring tiny amounts precisely, that is similar to the tone regulators' work.
Some tone regulators have such keen hearing that, attending a concert, they can recognize the tone of a Steinway piano that they adjusted years before.
Handcrafting skills learned in-house at the Astoria factory
I asked our tour guide, Cameron Underhill, about the training involved with all of these specialty craftspeople.
"While a background in furniture making can be a good background for us, most of the skills are taught here in-house," says Cameron. He notes that some of the work at their factory is very specialized.
Many of the craftspeople spend their whole career with Steinway. Some are multi-generational craftspeople, who had a parent and grandparent working at the Astoria facility. Pride in their product and the Steinway brand is an obvious aspect of their long tenures in Astoria.
M. Steinert customers welcome to take a tour

While Steinway has suspended public tours of the Astoria, NY factory during the pandemic, M. Steinert & Sons customers can accompany our piano consultant to New York to see how Steinways are made.
Moreover, our individual or institutional customers can engage in the Steinway Selection process, whereby M. Steinert customers select their actual grand piano. You try out six different newly-built Steinway pianos of the model you have chosen, then decide on the one you want to have at home or in your school's concert hall.
Choosing one's own, individual Steinway is an empowering moment for any M. Steinert customer, and we are happy to set up the tour and the Steinway Selection process for you.
Come to one of our showrooms to start the process of deciding which Steinway model is best for you. In the meantime, read these articles to learn more about Steinway & Sons and their world-famous pianos: