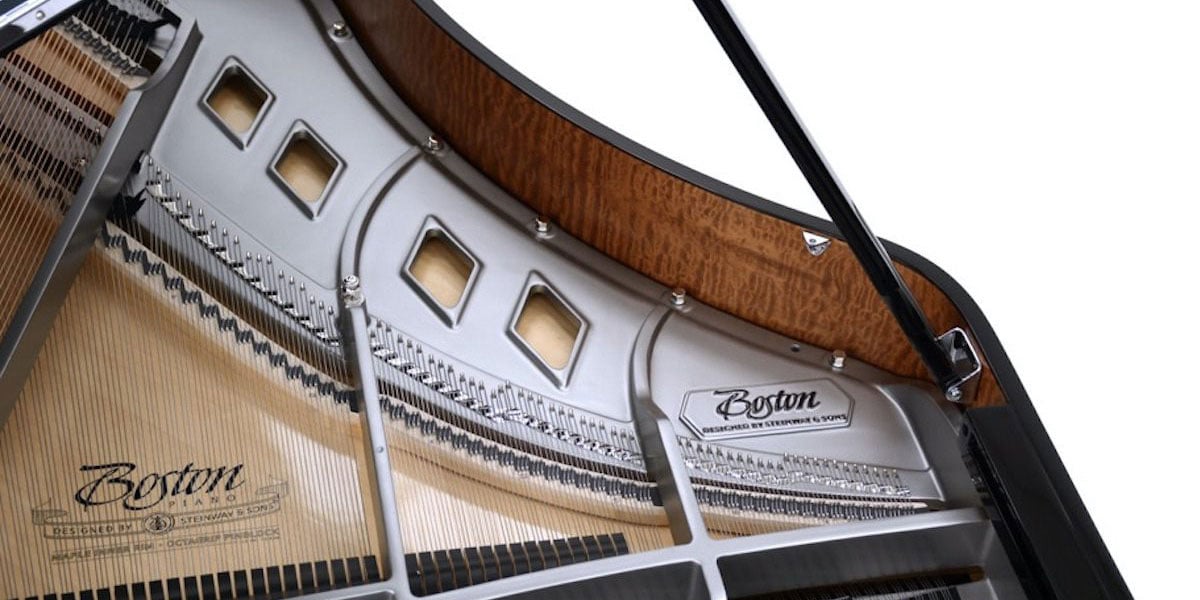 What does a Boston piano cost?
by Stephen N. Reed
---
The Boston line was specifically designed to enable more piano buyers to obtain a piano with Steinway design but at a price more affordable than a handcrafted Steinway.
Boston pianos, along with its sister brand, Essex, are the only manufacturer pianos that benefit from Steinway's engineers incorporating as many of these Steinway-designed features as possible.
At M. Steinert & Sons, we've traced the progress of these two Steinway sister companies from the moment they rolled out in the 1990s. As the world's oldest Steinway dealer, we have studied Steinway & Sons' piano innovations for over 150 years. The trajectory of Boston since its inception three decades marks this as one of Steinway & Sons' most significant decisions.
But are the Steinway-design qualities sufficiently replicated in Boston's grand and upright models to satisfy the discerning piano customer? Further, has Steinway succeeded in finding a price point for its Boston models that is affordable for the ever-growing number of mid-market piano buyers?
At M. Steinert & Sons, we truly value helping customers find the piano that is just right for them. We want you satisfied, not just at the point of sale but after your chosen piano has been in your home for years.
As a result, we not only ask customers to come in and try Boston models for themselves but to examine the quality and cost involved.
By the end of this article, you will have a better understanding of Boston models and their individual costs.
Elements of the Steinway design in Boston models that directly affect costs
Boston's cost is impacted by its Steinway-design elements. Particular materials (e.g. special woods) and the extra time spent in crafting a part of the design can add to the Boston's cost but also its long-term value. Such Steinway-design elements include:
Low-tension scaling– resulting in a longer sustaining tone.
Wide-tail design–for bigger sound in Boston grands. Such wider tails use more soundboard and rim material.
Sitka Spruce soundboard–providing a bigger, fuller tone and sustain. Sitka Spruce is found in the Pacific Northwest and is used for Boston's tapered soundboard due to its unusually tight grain, which conducts the sound. Out of all the 200-year-old Sitka Spruce that is harvested for these soundboards, only the top 3% of the wood is deemed usable.
The Boston line includes five grand pianos and five upright models, along with Steinway's Spirio self-playing piano.
Boston models' cost
As mentioned earlier, Steinway's engineers had to determine how much of the handcrafted Steinway design could be transferred to a manufactured Boston. So, too, the prospective piano buyer needs to determine if the Steinway design is worth the cost of a new Boston
After all, though most Boston models are less than half of a new handcrafted Steinway, this would still be a significant purchase.
M. Steinert & Sons has been privileged to see literally thousands of satisfied Boston piano buyers in our stores over the years. However, only you can discern if the Boston has the value you need personally in your upcoming piano purchase.
Boston Upright models' cost (costs can vary depending on the external finish chosen). Note: These prices reflect the latest May 2022 updates.
The cost of the 46" Boston upright model UP-118-EP can vary from $13,900 to $15,900.
The 47" Boston upright model UP-120S EP costs in a range of $9,800 to $11,500.
The 50" UP-126E EP goes for $16,400 to $19,200.
And the largest Boston upright, the 52" UP-132E EP has a price of $18,400.
Boston Grand models' cost
The 5"1' Boston grand model GP-156 EP costs $25,400.
The 5'4" Boston grand model GP-163 EP costs $30,700–$37,800.
The 5'10" Boston grand model GP-178 costs from $35,200 to $37,900.
The 5'10" Boston grand model GP-178A costs $36,900.
The 6'4" Boston grand model GP 193 costs $46,700.
The 7'1" Boston grand model GP-215 costs $60,900.
You'll enjoy a showroom visit
Today, we can learn an enormous amount of information about the products and services we are interested in thanks to the internet.
The great advantage for you in learning about the Boston in articles like this is that you come to a piano store armed with questions from your readings. This allows you to make the most of your showroom visit, which is essential to any piano purchase.
At M. Steinert & Sons, we look forward to helping all customers to find the best piano for them. We find that the process is more rewarding for those who have done a little homework, reading up on makes and models of the various pianos that strike a chord with them, no pun intended.
We would welcome the opportunity to field your questions about the Boston line of pianos and to let you try some Boston models. See for yourself if Steinway & Sons' entry into the mid-market has succeeded with the creation of the Boston.
Whether you're looking for a new upright or grand, we believe you'll be impressed with the design, construction, and price of Steinway's sister brand, Boston.
In the article below, read more about the Boston and how it compares with Steinway. You'll learn more about the similarities and differences of both and how the Steinway-design elements in the Boston make it stand out from other manufactured pianos: