Boston Pianos Review: How good are Boston pianos?
March 25, 2022 •Stephen Reed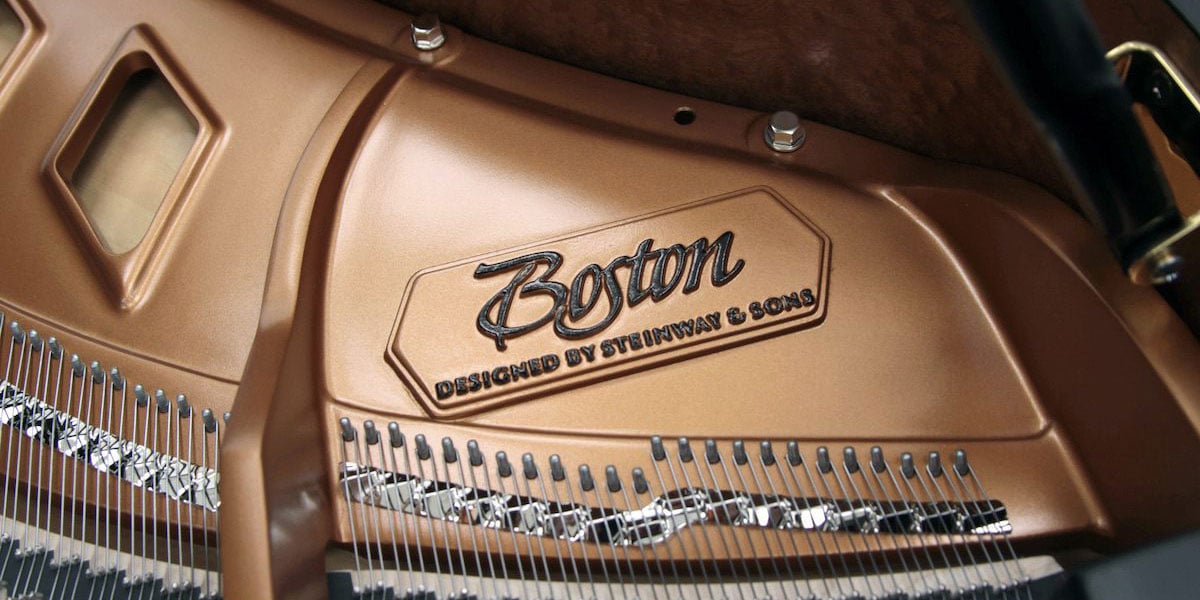 Boston Pianos Review: How good are Boston pianos?
By Stephen N. Reed
updated 10/18/22
---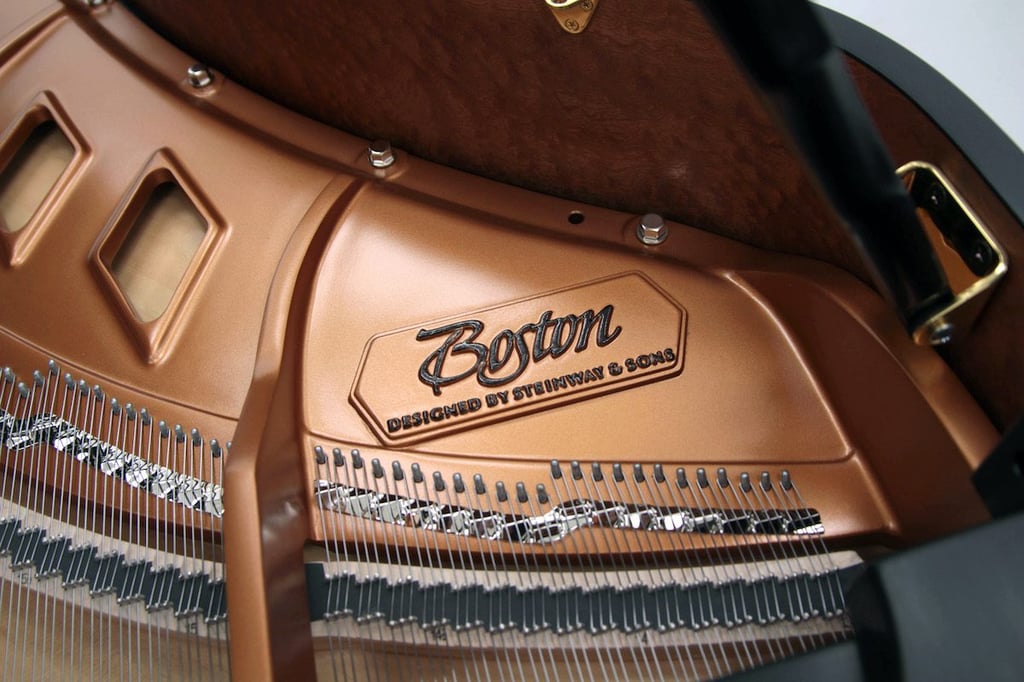 The Boston Piano Company, a subsidiary of Steinway, was established in 1991 as a response to the growing market of piano buyers who wanted more classical tonality from their instrument but couldn't afford the cost of Steinway and Sons piano.
Steinway wanted to capture the mid-level piano market that was growing internationally without having to compromise Steinway & Sons approach to materials and craftsmanship.
So Steinway designed the Boston and created a manufacturing OEM relationship (like Apple does with iPhones) to develop a top-quality manufactured piano at a price lower than handcrafted Steinways.
Designed by Steinway, the Boston uses a recipe with many Steinway-designed features developed from Steinway's more than 160 years of premier piano-building and a commitment to continuous improvement.
Through its adherence to Steinway-design principles, Boston markets its models as the best piano available in the mid-level priced market.
So at about half the price of the least expensive Steinway model, Boston's price is certainly more affordable. But how good are they? And if a Steinway-designed piano isn't handcrafted like Steinway models are, can it really provide the Steinway sound?
For over 150 years, we at M. Steinert & Sons have had a front-row seat at the many piano innovations Steinway & Sons has introduced to the public. As an Authorized Steinway Dealer, we watched with curiosity when Steinway decided to challenge other leading piano companies for the large mid-market of the piano industry.
Over the past three decades, we have studied the new Boston models as they were released and seen how versatile an instrument they are.
By the end of this review, you'll become better acquainted with the Boston line and how their pianos appropriate much of the Steinway design to create one of the most popular new lines of pianos in the last 30 years. We believe in our Steinway-designed pianos, including Bostons, but we still strive for objectivity when describing them to readers.
Boston Pianos integrate elements of the Steinway design.
Steinway engineers Susan Kenagy and John Patton designed the Boston from the ground up at Steinway & Sons' Astoria, New York factory. Low-tension scaling resulted in a longer sustaining tone than other leading manufactured pianos. Other Steinway-design features in Boston include:
More sustain, dynamic range, and warmer tones;
Wide-tail design for bigger sound;
A large Sitka Spruce soundboard provides a fuller tone;
Hard Rock Maple inner rim, producing less vibration and less absorption of sound;
Solid copper-wound bass strings ensure pure tone for the life of the instrument.
The Boston Performance Editions
Everything Steinway knows about pianos from their long experience is considered in the design of the Boston—musicality, longevity, durability, and future residual value.
By 2009, Boston rolled out its first Performance Edition, which included the aforementioned maple inner rim. This provided less vibration. The first edition also featured the patented Octagrip pin block, which gives the Boston a smoother pin turn and more consistent pin torque. This allows for more precise tuning,
Boston's Performance Edition II rolled out in 2016 and had several upgrades. For example, a rescaled bass and treble wire lower string tension provides increased sustain, better tone clarity generally, and deeper, clearer bass.
The Performance Edition II also includes a Pomelle Sapele veneer on the inside rim of Ebony finish grands and a rose-gold colored plate. Black felts have been added for the plate, under the fallboard, and around the pedals. All of these improvements are consistent with Steinway's effort to constantly improve their piano models.
Steinway DNA in Boston pianos produces an even, well-rounded tone
Statistically, it is well-documented that over 95% of concert pianists worldwide performing with major symphony orchestras prefer Steinway pianos. They are not remunerated by Steinway for their preference. The Steinway touch and tone have largely defined what many concertgoers come to expect from a piano performance.
If Boston's design did not closely approximate the Steinway touch found in handcrafted Steinway & Sons pianos, it would still be a high-quality piano.
However, the subtlety present in the wide range of colors in Boston's tone is what clinches the deal for many buyers. Steinway-designed pianos like Boston have a subtlety to their touch and tone that allows the pianist to achieve color changes and new dynamics in exactly the way the artist wants to express.
The piano literally becomes an extension of the performer's musical expression. Overarching this subtle, dynamic range of color in the Boston is an even and well-rounded tone akin to the Steinway sound.
Classical Steinway Immortals like Sergei Rachmaninoff to jazz great George Gershwin preferred the Steinway sound. Boston's warm and even tone has a direct design link to the Steinway sound and is played by modern-day Steinway Artists like Lang Lang. To the degree possible in the manufacturing process, Boston yields piano models that have inherited the Steinway design and sound.
Try a Boston for yourself and see how it compares to Steinway and other top brands
Thanks to this Steinway pedigree, the Boston sounds better, plays better, and lasts longer than any other piano in its price range. So how good are Boston pianos?
For both high quality and affordability, they can make the argument that they are the best-manufactured piano on the market.
The best way to experience Boston is to try a few yourself. Compare it to the Steinways in one of our two showrooms in Boston and Newton. You'll find that Boston is up to the challenge.
For more information about the Boston line of pianos, click here.