What does a baby grand piano cost? Pricing breakdown by type
January 6, 2023 •Stephen Reed
What does a baby grand piano cost? Pricing breakdown by type - updated for 2023.
by Stephen N. Reed, updated on 1/6/23
---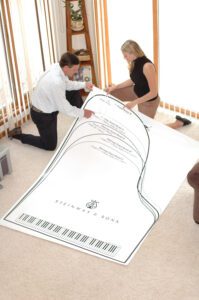 A baby grand can be the perfect piano for the buyer who has a space in their home that is too small for a full grand but can accommodate a little smaller grand. We offer Floor Templates (image to the right) to shoppers in our immediate area.
You'd really like to buy a grand piano, but your space is limited. What to do? A baby grand can be the perfect piano for the buyer who has a room in their home that is too small for a full grand but which can accommodate a piano that is a little bit smaller.
The term "baby grand" has been prevalent for decades but without universal agreement about the exact size of this kind of piano. The consensus is that a grand piano under 6' in length is in the baby grand category.
In addition, the smaller size allows for some savings in the cost. The case and the soundboard all require a lesser amount of expensive materials.
While a baby grand piano can't deliver the power of a full-sized grand, it usually produces more volume than an upright piano. So the buyer comes away experiencing many aspects of a grand piano, just in a smaller size and cost.
But what does a baby grand cost? That depends on whether it's new or used, what brand it is, how old it is, and what condition it's in. We've seen many baby grands at M. Steinert & Sons. We have been helping customers for 160 years to find the best piano for their needs.
By the of this article, we will give you a better idea of what kind of baby grand piano you can buy across a range of prices. It's worth noting that in 2022-2023, the piano world experienced increased costs across the board, resulting in price increases ranging from 5% to 10%.
Used baby grands: What do you get for your money?
The used piano market is enormous. Some buyers will try out different used pianos at other piano stores, hoping to find a great deal while securing a piano with most of its life still ahead.
Others with less money look at "for sale by owner" types of pianos, including baby grands. These are not certified and typically are sold "as is," as the individual seller is usually not interested in making repairs. They want to get rid of the piano, so they are willing to offer it for a low price.
"Free pianos abound in our marketplace," says Steve Hauk, Sales Manager for M. Steinert & Sons. "Hire a reputable guild technician to assess it before accepting it."
How much does a lower-end baby grand piano cost? $501–$10,000
You can usually find a $500, or even free, baby grand without much effort. But the internal condition of such pianos is often so poor as to have no musical value whatsoever. We've written an additional article on the questions to ask before accepting a free piano.

A 2023 look at the Boston-area Craigslist shows the kinds and qualities of baby grands at the next lower end of the price spectrum, $501 to $10,000.
For example, a 2003 Kawai GE-20, at 5' 7", in satin ebony for $8,900.
Additionally, a Yamaha G2 piano for $9,500.
On any given day, one can find a baby grand with questionable or fading musical value in this price range.
The main problem with baby grands in this price range is that unless you bring a qualified piano technician along, you may never know how little you're getting until you bring this sizable piece of furniture home. That is true whether one buys a new or used piano.
Pre-owned Certified and some new baby grand pianos: $10,001–$20,000
This is not to say that decent used baby grand pianos don't exist. They do. But they are more likely to be found at an authorized piano dealer that provides some warranty coverage.
Certified Pre-owned pianos offered by authorized dealers are typically not older than 30 years and in good condition, having been checked by a professional piano technician. Certified Pre-owned pianos can run into the $20,000-$60,000 range and more for newer reputable brands and models.
Also, this range incorporates new Essex baby grands, the most affordable of the Steinway-designed pianos. A new model in this line is possible in this price range. Read more about their smaller grands here, like the EGP-155C Classic Grand starting at $15,900. Or you could look into the small Yamaha GB1K Baby Grand Piano, starting at $15,299.
Many take their chances on a used Steinway in this range without a technician's opinion - this could make for a very dubious investment.
Mid-priced brands and some good used Steinway baby grand pianos: $20,001–$40,000

In this range, some good, new mid-high brand baby grands are available. For example, if you want to move up to a higher quality Steinway family piano, a new Boston baby grand, the 5'1" GP-156 New Performance Edition II can be bought for $26,400.
A 5'3" Yamaha Model C1X lists for $37,999
A 5'11" Kawai Model GX-2BLK list for $46,495
Some good, used Steinways can be found in this range with some effort.
Upper-range baby grands: Steinway Certified Pre-owned baby grands and more new models, $40,001–$87,000
Once the range is between $40,001–$85,000, much higher quality baby grand pianos are possible. For example, a Steinway Certified Pre-owned baby grand piano under 6' falls into this range at different places depending on the age and condition.
The quality advantage of getting a Certified Pre-owned model comes from knowing that all Steinway parts have been used in any repairs. Steinway Authorized Dealers only certify pianos that are 30 years old or less.
This upper range of cost yields several advantages to the buyer who is in a position to pay more for a new baby grand. A new baby grand has a longer life, as it is freshly made. Plus, many piano companies offer a warranty with a new piano.
Steinway & Sons also offers a trade-up policy for any new Steinway, Boston, or Essex piano purchase. When you purchase any new or Pre-owned Steinway, you will receive 100% of the original purchase price in trade toward a new Steinway or Steinway-Designed piano of greater value for the lifetime of the instrument.
Prices for high-quality new baby grands start within this $40,001–$85,000 range and go beyond it, too. Within this range, a Bechstein 160 costs $73,900. A Mason Hamlin B is $83,790. A Model S from Steinway costs $86,600. The cost for other new baby grands can go well beyond $85,000, as with the Fazioli F-156, which costs $135,100.
Baby grands may not need as much space as you think
In the meantime, enjoy reading some additional information and our video about how a baby grand can often fit in the same space as an upright piano: