Pros and Cons of New vs Rebuilt Steinways
September 10, 2020 •Chuck Johnson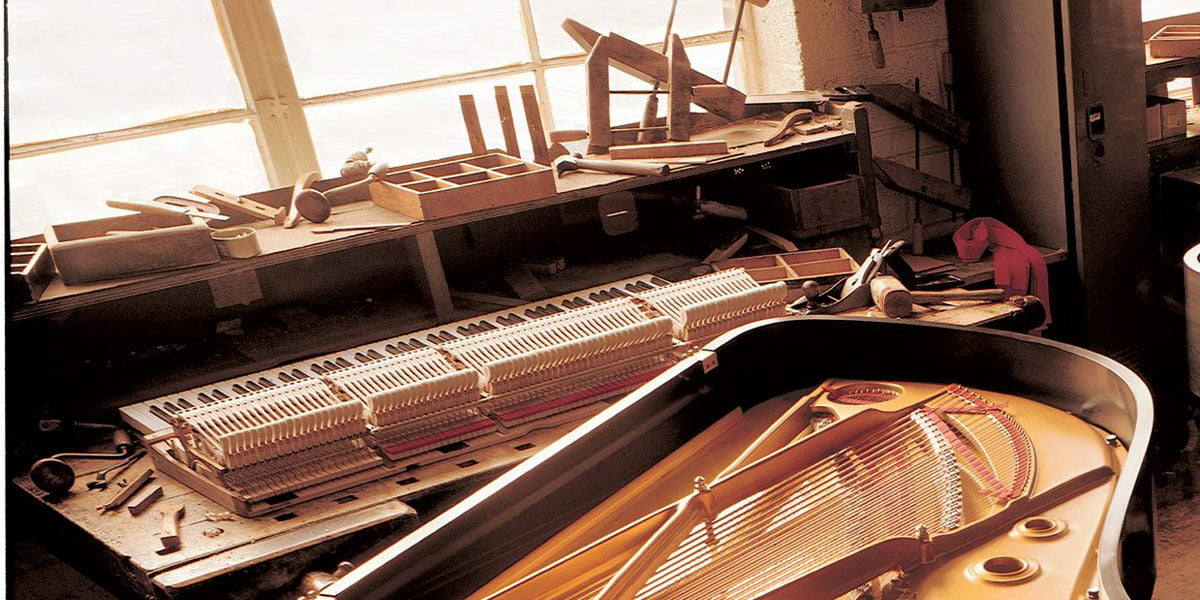 PROS and CONS of New and Rebuilt Steinways:
(by Charles Johnson, Updated November 2021)
Are you looking to purchase a Steinway piano? Or just curious, and aren't sure whether to buy new or rebuilt? In this article, we explore the pros and cons of new vs. rebuilt Steinway.
When the possibility of Steinway ownership first occurred to me - I focused on the brand - and forgot that I was purchasing an individual instrument. The idea of owning a Steinway, any Steinway, was powerful - it's what almost every pianist aspires to.
However, I didn't ultimately inquire about the details of the piano and a pending rebuild which didn't include certain Steinway parts.
Now, with the sweetness of a lower price forgotten and daily exposure to the touch and tone of new Steinway pianos, I've come to realize what I didn't get. My next piano will be a new Steinway.
Suppose you are considering a rebuilt Steinway. In that case, you will need to consider every rebuild on its own specific merits and history to avoid the investment into a potential' knock-off.'
First, let's examine the term "rebuilt."
What is a Rebuilt Piano?
Typically an older fine brand piano, acquired by a rebuilder to profitably resell by replacing critical parts to make the piano seem new.
Rebuilding is not to be confused with restoring a piano, meaning repairing existing parts. Rebuilding often includes replacing major structures and significant-finish work to retain aspects of the original instrument.
Please bear in mind that not all rebuilds are equal.
Are Steinways the only pianos that get rebuilt?
---
The piano rebuilding industry is dominated by the Steinway brand purely because Steinway is arguably the most prestigious and widely recognized brand of a fine piano.
Simply put, it is worth it for rebuilders to attempt to rebuild a Steinway piano since the brand name itself confers so much value. Rebuilders can charge a hefty premium for any piano that says Steinway on the fallboard or plate and "looks" like a Steinway.
Other pianos that will get rebuilt include Bechstein, Bosendorfer, Mason and Hamlin.
Typically, Yamaha and the other production pianos are not rebuilt. Their foundation structures are not conducive to this process and don't have value on the rebuilt market.
There is always at least one rebuilder who will rebuild ANY piano, even if the rebuilding costs more than the piano is worth before or after the rebuild.
Dealers of non-Steinway brands often advertise that they carry used and restored Steinways to attract the Steinway shopper. See our new vs. used article for a deeper look at aged vs. new Steinway.
PROs of Rebuilt Steinway
---
1. Brand Status
It still "says" Steinway on it, even if it's only a label at that point.
2. Lower Cost
As described in the "Cons of Rebuilt" Steinway - the shortcuts and cost-saving techniques employed by rebuilders will tend to reduce the end price. Note: a Steinway Factory Rebuild costs about 80% of new.
3. Steinway Rebuild Option
Steinway does offer a rebuilding service at their NY Factory - and a properly rebuilt Steinway can approximate all the features and characteristics of their new instruments.
The factory rebuild is a good choice if one has a family heirloom Steinway with sentimental or historic attachment value but wants it rebuilt to the quality of a genuine Steinway.
The expertise and resources needed to properly deconstruct, repair, and reassemble a fine instrument without falling prey to inevitable shortcuts is the province of Steinway alone.
CONs of a Rebuilt Steinway Piano
---
1. Inauthentic parts / Non-Steinway Soundboard and Pinblock
Virtually all rebuilt Steinways are no longer authentic Steinways (except those rebuilt BY Steinway).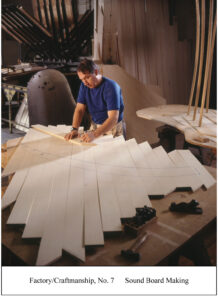 The heart of the Steinway sound, the patented Diaphragmatic Soundboard, cannot be made or installed outside of the Steinway factory.
The legendary wood selected for a Steinway soundboard is only available thanks to long-standing relationships with the best Sitka spruce suppliers. Steinway requires Sitka Spruce from trees on a north-facing slope - focusing on the straightness of grain, and 10 to 12 growth rings per inch.
Then, artisans select and match the planks for assembly and utilize a $500,000, custom piece of laser-guided machinery to complete the proprietary soundboard manufacturing process.
Essentially, no matter how hard they try, rebuilders and dealers can not recreate the sound of a Steinway soundboard. They can not manufacture their rebuilt pianos in the same manner or with the same materials. Steinway does not sell its proprietary soundboards or pinblocks to any rebuilding shop, dealer, or distributor.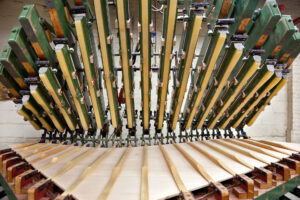 In addition, the patented Steinway Hexagrip Pinblock is essential to Steinway tuning stability and overall piano tonality. The Steinway pinblock would be nearly impossible to manufacture outside of the Steinway factory - and if someone tried - it would cost as much as Steinway's.
Rebuilders are forced to use generic substitutes of these critical components from various suppliers or create their own parts, resulting in an inauthentic Steinway piano.
Think of rebuilding a Ferrari, without using a Ferrari engine, and you get the idea.
Rebuilders leverage the likelihood that few buyers of rebuilt Steinways understand or will inquire about the role of these critical components. Buyers are often told they're 'no big deal.' Yet, the unaware buyer is now getting a "Stein-was."
2. The Golden Age Myth
To attract buyers to generically rebuilt Steinways, used Steinway dealers and rebuilders have perpetuated elaborate myths about a Steinway "Golden Age."
Rebuilders created and now attempt to perpetuate this myth to suggest that Steinway pianos were somehow better in the past. They infer something mythical or magical about this period to propose that a Golden Age piano is better than a new Steinway. The reality is that there isn't a "Golden Age" period. The rebuilt Steinway you purchased will not sound or play as well as a new Steinway.
The new Steinway retains old-world building methods where appropriate. Yet, Steinway also embraces new tools and technology where applicable as well. Continual investment in new machinery and ever-refined processes yields a new instrument with a broader range of tonal color and a more consistent touch.
Uninformed and unsuspecting consumers often fall for these romanticized lies. The well-documented fact is that the vast majority of leading concert pianists and professional music institutions worldwide have always performed on and invested in new Steinways for over one and a half centuries.
Only select dealerships can sell a new Steinway piano. Any business can sell a used or rebuilt one - and the golden age myth plays perfectly into our historic sympathies and sense of nostalgia.
3. Varying Rebuilder Expertise
The range of expertise among piano dealers and technicians in rebuilding old Steinways is vast, so buyer beware.
Some workmanship is low-grade at best, while others sincerely do the best they can within the limits of parts and materials available to them. Since they cannot obtain all the genuine Steinway parts and equipment they would prefer, there truly is no way a rebuilt Steinway can sound exactly like a new one.
There is no standard for accountability or consistency in the rebuilding industry, and the results and risks to the consumer vary widely.
PROs of a New Steinway Piano
---
1. Unparalleled Touch/Tone
New Steinway pianos (manufactured at the New York and Hamburg Factories) reflect all the experience, design refinements, and evolved selection of materials to maintain the reputation of the world's finest piano and their place on the world's concert stages.
2. Longevity
In a heavily used institutional setting, a properly maintained Steinway & Sons piano has a lifespan of approximately 50 years. In a home with standard usage, that lifespan can often be much longer. The famous rim construction process creates the shell/foundation for a very durable instrument. Contrast this to other brands where a 10 to 30-year life is ordinary.
3. Integrity
Only new Steinways have enjoyed the accumulated knowledge, expertise, and legacy of the Steinway factories since 1853. Steinway has produced 139 engineering patents to date, 13 in the last ten years alone.
4. Spirio Technology Option
Since 2016, Spirio technology has revolutionized the way many experience the sound of Steinway.
CONS of a New Steinway Piano
---
1. Cost
To maintain the quality standards set by Steinway and demanded by its customers and artists, the company must absorb the price of materials and the costs of skilled labor to produce these remarkable instruments. For this reason, the cost of a new Steinway has generally increased often at a rate greater than the annual inflation rate.
Since its founding in 1853, Steinway & Sons' mission statement has been simple; "Build the Best Piano Possible." This mantra is plastered all over their factory. Steinway will not compromise their mission statement to achieve a price point. So, as labor and material costs increase, the Steinway piano price must also increase.
2. Access
There are only about 2600 Steinway pianos produced worldwide each year. Many of these go to China, where there is a burgeoning demand for them. Only a select group of dealers in the US are authorized to carry new Steinway pianos.
Your Steinway Choice
---
You will need to decide if it is worth the worry and stress to go the rebuild route. Determining whether a given piano is authentic and a technician is experienced and disciplined enough is a daunting task at best. Sometimes techs that at one time were highly disciplined don't hold to the same standards over time when they realize they can cut corners and costs and still sell their wares.
We remind our new Steinway shoppers that 97 percent of concert pianists worldwide choose new Steinway pianos over rebuilt ones, so why shouldn't you? As Lang Lang said, "I've been playing Steinway pianos exclusively for many years. In my experience, they keep getting better every year, and I have no doubt that the best Steinways ever produced are the ones being built today."
To learn more, please view our Piano Bits Video about the role of design and time in piano manufacturing featured in our New vs. Used Steinway article.
Are you in the Boston region? Feel free to make an appointment to experience a new Steinway at one of our Boston area locations.
You can also fill out our contact form or piano finder form to assist you in finding the perfect Steinway piano for you.