Is the Steinway Selection Process for me?
November 16, 2021 •Stephen Reed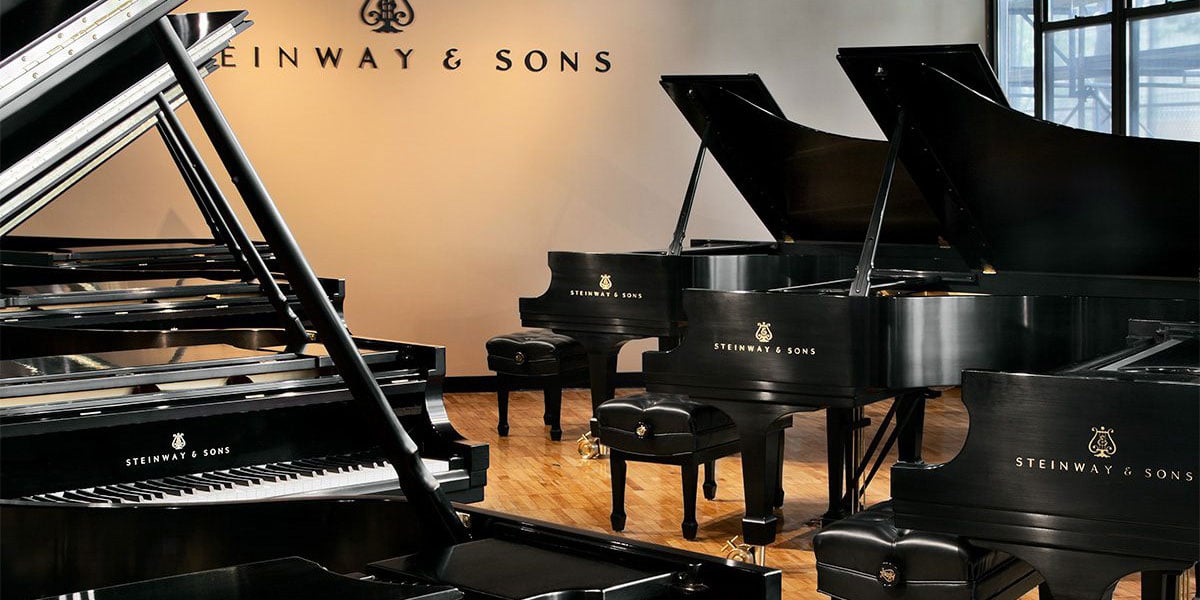 Is the Steinway Selection Process for me?
by Stephen N. Reed
---
One of the most potentially helpful features of buying a Steinway & Sons piano is the "Steinway Selection Process." In this final stage of purchasing a Steinway, an interested customer and their M. Steinert piano consultant can come to Steinway's Astoria, New York factory. There the customer can pick their own, particular Steinway piano, complete with its year and unique serial number.
Imagine the excitement of picking your own brand new Steinway! When you move it into your home or concert hall, you know that's the one you selected over all the others. In short, it will never be just another piano. This piano was adopted by you and is now a part of your family or school community.
In this article, you will learn how the Steinway Selection Process works. You'll discover why Steinway's technical staff prepare six pianos for you to try, allowing you to pick the most perfect Steinway for you.
This is a unique opportunity offered to customers by Steinway and M. Steinert & Sons to bond with your own piano from the start, adopting it fresh from the factory floor. For the long life of your Steinway, you'll always know that you had a decisive role in choosing this specific Steinway.
But did you adopt it, or did it adopt you with a rich tone and feel that spoke to you? In this article, we'll help you discover whether the Steinway Selection Process is for you. Other Steinway customers are fully satisfied without going through the Steinway Selection Process.
But if you want to be a little more hands-on in the last stage of purchasing their piano, Steinway has developed this selection process for buyers like you.
Steinway welcomes individual and institutional clients for tours
The Steinway Selection Process is offered to both individual and institutional Steinway customers. As we'll soon see, Steinway makes the process simple and straightforward. For individuals, the process is particularly easy except for the possibility of choosing between two outstanding pianos at the end of the process.
For institutions, like a school or university, the process is the same except that the different uses for the same chosen piano are uppermost in mind. Moreover, a committee usually participates in the selection process rather than a single academic. As a result, a consensus is part of the process for institutional customers.
An especially weighty decision for institutional clients
Institutional customers going through the Steinway Selection Process are selecting a piano that will be the focus, even the centerpiece, of their concert hall. Not only will promising students be playing this Model D Steinway but also distinguished guests and faculty.
In addition to traditional concerts, such an instrument may also be played at university ceremonies or major donor fundraising events, where the Steinway brand will be noted and appreciated.
A Model D may look like a showhorse, but the truth is, this instrument is a serious workhorse with multiple, important functions. Selecting the best possible concert grand for one's school is likely the most important purchase a college's music department will make that year.
Arriving at the factory with your M. Steinert & Sons piano consultant
M. Steinert & Sons is the oldest Steinway & Sons dealer in the world, tracing our connection with Steinway back to & Sons is the oldest Steinway & Sons dealer in the world, tracing our connection with Steinway back to 1860.
We keep strong ties with Steinway and enjoy arranging, then taking, interested clients to Steinway's Astoria, New York factory, just minutes from downtown Manhattan.
Whether you're flying solo or part of an institutional committee, you've likely been interested in the Steinway Selection Process already and have a great fondness for the Steinway brand. A Steinway grand piano often reflects your aspirations, whether as an individual or a music department, to arrive at a place where they can purchase a piano that is the standard of the industry.
Led by your experienced M. Steinert piano consultant, you'll arrive at the Astoria factory with great anticipation. For pianists, coming to Steinway's factory to sample several brand new Steinways is like a dream come true.
Interested in a factory tour?
If time permits, the individual or institutional customer can take an Astoria factory tour, which takes a little over an hour. Having the tour allows one to appreciate more fully the meticulous craftsmanship involved in the making of a handcrafted grand piano.
While all Steinway pianos meet exacting standards, no two Steinway pianos are alike. Each has its own unique personality. Watching how the Steinway artisans get into the details of each section of the piano-building process is both educational and inspirational.
Six Steinway grands ready to be sampled
Steinway's technical staff has prepared for the customer's visit by expertly tuning each of the six Steinway pianos of the same model already decided upon back in Boston. The Steinway Selection room at the factory accommodates six concert grands, all in a row. Each piano has been completed within the last several weeks.
A Steinway Selection staffer explains the process in an adjoining boardroom to the Steinway Selection room. This is where school committee members meet afterward to compare notes on the different Steinways tested that day.
Narrow down your choices--but they're all so good!
Now at last comes the time for you to engage with the six Steinway grands set before you. The goal here is to play each piano for several minutes to get a feel for each one's tone and action/touch, then compare them with the other five. The fact that one is grading Steinway pianos may understandably feel a bit surreal for you.
Ultimately, this will be a process of elimination, one made challenging by the highest standards of quality achieved by the Steinway craftspeople. "But they're all so good!" is a common statement during the selection process.
A customer may eliminate a couple of the pianos after playing all six, allowing them to focus more on the remaining four. After another round of playing, the individual or committee may narrow the field down further to just two.
By the time the six grand pianos have been winnowed down to two finalists, additional considerations may come into play. For example, while one piano may have a perfect tone for one use, the other may be more versatile for the multiple uses envisioned by a college committee.
In addition to giving each piano another play, committee members may stand back and listen to the two pianos as if they were in the audience back in their college concert hall.
A highly collaborative decision
The committee members then take their notes with them and adjourn to the board room. There they hear each other's final take on the two remaining pianos. Frequently the winning piano is so outstanding that a consensus is already emerging before this last discussion begins.
But by the time this collaborative process is over, like a unanimous jury, the committee makes its final decision with confidence. They have found their Steinway! The Steinway Selection staffer confirms the selection by putting a little marker denoting that the chosen Steinway is now no longer for sale.
The same process works well for the individual customer. While the final decision is wholly the customer's, both individual and committee customers often draw upon their M. Steinert piano consultant and the Steinway Selection staff for information regarding the six pianos arrayed before them.
Leave Astoria confident in your selection
Let's face it: purchasing a Steinway grand piano, whether for one's home or a school's concert hall, is an expensive proposition. Steinway owners will tell you that their pianos are worth every dime they paid for them.
However, in the name of due diligence, many Steinway customers will feel even more comfortable with their purchase by directly taking a role in their piano's final selection.
A college president can rest easy, knowing that the music department took the extra step of ensuring that this new Model D concert grand will perform all of the functions the college envisions for it.
An individual purchasing a Model B for their home will take pride in knowing that their selection was the one that beat out five other excellent Steinways.
We'd love to take you to Astoria
Is the Steinway Selection Process for you? Come into one of M. Steinert's showrooms to find out. You may decide that your process will end at the Steinway factory in Astoria, New York to choose your own Steinway grand. We'd love to take you there.
For more information on different Steinway models, read these articles: