Is a brand new Steinway always better than a used one?
March 16, 2022 •Stephen Reed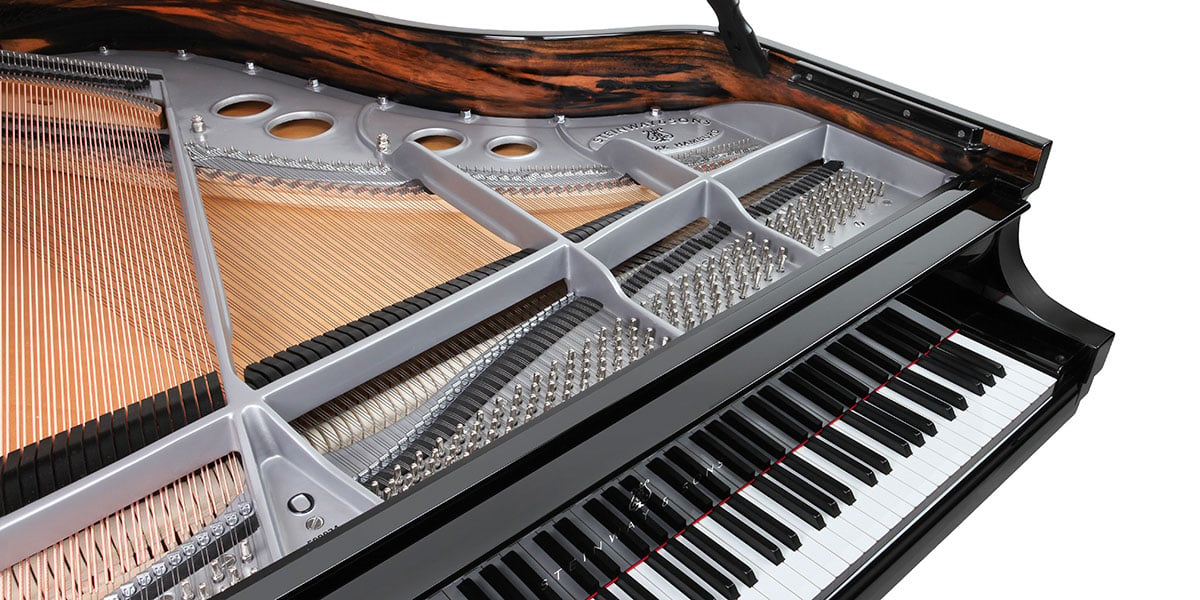 Is a brand new Steinway always better than a used one?
by Stephen N. Reed
---
Is there ever an occasion where buying a used Steinway is preferable to a new one, other than for a lower price? While many used Steinways are in good condition, the simple truth is that every piano has a slow but steady process of deterioration.
So if two Steinways have the same model style, but one is younger than the other, the younger one will most often be the smart purchase–and brand new is the best. The only exceptions to this would be if a younger piano had considerably greater usage and/or a less conducive environment.
These issues could make a younger piano have poor quality than a well-maintained, somewhat older piano
A piano company like Steinway is constantly innovating and improving its models. In fact, Steinway applies for a new piano patent once every 14 months on average. The truth is that only the latest Steinway is outfitted with the latest innovations and improvements, along with the security of Steinway's five-year manufacturer warranty.
By the end of this article, you will understand more about why a brand new Steinway is consistently better than a used one.
Why do concert pianists perform on new Steinways?
Concert pianists know something many don't, namely that even a well-made, handcrafted piano starts the gradual process of deterioration as soon as they leave the factory. That's why they prefer to play as close to a new Steinway piano as possible.
Indeed, upwards of 95% of today's piano performers prefer to play Steinways. Performance halls usually rotate new Steinways in after a few years. Why is this? Because older Steinways–even restored ones–cannot compete with the new Steinway.
Since 1853, consistent with their mission to build the best piano possible, Steinway has been making constant advancements to their instruments -- as mentioned previously, every 14 months, on average.
Only the newest Steinways contain all 139 patents as well as the multitude of factory improvements brought about by modern engineering, process control, and computer technology.
As superstar classical pianist and Steinway Artist Lang Lang puts it, "If I am to play my best, there is no way but Steinway." When Lang Lang wanted to partner with a piano company to design his own "Black Diamond" piano model, he turned to Steinway.
Among other reasons, classical and contemporary piano greats choose Steinway for its famed "Steinway sound," a warm, rich, bell-like tone with a wide range of colors not found elsewhere. This wider palette of color allows the pianist to express their emotions more subtly and powerfully.
World-renowned institutions choose new Steinways
Classical musicians everywhere are familiar with America's most elite music schools: Curtis Institute in Philadelphia, Juilliard School of Music in New York, Oberlin College Conservatory in Ohio, Yale School of Music in Connecticut, to name a few.
These top schools are renowned for producing the best pianists, the best string players, the best woodwind and brass players, the best percussionists, the best vocalists, and the best conductors.
Significantly, each of these schools has chosen Steinway pianos, almost exclusively, for their students' use. Curtis owns 95. Juilliard owns 260. Oberlin owns 240. And Yale owns 150.
Worldwide, the list of "All-Steinway" Schools now exceeds two hundred. Why do the vast majority of leading conservatories and schools of music and symphony orchestras invest only in new Steinways, rotating them out every few years?
Their answer is simple: because of the unparalleled educational experience these pianos provide to their students and the enduring long-term value they provide to institutions. Such top institutions want to be known as having state-of-the-art pianos, i.e. the latest Steinways.
A properly restored Steinway can cost as much as a brand new Steinway
Used Steinway pianos are described in a multitude of ways by technicians and piano dealers: repaired, rebuilt, refurbished, restored.
The best restorations can be done at the new Steinway Restoration Factory in Walker, Iowa factory. The cost of rebuilding an old Steinway can easily approach that of a brand new Steinway.
Sometimes, the theory is floated that a past "Golden Age of Steinway" produced superior instruments which, in good condition, are somehow better than a new Steinway. We debunked this myth in a previous article.
No used Steinway, even one in great condition, has the musical quality and longevity of a brand new Steinway.
The consensus is clear: A new Steinway is always best if financially possible
Major music schools and over 95% of piano performers worldwide point to the new Steinway as the best choice possible–if an individual or institution can make the investment in one of these well-crafted pianos.
From Steinway & Sons' latest innovations to the fact that their long life is entirely ahead of them, a new Steinway offers the best musical quality over any used Steinway, no matter how well-restored it may be. A new Steinway has all of its life ahead of it and has the benefit of including any new innovations developed by Steinway engineers.
Plus, only a new Steinway affords the buyer a five-year manufacturer warranty. Steinway factory warranty.
Finally, only a new Steinway and used Steinways back to 2016 offer the Spirio option, making one's Steinway grand into a high-resolution, 21st century player piano.
Learn more about the difference between new and used Steinways by reading the following articles:
New vs. used Steinway: Which is the better value for me?