How to Move a Piano: Professional piano movers are best
September 13, 2021 •Stephen Reed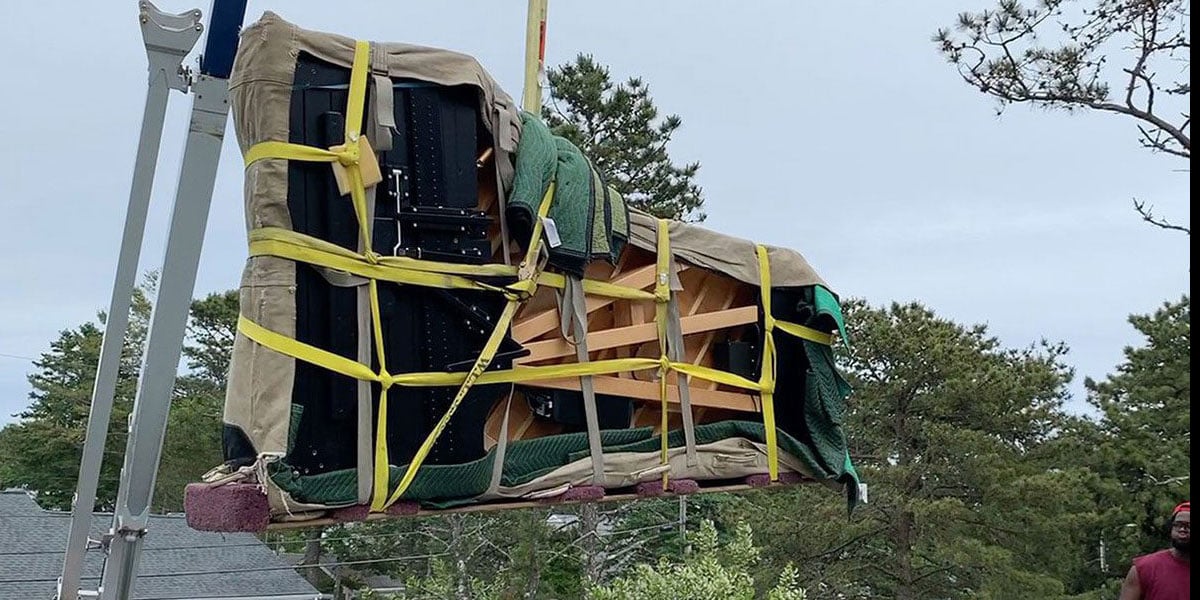 How to move a piano: Professional piano movers are best
by Stephen N. Reed
---
Grand and upright pianos are large and heavy and never more so than when you need to move them to a new location. They can weigh everywhere from 300-800 lbs for an upright and 500-1,400 lbs for a grand.
This is more than your usual move of a heavy piece of furniture, and lifting one with a friend or two could result in a hernia or worse if the piano slips and falls from your hands.
Beyond your own safety, protecting your investment is critical. Hiring a professional mover, one with deep experience in piano moving, will help you to guard against injuring the inside and outside of your piano.
Thus, protecting your investment--and yourself--is paramount when deciding who should move your piano to a new location.
For over 160 years, M. Steinert & Sons has helped thousands of New England piano buyers not only to select the piano that suits their needs but to get them safely and properly installed in their homes, concert halls, and educational institutions.
We always work with the best movers we can find to help our customers to move in a new piano or move out an old one. This article will review the potential costs involved in faulty piano moves.
Additionally, we will illustrate the value of obtaining a professional piano mover, whether via online searches or recommendations from our staff at M. Steinert & Sons.
Don't move a grand piano without a professional's help
Moving a grand piano requires a special sequence of disassembly and reassembly. Eventually, all three legs of a grand piano will be removed, along with the lyre (pedal assembly) before the piano is placed on the moving board.
The sequence and timing of removing the legs is part of the critical skill set of a piano mover. Experience teaches just the right moments of interaction to prevent disaster to the piano, movers, and the household! Please do not consider moving a grand piano without experience.
Advantages to hiring a professional piano mover
While a good piano is a solidly built instrument, on the other hand, this is a delicately balanced wonder with thousands of parts. One bad slip while moving it could result in hundreds, even thousands of dollars of repairs. That's much more than the cost of hiring a professional to move it for you.
Hiring professional movers who have negotiated staircases and other obstacles during piano moves gives you the assurance that your piano is in good hands. A professional piano moving company has the experience and the tools needed to help your piano arrive intact to its new home.
Costs associated with a professional mover and moving it yourself
For a professional mover, moving a piano has a key variable: distance. A short move across one's state will naturally cost considerably less ($400-$900 ) than a move to another region of the country ($1,500+).
Finding a great piano moving company
At M. Steinert, we are glad to give you references to some of the finest piano movers in the greater Boston area that we have worked with over the years. We know these companies are reliable and professional, knowing how to protect pianos in transit.
Additionally, the internet can be a good resource for finding capable piano moving companies, as long as one takes time to read through their website and to read online customer reviews. Or simply ask friends you trust whom they hired for their piano move.
Be sure that the piano mover you choose has current insurance, showing you proof of it. Also, make sure that your homeowner's insurance covers your piano during its move.
When it comes to piano moving, good advice is worth considering
M. Steinert's President emeritus Paul Murphy has seen some disasters over the years from those who decided to move their piano their own way. Paul recalls one upright piano being moved to Beacon Hill:
I once gave away an old upright that we had replaced with a new piano. I gave the upright (we called them bombers because they were so big and heavy) to a lovely young lady who had just moved to Boston.
The grateful recipient arranged her own move. She lived on Beacon Hill in a studio. Even though she was on the first floor, the piano couldn't make the turn into her apartment which was a cut-up old brownstone.
So she had to get a crane to put the piano through the front window. Her movers on this job swung the piano through the window and dropped it hard. The sides fell off and the plate with strings and all fell out. The movers quickly picked up their gear and left this pile of piano in the middle of the room.
How to move a vertical piano yourself
Because of stories like that one, we strongly encourage the hiring of professional piano movers to move even your upright piano. However, because it's not as bulky as a grand, you might choose to move a vertical piano by yourself.
Tips for moving an upright piano
Plan accordingly. First, prepare yourself for an atypical move. This is not a couch or a mattress set, though it is at least as big as those. A piano is both heavy and a complex musical instrument with many different parts. It must be delicately handled with care, always with protective equipment.
Get help. Find four or five of your strongest friends to help with the move. Lift with your legs!
Close and secure the lid of your piano, along with its key cover. Avoid the use of tape as it could remove some of the piano's finish. Padded blankets are essential to cover the piano to guard against marring the exterior as well as cushioning the entire piano during the move.
Keep the piano upright. This is important to the steel strings, which can have over 18 tons of pressure on them. Not having the piano placed upright throughout the move could damage and even snap a string. Having a dolly to help move the piano, placing it under its center of mass, will help keep it upright.
Strap the piano securely but not too tightly in the moving van or truck. You want it secured but without damaging the exterior of the piano.
Be mindful of damaging floors. At the beginning and end of your move, watch the floors. Always lift the piano off the ground, whether on carpeted or hardwood floors. Hardwood floors can easily be scratched due to the weight of the piano.
The piano at rest in its new home: Tuning required
After your piano is in place in its new home, be sure to have it rest in an area that has low humidity and few changes in temperature. This can affect the tuning of the piano. Too much sunlight can damage the finish on the piano, as well.
Once in place, you'll want to have the piano tuned as even a good move can result in some mild changes affecting the piano's tuning.
Having a professional mover's help will safeguard against more expenses than just tuning, potentially preventing thousands of dollars in damage to your musical investment.
Contact M. Steinert & Sons or these local piano movers
Steinert & Sons has been serving New England piano buyers and owners since 1860. If you have any further questions about moving your piano, please contact us at our two area showrooms: Boston: (617) 426-1900 Newton: (508) 655-7373 Email: info@msteinert.com
Two Boston-area piano movers that we can recommend are Allston Piano Movers (Now a division of Gentle Giant) and PMI.
For further reading, enjoy these articles from our "Expert Advice" page on our website: