Can you finance a Steinway piano?
July 15, 2021 •Stephen Reed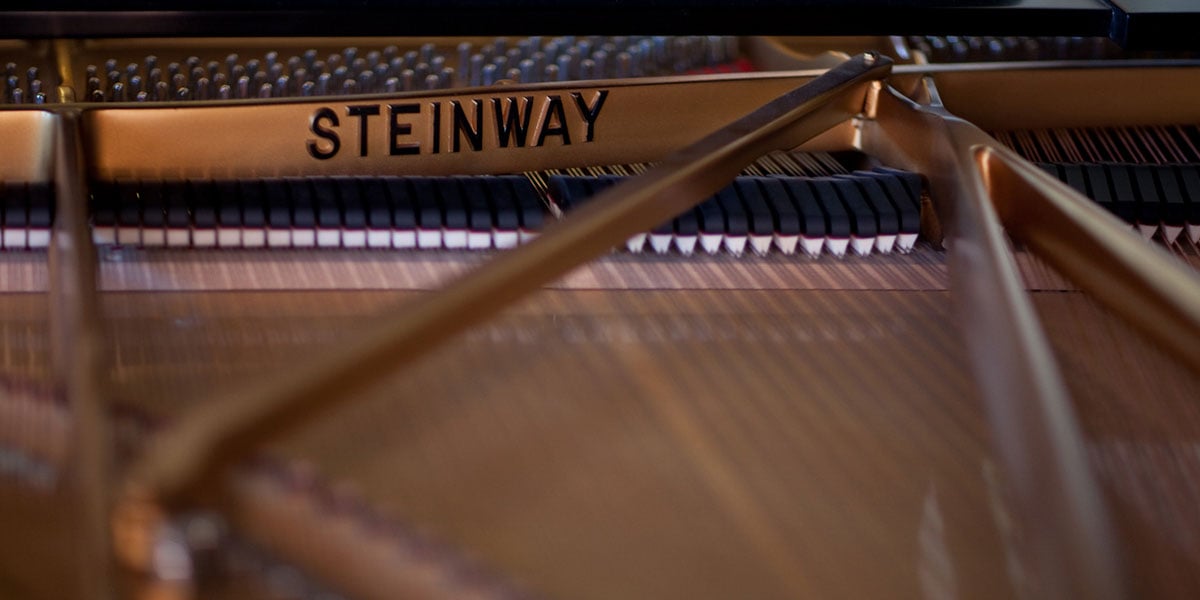 Can you finance a Steinway piano?
by Stephen N. Reed
---
Many people would love to own a Steinway piano. However, the price of one can seem out of reach for many. Even those who can afford a Steinway may wish to have their money working for them, not placed all at once into the purchase of a handcrafted piano.
M. Steinert & Sons has been selling Steinways to a wide range of customers across New England since 1869. As we'll see, customers with quite different financial backgrounds avail themselves of the financing options.
Being able to break the purchase price down to manageable monthly payments provides our customers with more choices, all of which are relatively easy.
Clear, fair financing available at M. Steinert & Sons--at competitive rates
As treasurer of M. Steinert & Sons, Jerome Murphy has helped many people finance their Steinway pianos over his 40-year career. Indeed, over the past ten years, 14% of M. Steinert & Sons' customers finance their piano purchase.
Jerome explains the three ways to finance a Steinway or Steinway-designed piano at M. Steinert & Sons: through Allegro, Piano Credit Corp, or folding one's piano loan into an existing mortgage.
Allegro and Piano Credit Corp
"Through Allegro, a national third-party financing company endorsed by Steinway, we provide an option that works well for many of our customers," explains Jerome.
Allegro finances other kinds of expensive purchases nationally, including luxury items and hearing aids.
"I've been around contracts all my life, and Allegro has one of the easiest, online credit applications," says Jerome. The paperwork is easily produced online. You type in your information, then M. Steinert & Sons sends it off. It may seem a little daunting at first, but the terms are clearly stated. Plus, it's simple interest, which is some serious savings.
Another way to finance a Steinway is to go through Piano Credit Corp., which is the financing company preferred by some of the bigger banks. With Piano Credit Corp, interest rates are low. Currently the interest rate is 8.99% for a ten year loan, which is a good rate for consumer lending. For a $100,000 piano loan over ten years, that would be $1,266 payment per month.
Allegro has similar rates. For a current Steinway summer sale, Allegro offers an 8.99% interest rate. For this sale, Allegro requires only a 10% down payment for all piano loans under $100,000 and 20% for loans of $100,000 or more.
"Both of these options are sound ones," says Jerome. "Plus, we work with customers' credit unions and are working on a local bank option. However, there's another route worth checking out: incorporating your piano loan into an existing or new mortgage."
Folding a piano loan into a new or existing mortgage
Some people could possibly buy their new Steinway through their line of credit. However, what is more likely is to incorporate the piano loan into a mortgage. If a customer has a mortgage at a low rate or would like to refinance it, folding the piano loan into that mortgage can achieve significant savings.
For those with a home mortgage, it's the difference right now between a loan at 8.99% or 3.5%. Or, say you're a young couple, about to take out a new mortgage on your first house. This can be an opportunity to simply add the piano in as part of a new home, locking in the lower interest rate.
A Short-term option: The 30-60-90 in-house financing program through M. Steinert & Sons
One other short-term option that M. Steinert & Sons does that helps some customers is the in-house financing option. Any Steinway buyer with good credit can be eligible for in-house financing by M. Steinert & Sons with 25% down.
The customer then pays three equal payments due 30, 60, and 90 days from delivery, with no interest as long as they make their payments on time and by cash, check ACH debit or wire. If the customer doesn't make payments on time, the in-house option reverts to a simple interest installment loan with an 18% interest rate beginning at day one.
Jerome notes that he has been involved in some creative efforts over the years. In some cases, he has gone the extra mile--literally-- to help M. Steinert & Sons' customers find the financing plan that works best for them.
"I once took a Mercedes wagon as a down payment on a Steinway Model M," says Jerome with a chuckle. "I drove it myself and turned it over to the service department each day for deliveries and home service calls. It was a very nice navy blue. Great car!"
Which customers finance their Steinways? You may be surprised.
But just who finances their Steinway? Which customers find financing to be to their advantage? Most of the financed piano purchases at M. Steinert & Sons have enabled entry-level piano buyers to buy Steinway-designed pianos from the Essex and Boston lines. However, those buying new Steinways have also benefited from M. Steinert & Sons' financing options.
"Some are new parents, getting a new piano for their child," says Jerome. "Others are like one customer, a wealthy gentleman, who could've bought his Steinway outright but wanted to keep more of his money in the market, helping his investments. He told me, "My investments return a higher rate than the interest rate on this piano loan, so it makes sense for me to finance for the longest available.""
Several years ago, Jerome encountered a new customer, a lady immigrant from South Korea, who was a professional pianist who taught piano lessons in Boston. Jerome worked with her and was able to help her receive financing through M. Steinert & Sons.
Years later, the same customer wanted to buy a new Ford car, which led to the Ford Motor Credit to call Jerome to check her credit payments. "She had paid 36 months, each time on the due date or the day before," Jerome remembers. "I wish all of my customers had a credit score as good as hers."
Interestingly, the same customer later purchased a new Steinway Model B from M. Steinert & Sons to add to her Model M. "You just never know who might seek a helpful financing option," says Jerome.
Good credit is the key for any financing option
For any of these financing options, good credit is the key. Any financing option becomes easier with a strong credit score. Credit cards are an issue for some people, but if they are able to clear that up, then an affordable monthly payment is often available. Substandard credit may take some time to clear up, after which a financing option can become possible.
M. Steinert & Sons' Trade-Up Policy helps those who finance now to look ahead to a better piano later
M. Steinert & Sons is well-known for wanting to establish long-term relationships with its customers. Their piano trade policy is a good example of this.
The M. Steinert & Sons Lifetime Steinway Trade-Up Promise states that any piano, new or used, purchased from M. Steinert & Sons will receive 100% of the original purchase price for the life of the original purchaser towards any new Steinway & Sons piano of greater value.
So by starting now with a financed piano at the entry level, the M. Steinert & Sons customer can later apply the sum of those payments to a better piano. Their past payment history is rewarded well.
"And if they eventually trade up to a Steinway, by then we'll probably have an even greater range of financing options for them to consider," says Jerome.
A growing number of financing options
Today's piano customer has an increasing number of financing options to consider. Whether one finances through a national piano financing company like Allegro or Piano Credit Corp, folds the piano loan into one's mortgage or has an in-house loan arranged with M. Steinert & Sons, the different financing options cover an increasing number of customers.
Such financing options make a new Steinway or Steinway-designed piano within reach.
For more details about these financing options, call Steve Hauk, Sales Manager, at M. Steinert & Sons at: (617) 426-1900.