Concert grand pianos: Cost, size, weight, and what makes them special
February 27, 2022 •Stephen Reed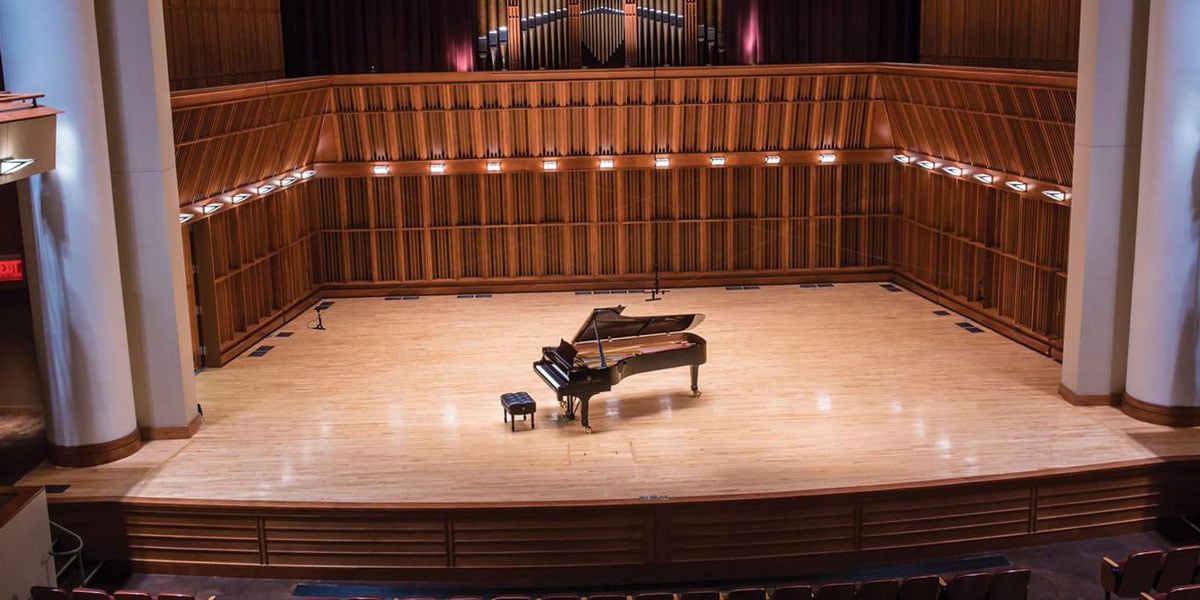 Concert grand pianos: cost, size, weight, and what makes them special
by Stephen N. Reed
---
The concert grand piano is considered the pinnacle of piano making and performance. But few know the different elements that come together to create this imposing musical presence, whether on a concert stage or in a home with a room large enough to accommodate it.
The last thing you want, and that we'd want you to do, is to buy a piano of this size and power without understanding all that you're getting in such an instrument.
Steinert & Sons has been helping individual and institutional buyers with their concert grand purchases for over 160 years.
In fact, we're an Authorized Steinway Dealer. We keep Model D Steinway concert grands constantly available for any Steinway Artist who comes into the Boston area.
Everything has to be perfect with these reserved concert grand pianos– to ensure they are performance-ready at all times for the visiting concert artist. As a result, we are intimately familiar with the upkeep and maintenance requirements of concert grands.
By the end of this article, you will understand some of the key aspects that make the concert grand special, from its size and cost to its power.
How big is a concert grand piano, compared to other grands? What do they weigh?
Concert grand pianos represent the pinnacle of piano making. Their sheer size and weight make them unique instruments, and the only ones professional concert pianists want to play. They are capable of enormous dynamic range.
Let's take a look at how concert grands compare to other grand pianos in terms of their length and weight:
Baby grand pianos are from 4′ 6″ in length up to 5'3″ in length. Approximate weight: 550 lbs.
Medium grand pianos are usually from 5'5″ in length up to 6'3″ in length. Approximately weight: 600 lbs.
Large grand pianos are usually from 6'5″ in length up to 7'4″. Approximate weight: 650 to 850 lbs.
Concert grand pianos are usually from 7'4″ up to 9'6″ in length, though some go even longer. Approximate weight: 900 to 1200 lbs, though some are as heavy as 1,400 lbs.
What sizes are some popular concert grand pianos?
How much does a Concert Grand Piano cost?
Typically, a new concert grand's price ranges from $130,000 to $200,000, depending on the brand and finish, though some models can go higher. The most accurate prices are found by visiting an authorized dealer for a given brand.
How much do popular concert grand pianos cost?
The Yamaha CFX costs $185,799.
The Steinway Model D costs $198,400.
The Kawai SK-EX costs $197,595.
The Bosendorfer Imperial costs $250,000+.
Is a concert grand piano a sound investment for you?
Sound is the main difference in a concert piano. A concert grand has an abundance of power thanks to its size and hefty construction. It can fill a large concert hall with sound, usually without amplification. Such an instrument can easily be heard over a large orchestra.
Investing in a concert grand for the home makes sense if you are seeking the ultimate piano experience. The touch on a concert grand is unlike any other piano you will play due to its extra-long key design.
This additional key length affords the pianist an extraordinary amount of dynamic control when playing, from the softest pianissimo to the loudest fortes.
And as far as the tone goes, a concert grand is beyond compare, due to the extraordinarily large soundboard and long bass strings.
While it is true that 97% of concert pianists prefer Steinway, you needn't be a professional pianist to appreciate the power, resonance, and sustain of a quality concert grand. It will truly bring your playing to a new level.
The best way to find the best concert grand piano for you
Individuals and institutions interested in buying a concert grand piano know that such an investment will require a step-by-step process to assure the right selection for them. Premium piano companies who make concert grands are ready to assist such buyers with a tried and true approach to finding the right piano.
For example, the Steinway Selection Process gives peace of mind to the institutions and individuals interested in participating in this structured, deliberative approach to piano buying.
The fact that Steinway instituted this process years ago illustrates how extraordinarily special concert grands are.
Once you are serious about buying a concert grand, you can try some Steinway Model Ds and other brands' concert grands at their authorized dealers to make comparisons. This is a huge purchase and one to be taken with great care.
Then you can determine if the Steinway Selection Process is for you.
Take an inside look at one institution's purchase of a concert grand for their university and how the Steinway Selection Process worked for them:
Fitchburg State pinpoints the right Steinway for their needs