Be Sharp Piano Studio
Special Offer from M. Steinert & Sons for the Be Sharp Piano Studio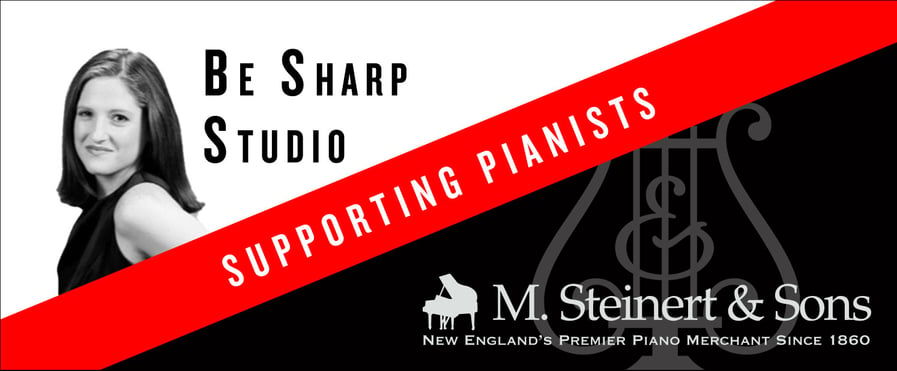 M. Steinert & Sons and the Be Sharp Piano Studio
Creating Quality Musical Experiences
---
---
Biography
Active as a freelance performer, Boston-based pianist Cynthia Sanger has presented recitals at St. Thomas Kirche, Leipzig and Notre Dame Cathedral, Paris. In the US she's performed at Weill Concert Hall, New York; the Adler Theater, Davenport, IA, Augustana College, Rock Island, IL; and the Gardner Museum, Boston. Ms. Sanger's repertoire ranges from Mompou, Persichetti, and Poulenc, to Martinu, Chopin, and Rota. Drawn to music that's rich with imagery and dance, she also performs piano arrangements of orchestral works such as "Peter and the Wolf," "Peer Gynt Suite," and "Rhapsody in Blue" with instrumental soloists. Recent collaborative projects include composing and directing an arrangement for an outdoor performance of "The Entertainer" and "Simple Gifts" for twelve pianists and three vocalists as part of the Newton Festival of the Arts' Artful Piano Project. Focused on making music accessible and on audiences having a kinesthetic and participatory experience, Cynthia has also presented a dynamic "movable performance" with 13 mini performances at outdoor instruments stationed along a running route in Newton. Ms. Sanger believes music starts and resides first and foremost in the body and is currently developing a set of workshops for athletes and musicians that explore the benefits each discipline provides the other. My primary goal for all of my students is to instill in them a desire to learn and constantly improve their music making. I enjoy guiding and eventually watching my students find their own voice in their music. I hope to cultivate independent, competent, and confident musicians who can experience the incredible power of music. A native of Moline, IL, Cynthia received her Bachelor's degree from Northwestern University and her Master's degree in Piano Performance from the Longy School of Music. Her teachers have included Ruth Slenczynska, Sharon Jensen, Sylvia Wang, Richard Ruggero, Alys Terrien-Queen, and Lois Shapiro. While pursuing her degrees, Ms. Sanger taught private piano and group music and movement classes. She currently teaches piano students of all ages in both private and group settings.
---
Flexible Financing Programs
Our flexible financing programs make owning a piano more accessible. Enjoy the benefits of monthly installments, bringing you closer to owning a quality instrument without compromising your budget.
Trade-Up Value and Trade-In Options
Upgrade your piano over time with our trade-up value on instrument purchases and trade-in options. We ensure you get the best value for your investment, allowing you to evolve your musical journey.
Professional Delivery and Ongoing Service
Trust our professional team to deliver your piano safely to your home. We provide ongoing service and maintenance support, ensuring your instrument continues to perform at its best.
START YOUR PIANO SEARCH
Explore a World of Musical Possibilities
Ready to find the perfect piano? Complete this form to kickstart your piano search and discover more exceptional options available. Our team is excited to assist you on your musical journey and help you find the instrument that will bring your musical aspirations to life.