What is the best digital piano?
April 26, 2022 •Stephen Reed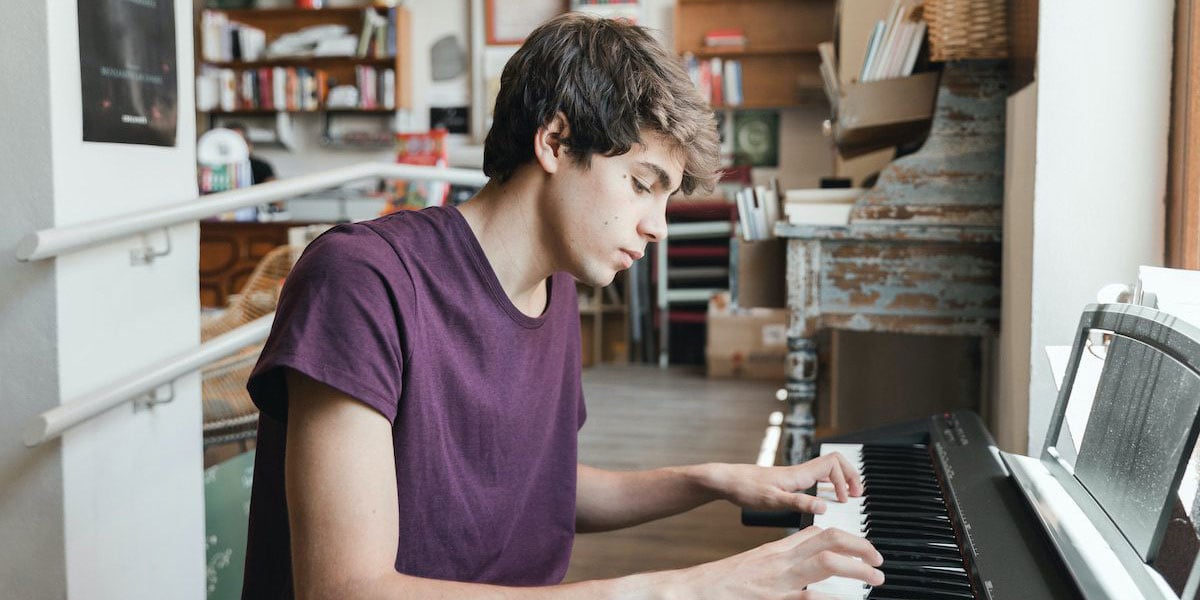 What is the best digital piano?
by Stephen N. Reed
Digital pianos, first popularized in the 1980s, attempt to replicate the sound and feel of an acoustic piano. While great strides have been made towards that end, they still haven't reached that lofty goal, and depending upon who you ask, never will. Yet, for many, the quality digital piano is a great alternative to the old, out of tune, used piano that many first-time buyers gravitate towards.
At M. Steinert & Sons, we have closely followed the digital piano market since the first ones were available. While we carry Roland digital pianos and have always been satisfied with their high quality, we acknowledge that some other top brands have quality models, as well.
Four of the most recommended digital brand pianos include:
All four are known for their quality of sound (usually sampled from their acoustic counterpart), and their realistic action, which makes it feel as close to an acoustic as possible. By the end of this article, you'll understand better the top four digital piano brands and what we believe is the top digital piano.
Yamaha digital pianos
Yamaha digital pianos are often known by their Clavinova brand name and use samples (recordings) from other Yamaha pianos as the basis for their sound. They have a wide range of quality and feature levels - and are grouped, priced, and marketed differently through a wide variety of e-commerce and retail channels.
Model numbers can change quite frequently - and it's often a challenge to know which models are currently in the line-up. In general, the higher the number within a given series (ie P125 vs P45), means a higher price point and feature set within the series.
Yamaha digital series overview:
P: The basic entry-level portable digital piano designed to meet low price standards - basically the higher the number, the higher the feature set.
YDP: These units look like a home-style piano, and depending upon the model use different actions. This series of pianos is more widely distributed including some 'Big Box' retail, Amazon, and large music store chains.
CLP: CLP units and above are marketed through traditional piano stores, and roving Costco tours. Higher-end actions add wood to the key to give the look of a traditional piano key.
CSP: The most recent addition to the Clavinova line seeks to move away from the button-centric CVP approach (see below), to an app and smart device-centered platform. The CSP Series has lights over the keys. Actions are similar to CLP models.
CVP: Considered Yamaha's top-of-the-line digital and reminiscent of the organ days, the CVP units feature a huge array of buttons and features for play-along "boom-chick-a-boom" and recording features. (Grandtouch, Smart Pianist and Clavinova are all trademarks of Yamaha Corporation. Model specifications are subject to change).
Kawai digital pianos
While not as well-known as Yamaha, Kawai digital pianos offer a variety of different quality/function options. They have 7 different piano action designs that appear across their many different models.
Like most, the higher the number within a series means higher feature/price, but some year-to-year changes will blur this
generality in Kawai's line. Kawai digital pianos feature the sampled sound of Kawai acoustic pianos. Kawai instruments are generally sold through piano stores and major music retailers.
Kawai digital series overview:
ES: Portable, beginner-targeted, some offering auto-accompaniment features, hammer actions.
KDP: Budget-focused home-style pianos, hammer actions and basic feature-set.
CN: Home-style units that add Bluetooth and offer app connectivity. Units all feature the Responsive Hammer III plastic key actions with 3 sensors and simulated let-off action.
CA: Kawai's top-of-the-line digital focused on wood-key actions, sampling from their higher-end acoustic line, built-in screen display and high-end speaker/amp combos.
Casio digital pianos
Casio, long known for their inexpensive portable keyboards, has been making digital pianos under the Celviano trade name since the 90s. They have recently gained broader distribution in the US and have sought to move upmarket from their low-end beginnings. Their newer trade name, Privia is sold in many mass merchant stores.
Casio series overview:
Privia Series: Models generally start with the PX prefix, higher numbers mean more features (usually) some with battery-operated options, hammer action mechanism. These are often sold online and by mass merchants.
Celviano Series: The AP prefix denotes their home-style pianos which fall into the low-mid price range of digital piano models. The Casio Celviano Grand-Hybrid series incorporates all-wood key actions and different sound technology and is not as widely distributed as other Casio products.
Roland digital pianos
At Steinert, we've chosen to exclusively partner with Roland digital pianos. Roland has served the professional music community for almost 50 years - and while not as widely distributed or well known as Yamaha - Roland has earned its reputation for physical and musical quality as well as excellent durability.
Their focus on physical modeling sound technology has resulted in major advances used in various ways across their digital piano line and distinguishes Roland digital pianos from other digital pianos in the market. Since Roland doesn't make acoustic pianos, they are free to select from any piano source they choose--and Steinway-based and inspired sounds are present in every Roland digital piano.
Roland digital series overview:
FP: Fully weighted, portable, SuperNATURAL modeling sound. Bluetooth.
DP: A special, 'convertible' line that doubles as a credenza style table. High-quality speakers/amp along with the PHA-50 graded hammer and wood-key action.
HP: The Roland HP line is where quality touch, tone, and cabinetry combine to make for a great home piano experience. SuperNatural Piano Modeling sound. Action and cabinet/finish choices provide options for the discerning digital piano buyer.
LX: The top of the line in Roland digitals. Each features PureAcoustic Piano Modelling derived from a decade of experience in modeled sound. The recently introduced LX708 raised the standard for digital piano sound and touch across the industry. The PHA100 action on the LX708 introduces longer key geometry and offset naturals and sharps for unparalleled touch realism. Other LX models offer variants of speakers, action, and cabinetry.
GP: Grand pianos in the digital line, featuring remarkable cabinet design, powerful sound reinforcement, SuperNATURAL modeling, and the PHA50 action.
Roland's edge in touch and tone
Today's digital pianos have come a long way as compared to past generations of electric and digital pianos. This goes for each of the brands we've reviewed. The engineers at Yamaha, Kawai, Casio, and Roland are to be commended for their efforts towards making affordable instruments that have improved touch and tone.
Having said that, Roland has gone in a different direction than the other leading digital brands. Patrick Elisha, former piano consultant for M. Steinert & Sons, notes that Roland does not seek to be a hybrid of acoustic and digital solutions.
"Rather, Roland seeks to be a maintenance-free, all-encompassing digital piano solution that does not rely on acoustic components to function," says Patrick. "This, coupled with their mastery of acoustic engineering and piano modeling technology, creates an instrument that is reliably accurate, in both touch and tone, and caters to many playing styles."
As a result, while the competition is comprised of some solid alternative brands, Roland offers more to the buyer who wants a reliable touch and tone, based on the engineering Roland has invested in modeling technology. For the piano student who wants to play a wide variety of musical genres, Roland offers a digital piano that is just as playable for jazz and contemporary pieces as classical.
For these reasons, a good argument can be made that Roland is the best of these top-of-the-line digital pianos.
M. Steinert & Sons Trade-Up policy
Should you decide to buy a Roland digital piano from M. Steinert & Sons, you will have the potential to take advantage of the M. Steinert & Sons Lifetime Steinway Trade-Up policy, which gives you 100% of what you paid for your Roland towards a new Steinway & Sons piano, excluding taxes and delivery, towards another M. Steinert piano that has a higher cost.
This enables many buyers to see first if their interest in playing the piano sticks. If it does, many then purchase their ultimate piano.
Sample a range of digital pianos before buying
As with shopping for an acoustic piano, the discerning digital piano customer will take in a good sampling of makes and models. At M. Steinert & Sons, we encourage people to compare different digital models, including our Roland series, before making a purchase. After all, a digital piano is a significant purchase, one you want to be satisfied with going forward.
We would welcome the opportunity to introduce you to our current Roland digital piano models at either of our two showroom locations in Boston and Newton. Please feel free to set up an appointment with one of our experienced piano consultants to listen to your piano needs and to show you some models to play.
While visiting our showrooms, take a look at our acoustic offerings, too, to compare with our digital offerings.
To learn more about the difference between digital and acoustic pianos, read this article:
Digital vs. acoustic pianos: Which is the best for me?