What is a "vintage" Steinway? Definition, types, and value over time
February 10, 2022 •Stephen Reed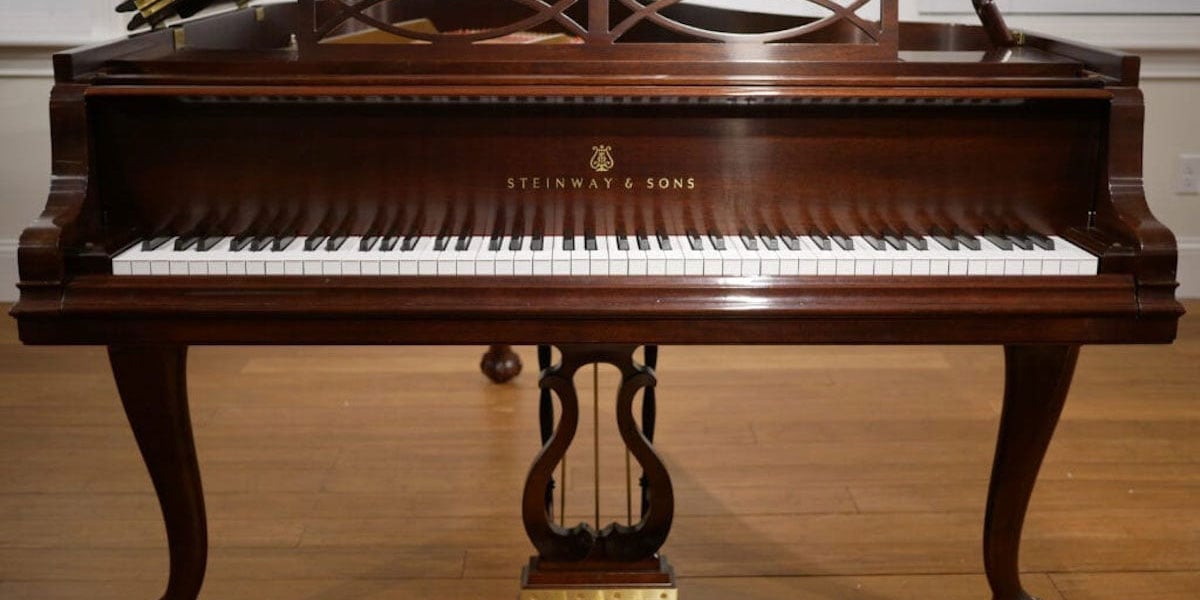 What is a "vintage" Steinway? Definition, types, and value over time
By Stephen N. Reed
---
How does the word "vintage" strike you? In the familiar context of a "vintage automobile" or a fine "vintage for wine," it seems to be an adjective with a favorable connotation. But in the world of used Steinway pianos, "vintage" can be either a positive or a negative, even deceptive term.
Unless buyers do their homework before purchase, they can bring home a so-called "vintage" Steinway that has half (or less) the value and a reduced lifespan compared to what they were told by the seller.
How sad one would feel to realize later that a seller convinced you that their kind of "vintage" used Steinway, built in a supposed "Golden Age" year for Steinway pianos, was really just an old Steinway with a superficial facelift.
At M. Steinert & Sons, we are determined to not let that happen to you, whether you are a prospective buyer or just browsing. Since 1860, we've helped thousands of satisfied customers negotiate their way through the world of high-quality pianos. Our goal is to help you find the right piano for you–and to avoid being hoodwinked by low-end piano sellers.
By the end of this article, you'll know better how to discern a good vintage used Steinway from a hybrid used Steinway with non-Steinway parts. Let's first take a look at the good vintage Steinways in the company's Heirloom Collection.
Steinway's Heirloom Collection: Vintage and Certified
You can tell that Steinway & Sons wants to distinguish their Heirloom Collection of rebuilt vintage Steinways from poseurs who simply call any used Steinway from the past "vintage."
For starters, Steinway markets their Heirloom collection as not only vintage but also "Certified," to alert the prospective buyer that these are high-quality instruments. Indeed, Steinway notes on their website that the Heirloom Collection was created "to distinguish the finest, rebuilt vintage Steinways in the world."
Some customers, for sentimental reasons or even 'style' preference, may want to restore a unique older piano with a unique cabinet design to a modern, playable instrument.
Heirloom Collection vintage Steinways are rebuilt by highly-skilled artisans at the Steinway Restoration Center in Walker, Iowa. In addition to refurbishing Heirloom Collection pianos, The Center takes in Steinways from institutions, piano technicians, private individuals as well as Authorized Steinway Dealers like M. Steinert & Sons.
Importantly, pianos restored by the Center always use genuine Steinway replacement parts. A complete, new Steinway action is used to completely replace the old.
The Center's artisans have as their rebuilding standard to make an Heirloom Collection piano to play like new. As proof of Steinway's confidence in their rebuilding work, all restoration work is backed by an all-inclusive, 5-year warranty, which is the same as for a new Steinway.
A dated certification record comes with the purchase of an Heirloom Collection piano to show that your piano has been restored by Steinway. In a sea of used Steinways today, this certification has real value.
The Steinway Restoration Center receives pianos shipped from all over the world. Once the Center's work is completed, the rebuilt piano is returned to its owner completely restored.
Heirloom Collection Soundboard
The Steinway Diaphragmatic Soundboard plays a key role in producing the "Steinway Sound." This patented soundboard is only available to Steinway, which does not sell its soundboards.
Thus, anytime a Steinway's soundboard is replaced, only the Steinway Restoration Center can provide you with a genuine Steinway soundboard. Steinways are built to last, but their soundboards can have cracks that naturally occur with age.
As a result, any Steinways over 50 years old often receive a new Steinway soundboard at the Center.
The main advantage of buying from the Steinway Heirloom Collection
In the end, the main advantage of buying a used Steinway from the Heirloom Collection is simple. You are tapping into Steinway knowledge, experience, facilities, and materials. No one else can give you that, which, in turn, means that no one else can give you a restored Steinway that bears two official Steinway imprints on your instrument.
First, it was handcrafted and birthed as a brand new piano by Steinway. Second, it has been restored by Steinway, which alone has the same kind of parts and skilled workers to render it worthy of a new 5-year warranty.
Still, all of this Steinway expertise costs money, leaving many to seek their options in the used Steinway market beyond those restored by Steinway.
Used Steinways: The "Golden Age" of Steinway
A good used Steinway–with authentic Steinway parts and labor–can be found on the market for between $30,000-$90,000. Yes, such used Steinways do exist, but the problem is in finding them.
Without a skilled piano technician or a seasoned piano consultant as we have at M. Steinert & Son, many used Steinways can be passed off as being better and worth more than they really are.
But some used piano buyers go one step further, making an audacious claim, namely that a certain "Golden Age" of used Steinways are even better than new Steinways. Used Steinways built in the era of the 1920s and 30s are among the many older, "vintage " Steinways which can be dressed up and made out to be rare jewels that deserve to fetch a higher price.
We rebutted that "Golden Age" of Steinways myth in a previous article, which debunks the claim that such "vintage" used Steinways can ever be better than a new Steinway of the same model.
Given the sheer number and wide variety of used Steinways on the market today, the careful buyer needs to understand the value of a Certified Pre-owned Steinway. Such a piano is the only way to make sure that authentic Steinway parts and skilled labor were used for any repairs.
A Certified Pre-owned Steinway has two advantages. First, such a piano is usually less expensive, at least at the beginning. Also, if it's under ten years old, it has substantial playing life left in it.
But a non-Certified, used Steinway can be part of a murky market, where a "lemon" of a piano is always a possibility. Questions abound. Who did the maintenance work? Where did they get their parts? (If the seller is not an Authorized Steinway Dealer, they can't get authentic Steinway parts.) How many people have owned the piano?
Non-Authorized Steinway Dealers know that they are up against a high standard with a Certified Pre-owned or Heirloom Collection Steinway. How to compete with Steinway or its authorized dealers, who alone have access to genuine Steinway parts and labor?
But if their non-Steinway parts and labor don't work well, or if the soundboard is not certified, what a headache for the buyer who was so proud to bring a "vintage" Steinway home.
The right used Steinway for you
We've seen the difference between good vintage and bad vintage used Steinways in this article. The good vintage Steinways are those older models that have been completely restored with authentic Steinway parts and labor at the new Steinway Restoration Center in Walker, Iowa.
The restoration staff there does such finely-tuned work that Steinway is willing to stake its reputation by giving each of the Center's restored pianos a five-year warranty–the same as a brand new Steinway.
But such a masterpiece in the Heirloom Collection can be pricey, as many of the pianos that are sent there are rare models. Add in the high-quality restoration process, and you can be looking at a six-figure piano.
The Certified Pre-owned Steinway piano is more affordable for many while providing peace of mind in knowing that it has passed through the certification process we have created at M. Steinert and Sons
The Certified Steinway is a sound compromise between the exceptional Heirloom Collection models and the so-called vintage used Steinways which often leave many questions unanswered as to any repairs or materials used to restore them.
Come try some Certified Pre-owned Steinways for yourself
The proof is in the pudding. Come into M. Steinert & Sons to play some Certified Pre-owned Steinways. One of our seasoned piano consultants can give you the background on any such pianos that we have in stock.
Yes, you can find an affordable used Steinway. Just make sure that you find it as a Certified Pre-owned Steinway to give yourself the security of knowing that your Steinway has plenty of life still in it and has passed our rigorous 88-point test.
To read more on buying used pianos, click here.