What first piano should I get for my child?
December 10, 2021 •Stephen Reed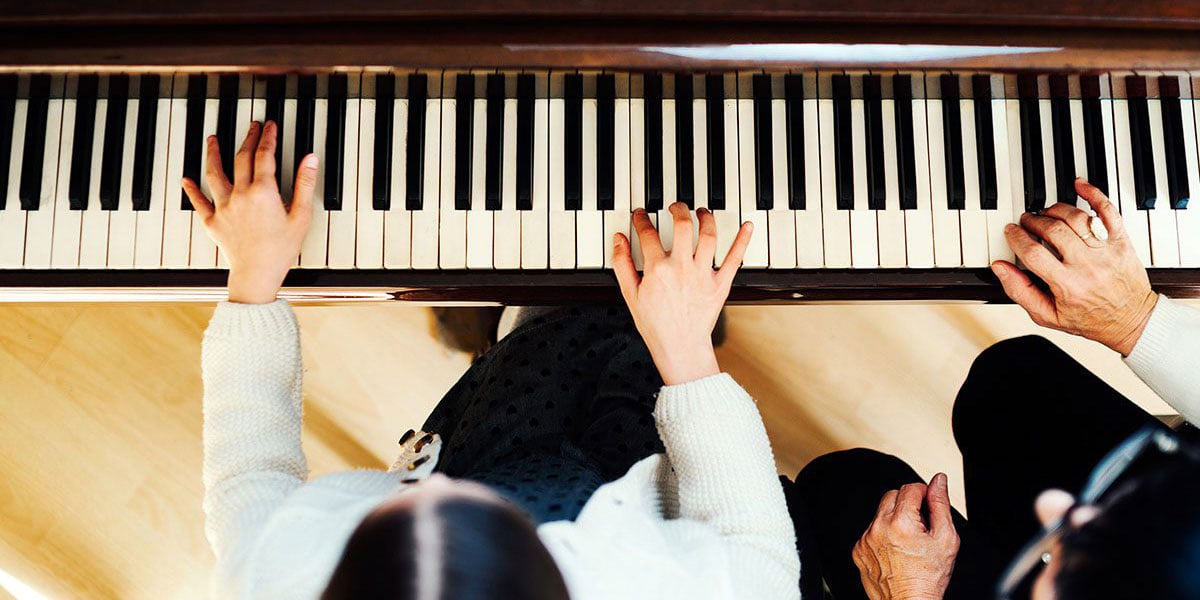 What first piano should I get for my child?
By Stephen N. Reed
---
One of the most common desires expressed by piano shoppers, especially those making a purchase for their child, is to buy the cheapest possible piano that still does the job. Those are the two main considerations: cost and general performance by the instrument.
After all, the future is unknown. Will the child stick with piano lessons for the long haul or give up after a while?
At M. Steinert & Sons, we identify with any parent's need to find the best piano for their needs. Spending hard-earned money on a large musical instrument deserves focused attention.
But focus is also needed to find an affordable piano that will give one's child every chance of success at the keyboard. No parent wants to go to the trouble of purchasing a piano without their child wanting to play it.
However, that unintentionally happens frequently. A child who feels that their family piano is not worth their hours of practicing can often give up too easily.
Then the family is stuck with a rather large and heavy piece of wooden furniture that collects dust in the corner of a room--or a digital piano that is given away to a relative.
Through the eyes of a customer
In this article, we will track the thoughts of one of our customers, Chris of Arlington, Massachusetts, whose daughter is about to begin piano lessons. As a result, Chris is beginning to explore what kind of piano to purchase for her.
Balancing that with Chris's present budget and space in his home will be a key factor in his upcoming purchase of their family's first piano.
Before getting into the options available for beginners, we spoke with Chris at length about what was behind his interest in supporting his daughter's upcoming lessons.
He explained that his father was quite a piano player, though he played by ear, not by sight-reading. Chris hopes that this daughter may have inherited some of his father's abilities at the piano.
In addition to Chris having a piano in his home growing up, he has become a musician himself, playing both the mandolin and the guitar in a local music group.
He's bought top instruments for both of those efforts, so he's aware of the benefit of having a quality musical instrument, especially for the ongoing motivation of a young beginner.
However, he still wants to be careful with this first piano, as he waits to see if his daughter "takes" to her piano lessons or not.
Narrowing down best options
Chris has a second-story townhouse, reached by a narrow staircase. As a result, a grand for his daughter's first piano might be a tall order, both in terms of space and in hauling it up that staircase.
That leads us to recommend options in upright piano models like Essex, a Steinway-designed, less expensive brand, as well as digital pianos like Roland. Roland makes a credible case that a good, digital piano can serve well as a first piano.
Chris is committed to read some articles on our M. Steinert & Sons website to learn more about pianos in his price range. Then he can start to know some actual options.
Rent-to-Own can be a viable compromise
We suggested that one way for Chris to slice the Gordian Knot on price/quality would be to rent a quality piano for a number of months.
That way, Chris can wait to see if his daughter seriously takes to playing the piano, while giving her every opportunity to succeed with a quality upright piano that Chris doesn't have to buy.
Chris would be putting a "toe in the water of acoustic pianos" without having to make a huge investment yet. That could wait for their second piano some time hence.
Giving his daughter an acoustic piano to play will give her a better idea of the pianos yet to come in her life, as opposed to the still good but much different experience of playing a digital piano.
Simply put, one shouldn't expect to replicate the acoustic piano experience through a digital model.
Chris found this renting idea to be an interesting one and said he'd keep it in mind as he did his reading and research. To allow for the possibility of purchasing the piano he is renting, Chris will want to look into a rent-to-own arrangement.
M. Steinert's commitment: the right piano for you
Chris echoes the concerns raised frequently by parents wanting to do right by their promising child while still making a wise choice for a piano.
Until enough time has passed to determine the seriousness of the young student's genuine interest, a parent has every right to wait and see.
Nevertheless, a parent like Chris also wants to give his daughter every chance to enjoy playing the piano as a lifelong pursuit. That begins with one's very first piano and whether the young student feels empowered to play it.
In short, Chris realizes that he can't just give his child anything to play. His choice needs to be one that his daughter looks forward to playing.
True, a beginner need not have the most expensive of pianos. However, getting the cheapest piano can backfire, too. Young students can be surprisingly sensitive to the pianos they play. If the piano given to them is not inviting and seems more like a temporary arrangement, so, too, can their interest in playing music become temporary.
Finding just the right piano for you--that is what has set M. Steinert apart since 1860. Each of our tens of thousands of customers has known that their concerns and needs were heard by our experienced piano consultants.
If you are considering a piano purchase for a young person in your family or simply to enhance your home with live music, come visit one of our two showrooms in South Boston and Newton.
Meantime, start your own research with these articles to learn more about what could be your very first piano!