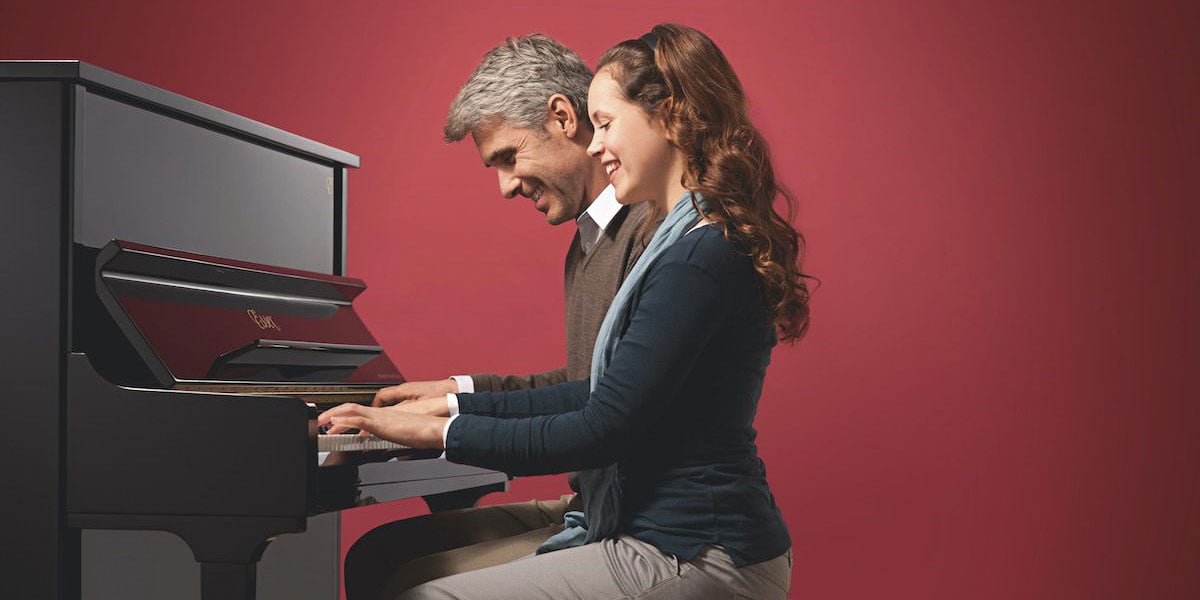 What do piano lessons cost?
by Stephen N. Reed
---
Piano lessons hold a storied image in American life. For generations, submitting to the expertise of one's piano teacher, has been a cultural rite of passage for millions of young people.
Like everything else, piano lessons have increased, in some places dramatically. In this article, we will explore the range of piano lesson costs nationally and in the Greater Boston area. We will also address the value of such lessons for students, whether or not they make a career in music.
A wide range of costs for piano lessons
Nationally, the cost of piano lessons typically ranges between $15 and $50 for a 30-minute lesson. Lesson rates can vary depending on things like where you live and your teacher's expertise.
According to M. Steinert & Sons piano consultant Patrick Elisha, piano lessons in the Greater Boston area typically range from $30-to $75 per 30-minute lesson. These piano teachers often have exceptional educational and performance credentials. Other factors also affect lesson costs including:
The teacher coming to student's home
The student traveling to teacher's studio (cost of renting/buying studio, equipment)
The student taking lessons at a prestigious community music/prep school
Regardless of cost, one-on-one piano lessons have great benefits
The benefits of working with a private music teacher are obvious: you get one-on-one professional guidance, a customized lesson plan, and a teacher to hold you accountable to your musical lessons and goals.
A qualified piano teacher will help their student in the process of learning how to open the door into and traverse the vast world of music. It is important to find a balance in what this mentor can provide, both in their pedagogical capacity and in their capabilities to accentuate the mostly solitary practice of learning how to play the piano.
The piano offers a student a wide variety of performance opportunities
Unlike other instruments which have the clear opportunity to engage in orchestral repertoire through local youth symphony orchestras, piano playing is like a "Swiss Army Knife" in terms of the varied mediums carried by the instrument.
Collaborative piano in its many forms should include but not limited to accompanying and chamber music should be an integral part of early learning. Quite often, the latter is only available at summer music festivals.
Consequentially, if the pedagogical method or venue can't provide these opportunities, the teacher needs to inspire the artist and their family to engage in summer music festival programs, "extracurricular" ensemble learning, and performing.
Performing is as integral to the art of piano as practicing. Imagine a world where we prepare for an athletic event such as a basketball game, practicing each day with our team, only to realize that there never really is a game to look forward to. The "game" is the opportunity to perform, on a consistent, semi-annual, or quarterly basis with performances set up by the teacher or school associated.
Piano playing as a mental challenge
A good piano teacher helps their students understand the mathematics around how music works. This is key to a developing artist's voice and analytical capability. This more cerebral part of piano learning is both fun and a core tenet of a complete piano education.
Like any language or dialect all of these elements, from learning solo repertoire to understanding the world of collaboration with others, performing and music theory are needed in order to offer the learner the best opportunity in learning the art of piano.
The more complete the education, the more likely one is to continue and maintain this art in one's life, allowing this craft to endure with their own children and families as time goes on.
A course in discipline, self-confidence, and the mathematics of music
"Anyone who makes a distinction between entertainment and education doesn't know the first thing about either." So said Canadian social philosopher Marshall McLuhan.
Like all good teachers, a gifted piano teacher knows how to challenge students while making learning fun. Without piano playing having an element of enjoyment to it, a student is not likely to stay with it for long.
Whatever the rate that a given piano teacher charges, if they are capable both technical mastery of playing the piano and finding fun and interesting ways to engage their students, then they are probably worth every dollar they charge.
For not only will they be opening up the world of music to their students but will be building up their sense of self-discipline, self-confidence, and intellectual curiosity as to how subject areas like mathematics and music intersect.
Piano playing is on the rise, as people turn to music making at home during different periods of the pandemic. Read more about that in piano teacher Elizabeth Reed's following essay: