Steinway's Louis XV: A piano fit for a king
May 14, 2021 •Stephen Reed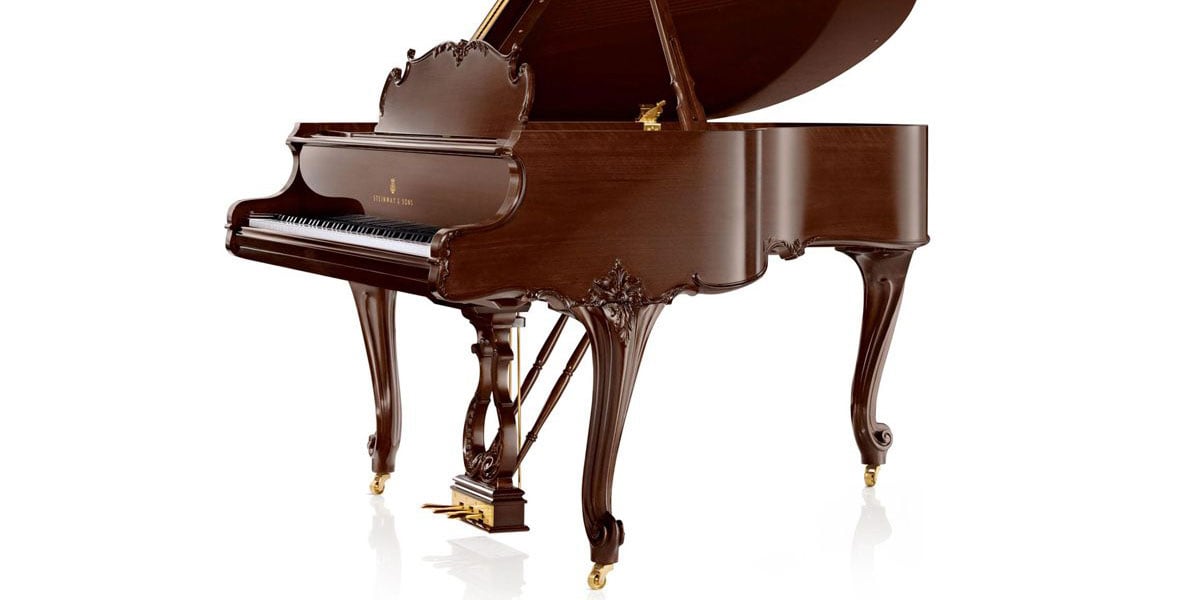 Steinway's Louis XV: A piano fit for a king
by Stephen N. Reed
The fullness of the Louis XV style
Named for one of the last kings of France, Steinway's Model M 501-A Louis XV grand piano is in a class all its own. While the Louis XV delivers in all of the ways one expects from a Steinway, its added flourishes make it a genuine piece of art.
Before we turn to the personality of this particular grand piano, a little background to the style of the Louis XV era gives some context.
Louis XV, King of France, ruled from 1715-1774. As a result, his was the last full reign before the upheaval of the French Revolution. Furniture from the Louis XV era features curves, asymmetry, and is characterized by a certain lightness.
Frequently, Louis XV style utilized marquetry, with inlaid, exotic wood in different colors. Later furniture from this period employed Chinoiserie, which evoked Chinese motifs and techniques.
Taken as a whole, Louis XV style stood in great contrast to the more box-like and straightened lines from the immediately prior era of Louis XIV.
The fullness of Louis XV style came in the middle of the king's reign, from 1730-50, when he was no longer managed by a regent. This was when the asymmetrical and exuberant style called "rocaille" dominated.
Ever since, Louis XV style has come to be known for luxury, imagination, and old world charm.
What popularized Louis XV furniture? One reason is that Louis XV furniture was designed for small salons, not the huge staterooms at the Palace of Versailles.
Furniture from this later period included pieces, especially chairs and tables, that were easily moved from room to room. As a result, furniture from the era of Louis XV was not only ornate but highly functional.
Why 501-A? How Steinway sketch numbers work
The methodical process that Steinway numbers its various piano models gives us a look into the sheer number of piano drawings Steinway artists have created. In the case of Steinway's Model M 501-A Louis XV grand piano, "501" refers to the piano's Sketch Number in the Steinway Art Department files.
When a new sketch maintains the basic design features but incorporates a variation in the music desk, legs, or lyre assembly, then an alphabetical letter is added to the sketch number, like 501-A, 501-B, and 501-C, rather than creating a new sketch number.
The original 501 had a situation that required just such a variation. The legs on the original 501 were too extreme in their 'S' curve. This left them with the possibility of breaking, especially when the piano was knocked down or set up by a mover.
Thus, the newer design, the 501-A, was born.
M. Steinert's 1977 Model 501-A Louis XV
Steinert & Sons' 1977 Model M 501-A Louis XV grand piano has features of that 18th Century style period, being an intricately, hand-carved instrument. It is noticeably different from most Steinway models in that it is made of Circassian walnut wood, with a compelling rich brown finish rather than the traditional black finish.
The carved style, including the legs and molding, as well as the top lid, makes for a dramatic-looking, ornate centerpiece. At 5 feet, 7 inches, the Louis XV has serious power as well as elegance.
A grand piano like this one was one of Steinway's most popular parlor models of the early 20th Century, and it was a favorite of both fine home musicians and professional pianists of the day.
Even today, the M 501-A Steinway is one of the most desired vintage Steinways.
Paul Murphy, President of M. Steinert & Sons, is fond of this 1977 Model M 501-A Louis XV at the 28 Damrell Street location. This particular grand piano has an interesting history.
Paul remembers the day that the wife of the owner of a successful regional supermarket purchased it for their home. Paul's wife, Pat, a salesperson for M. Steinert & Sons at the time, sold it new to the lady, who enjoyed it for the rest of her life. The piano was then bequeathed to a family member.
However, the family member decided to sell this Louis XV piano back to M. Steinert, as sometimes happens when the heir is not a pianist or is unable to accommodate a grand piano in their home. "This piano must have been sitting in a room near the oceanfront, as we had to restore some of its veneer," explained Paul.
Steinway has an extraordinary policy regarding such veneer restoring efforts on many of its models. According to Paul, the logs used for each piano's veneer are kept in a humidity-free and heat-controlled wood "bank" in Astoria, New York.
They are kept there in case they are ever needed to repair an individual piano's damaged veneer. "Steinway's thought of everything," noted Paul.
This 1977 Model M 501-A Louis XV model is an excellent example of a more ornate style more popular in the 1960s and 70s. But a vintage Louis XV like this one draws the eye of many customers who enjoy browsing the 28 Damrell Street showroom.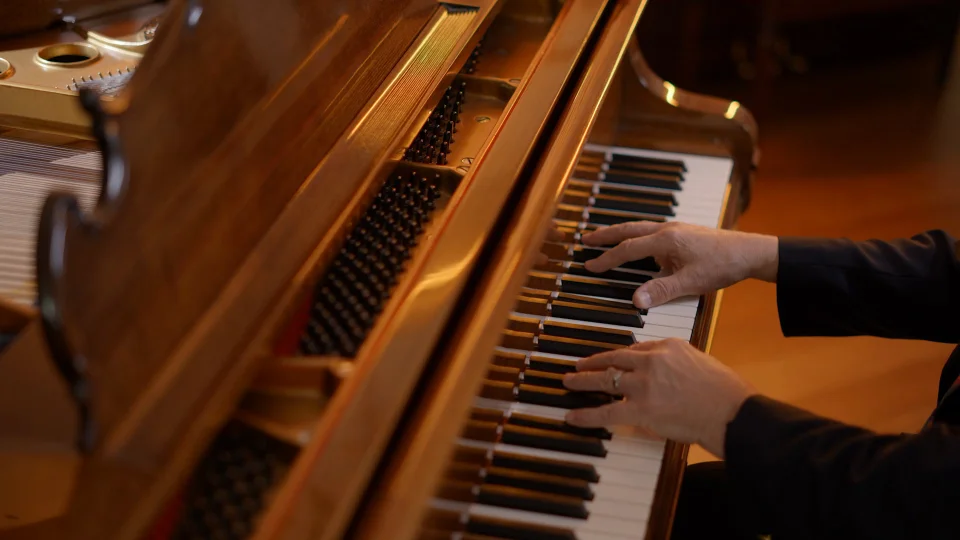 This 1977 Steinway Model M 501-A Louis XV piano has been fully reconditioned in our shop to include new tuning pins, strings, top action and refinished in American walnut.
New, this style case is available only by special order at a cost over $140,000.