Steinway vs. Yamaha: What are the differences in their premium models?
January 7, 2022 •Stephen Reed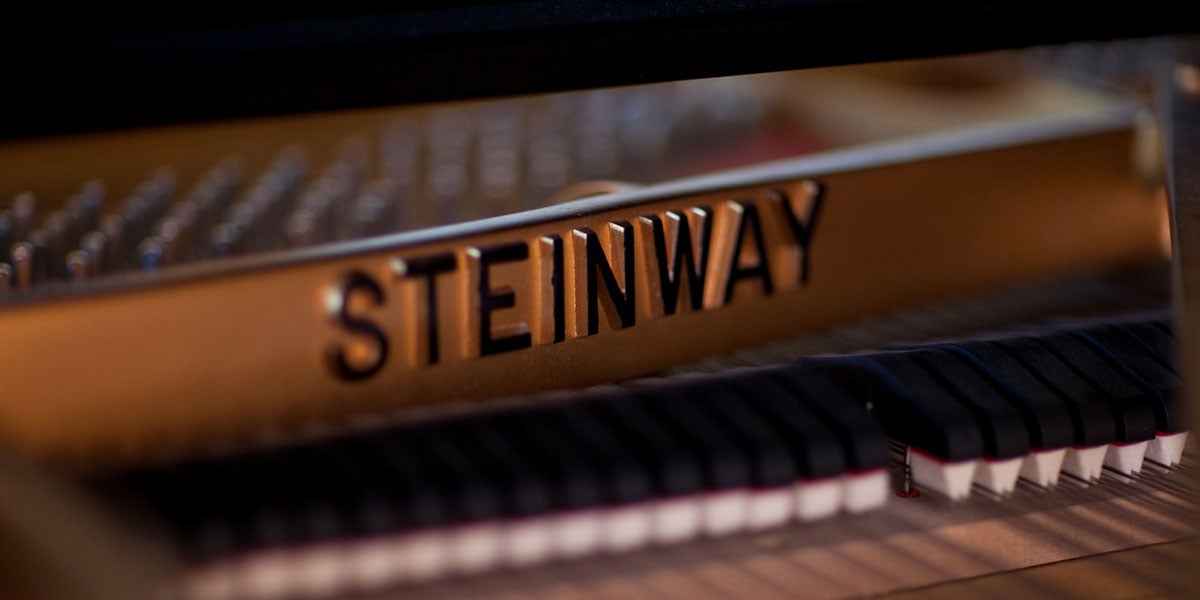 Steinway vs. Yamaha: What are the differences in their premium models?
by Stephen N. Reed
---
Since becoming a Steinway dealer in 1869, M. Steinert and Sons has been helping a wide range of customers in their piano search. Oftentimes, that search comes down to the brand you determine most fits your needs and tastes.
For example, take two of the piano industry's heavyweights, Yamaha and Steinway. Which among their top grand pianos might best meet your needs?
We're focusing on the CF and SX series in this article because they represent the latest efforts by Yamaha to challenge Steinway's dominance of the premium piano market. Steinway's position in that market is bolstered by the fact that over 95% of piano performers worldwide prefer Steinways.
That statistic has been a thorn in Yamaha's side for years. To the Japanese company's credit, they have invested a considerable amount of funding and energy to build a piano series that they hope will compete with Steinway's grand pianos, particularly Models B and D.
Imitation is the highest form of flattery, and Yamaha has tried hard to achieve some of the same quality features as Steinway. But does this Japanese piano company succeed in creating a Steinway-like concert grand? After reading this article–and visiting Steinway and Yamaha showrooms–you can decide for yourself.
Yamaha grand piano series have a range of quality standards
In contrast to Steinway's single standard of quality in all of their grand pianos, Yamaha grand pianos come in several different series of varying standards of quality, based largely on the materials used. These Yamaha grand series are GB1K/GC, CX, CF, and SX.
Although each model has the Yamaha name on its fallboard, not all Yamahas are created equal. An informed piano buyer will want to study the specifications of each of Yamaha's piano series as differences are not always obvious initially.
As a result of these quality variations, grand pianos on Yamaha's lower end, like their GB1K/GC series, are peers not with Steinway but with the Steinway-designed Essex line. Their CX series is more in line with the Steinway-designed Boston models. See more on this in our previous article, Boston vs. Yamaha, which also traces the interesting history of the different production processes used by the two companies.
Again, for this article, we aim to give a dispassionate look at some models in the two highest Yamaha series to date–CF and SX–to discern how they compare to Steinway's top Models B and D.
Top of the Line
Let's take a look at each company's top concert grand: Yamaha's CFX (9' in length) and Steinway's Model D (8'11 and ¾" in length). Steinway's Model D has long been considered the standard of the industry.
So it's no big surprise that Yamaha would want to pattern some aspects of their CF series, considered their "flagship concert grand," after Steinway's own concert grand, the Model D. However, the degree to which Yamaha tries to copy Steinway is breathtaking. This quote comes directly from their CF series website summary:
"Yamaha craftsmen hand-select the top one percent of wood from around the world at our Kitami Mill in Hokkaido, Japan. The inherent resonance of these woods, from European Spruce in the soundboard and ribs to mahogany and maple in the rims, helps give CF pianos their huge, well-rounded sound and extraordinary range of colors."
But for the reference to Hokkaido, Japan, that section reads like a generations-old Steinway grand's description, which for several decades has included references to a long history of innovative Hard Rock Maple rims, rare Sitka Spruce in the soundboard, and a rounded tone, offering a wide range of colors. Indeed, such features are some of the main reasons people buy the Model D.
Some commentators are not convinced that the Yamaha CFX has reached the summit yet. They find that the CFX sounds thin compared to the more powerful Steinway Model D, which they find to be well-blended.
Others believe Yamaha's move towards handcrafting such top models is a step forward, conceivably bringing Yamaha to a better position to challenge Steinway's dominance in concert halls and universities around the world.
A trip to M. Steinert's showroom and a Yamaha dealer is the best way to decide which is the better piano for you.
Yamaha proudly notes that their CFX is the product of two decades of research and development. From the above description of Yamaha's CF concert grand models, one wonders if they have been studying Steinway's 165 years of constant research and development that has gone into making their Model D concert grand.
Again, imitation is the highest form of flattery.
Concert grand pianos like Yamaha's CFX and Steinway's Model D are typically the most expensive models in a brand's lineup. Check out our article on the most expensive pianos for more information.
The Steinway Model B and Yamaha's S6X and S7X models
In a comparison between Steinway's popular Model B (6'11" in length) and Yamaha's S6X (7' in length) and S7X (7'6" in length), again one sees that Yamaha's effort is to replicate Steinway's work.
Small wonder as the Model B is often referred to as "the perfect piano" and is a well-balanced and versatile grand piano that is especially sought after for teaching studios, mid-sized venues, and intimate settings.
While both of these Yamaha SX pianos are almost entirely handcrafted, the Model B is entirely handcrafted. One of the more intriguing features in this SX line is something Yamaha calls its "patented Acoustic Resonance Enhancement process," which speeds up the aging process for these pianos' wooden rims. Steinway continues to age its rim woods the old-fashioned way.
Yamaha has developed a redesigned hammer for its SX line, which they maintain helps to produce that wide palette of colors that performers have found so inviting in the Steinway Model B.
So how close does Yamaha's SX line come to overtaking Steinway's Model B? Some piano commentators will tell you that it's purely a matter of taste between the two.
While the S6X is seen by some as having an improved sound over the Yamaha C6, it still has the typical, bright "Yamaha sound." Similarly, some commentators say the S7X's tone is reminiscent of Fazioli grand pianos, known for their crystal-clear tone.
This would suggest that Yamaha's efforts to mimic Steinway's well-rounded tone have fallen short. Still, many leave impressed with the S6X and S7X while still preferring the Model B's tonal preference.
As with the previous comparison between the two companies' top concert grands, the informed buyer will try out both Yamaha and Steinway showrooms to try these grand piano models for themselves.
Both Steinway and Yamaha have produced some good premium models
At M. Steinert & Sons, our seasoned piano consultants will listen well to your priorities for this important purchase. Some of our piano consultants have worked for both Yamaha and Steinway dealers, allowing them to fairly present the better attributes of these two legendary piano makers.
To date, Yamaha's SX and CF series are an improvement over past Yamaha models. However, they are more comparable to a Certified, Pre-owned Steinway rather than a new Steinway Model B or D.
So while we naturally feel that the Steinway is the better piano for many people, we acknowledge that Yamaha has produced some good models, as well. What is most important is that you find the best piano for you.
Consider a visit to one of our showrooms in Boston or Newton to test some Steinway models for yourself. Meantime, you can learn more by reading the additional pieces below:
Is the Steinway Selection Process for me?
Steinway's Model D: The iconic concert grand of choice