1967 Steinway Chippendale: restored and resplendent
May 19, 2021 •Stephen Reed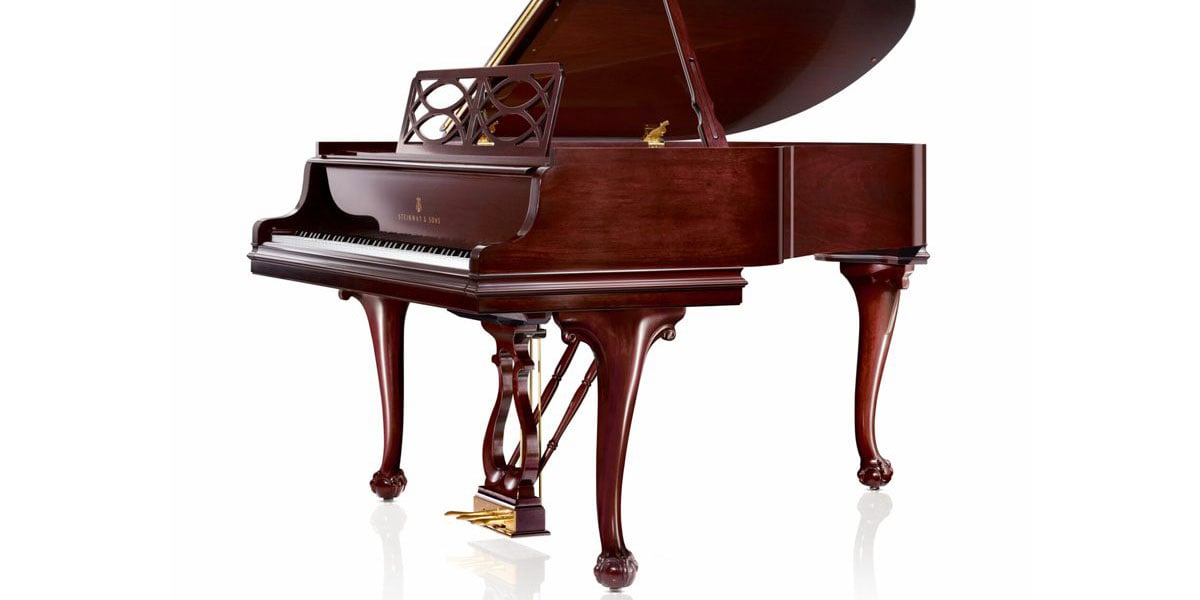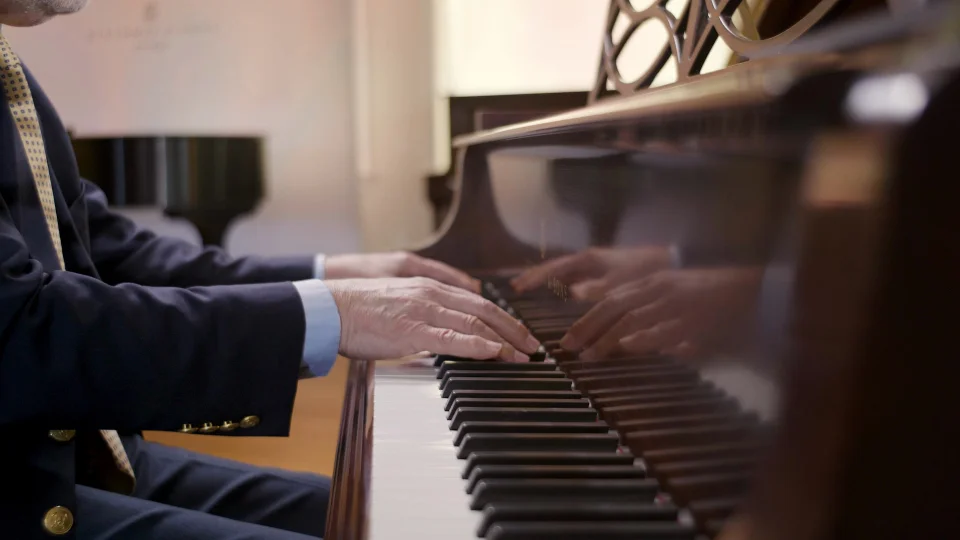 2:39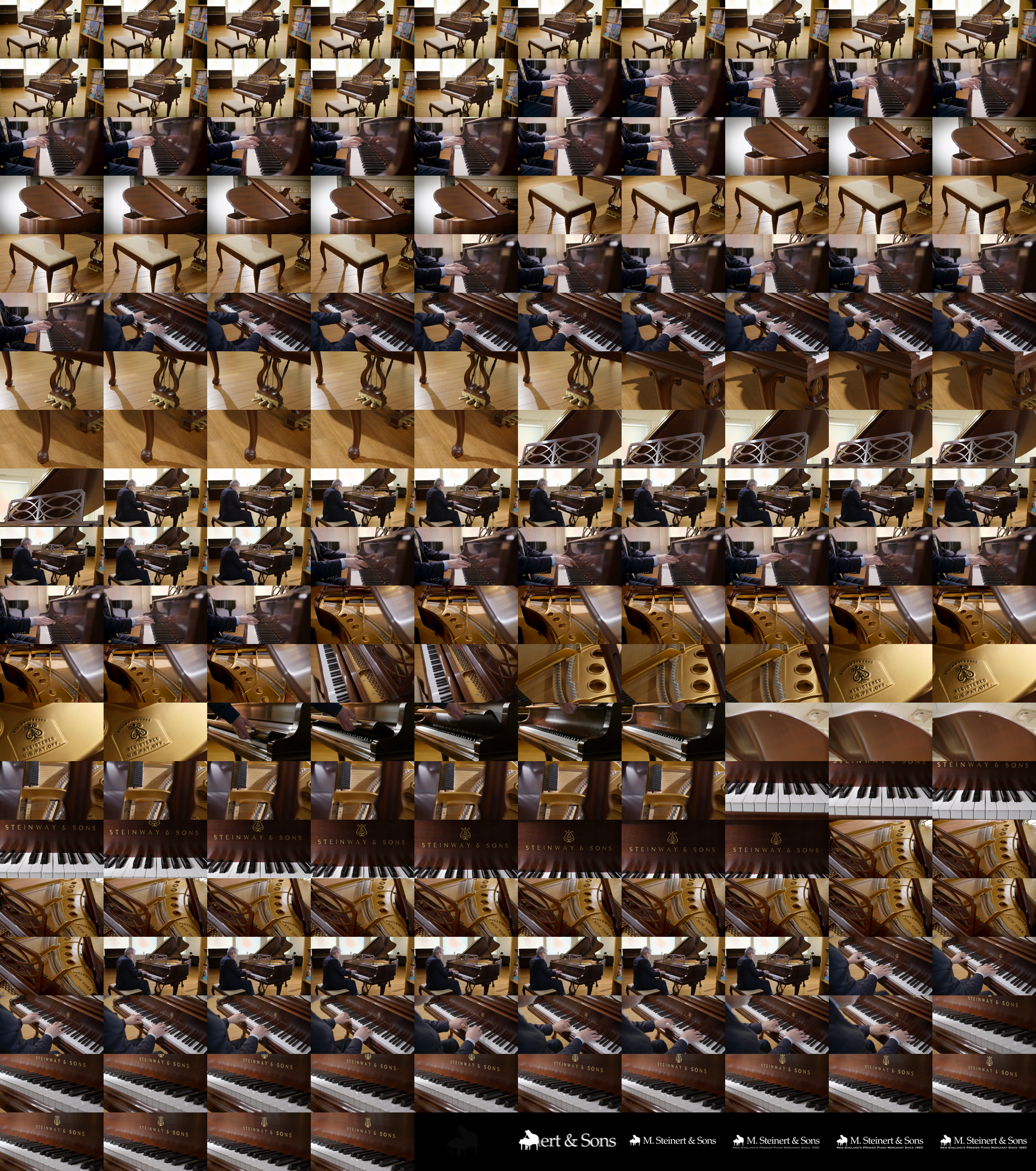 Steinway Chippendale
Mahogany Steinway Model M Grand, rare and handcarved, rebuilt and refinished in 2015
(Edit: March 2023, The specific piano referenced in this article has been sold, but a new version can be special ordered by contacting us).
---
Steinway Chippendales and M. Steinert & Sons have a long and storied history. The earliest known Steinway Chippendale Grand was completed on November 21, 1902 and was shipped to M. Steinert & Sons on November 29, 1902.
But long before the first Steinway Chippendale was created, the Chippendale style had endured in generations of fine furniture. Interest in this English Rococo style continues, with Chippendale remaining a household name today.
Thomas Chippendale's style emerged at a time when England's furniture craftsmanship was at its zenith in the Mid-to-Late 18th Century. English trading companies sailed across the globe, resulting in new cultural influences in arts like furniture making.
In these exciting times, a cabinet maker like Chippendale could have influences as diverse as Chinese arts and French interior design.
Rococo a playful influence on English furniture makers like Thomas Chippendale
Chippendale's woodworking was greatly influenced by the Rococo style that was sweeping Europe in the mid-18th Century.
A reaction to the more heavy, formalistic Baroque period, Rococo style is characterized by elaborate ornamentation, asymmetrical values, pastel colors, and curved or serpentine lines. Rococo artworks frequently depict lighter themes of love, classical myths, youth, and playfulness.
The style was highly theatrical, designed to impress and awe at first sight.
Furniture in the Rococo period was freestanding, as opposed to wall-based, so as to accentuate a lighthearted and versatile atmosphere. Mahogany became the most widely used medium due to its strength, and mirrors also became increasingly popular.
Rococo salons often employed the use of asymmetry in design, which was termed contraste. Interior ornament included the use of sculpted forms on ceilings and walls, often somewhat abstract or employing leafy or shell-like textures.
The most elaborate Rococo designs, carved and gilded, were those for mirror frames, girandoles, and console tables. Probably the best-known Chippendale design is a broad-seated ribbon back chair, with a back rail in the form of a cupid's bow, and the pierced splat composed of carved interlacing ribbons.
Chairs may seem simple pieces of furniture, but their design and style can be quite involved. Two renowned 20th Century architects saw Chippendale's approach to furniture like the chair as timeless. Ludwig Mies Van Der Rohe noted, "A chair is a very difficult object. A skyscraper is almost easier. That is why Chippendale is famous."
Adolf Lous noted that it would be folly to design a new dining room chair, because the one from Chippendale's time was perfect. "It was the solution. It cannot be surpassed. Like our fork, like our saber."
The descriptive term "Chippendale" comes from a book of furniture designs that was published in 1754 in London and called The Gentleman and Cabinet-Maker's Director. This book was the first of its kind.
The identity of the designers of the patterns in The Director is debatable in some instances, but Thomas Chippendale was clearly responsible for many of the best designs himself.
The book was enthusiastically received, and furniture based on Chippendale's designs was crafted in England, on the European continent, and in the American colonies. Hence, Chippendale's enduring popularity got off to a flying start.
Chippendale designs come in three major styles: Gothic, Rococo and Chinese. Chippendale blended these disparate stylistic elements into harmonious and unified designs. The term "Chippendale" specifically refers to English furniture of the 1750s and '60s made in a modified Rococo style.
Like the Rococo style generally, Rococo Chippendale was a reaction against the formality of Baroque style furniture design, typified by the work of William Kent who died in 1748. Many of the Rococo designs originated in France, but Chippendale modified them for the less flamboyant English market.
Steinway's famed Model M Chippendale grand piano
This elegant, dark mahogany grand piano is an exquisite example of the Chippendale furniture style, beginning with its hand-crafted Ball & Claw style legs and feet.
Almost all historical sources believe that the Ball & Claw design was derived from the Chinese: a dragon's claw grasping a crystal ball, or a pearl, or sometimes a scared, flaming jewel. In Chinese mythology, the dragon, a symbol for their Emperor, is guarding the ball, a symbol for wisdom or purity, from evil forces trying to steal it.
Another interpretation is that the ball symbolizes a polished river stone being held firmly by a crane, who stands watch over her nest. Resting on one leg, with the stone held in mid-air by the other, the mother crane watches protectively over her young. She would quickly awaken if she were to fall asleep and drop the stone.
The designs of Chinese artisans came to the attention of Europeans through trade. Porcelains, chinoiserie, and bronzes would have displayed examples of the Ball & Claw.
This design element first appeared on English silver. Craftspeople in other arts, textiles, furniture, and glass quickly copied this strong image that stirred popular consumer interest in what was then an exotic, faraway land.
English cabinet makers are credited with transforming the dragon's claw into a bird's talon or a lion's paw; the lion representing English authority. The Ball & Claw remained popular in England from 1710 until 1750.
In addition to the Ball & Claw, other Rococo touches include the handcrafted, trademark Steinway pedal lyre and fancy music rack.
Such hand-carved art-case pianos were quite a bit more expensive than the traditional models, and fewer were built by Steinway. As a result, these instruments are rather rare today.-
The M. Steinert & Sons 1967 Model M Chippendale grand, restored in 2015
In the Early to Mid-20th Century, a renaissance in historic period styles took place within the furniture and interior design industries. Some better piano manufacturers built a limited number of "art-case" pianos that reflected these popular historic styles.
This 1963 Chippendale, from the M. Steinert & Sons special collection, is 5'7" in length and was rebuilt and refinished in 2015. With the exception of the replaced pin block, all of the other restored parts were manufactured by Steinway: the board is the original, now refinished, re-notched, and bridges pinned. Additionally, new strings and new action parts --full action—are all Steinway parts.
The action is very smooth and responsive, capable of light pianissimos and grand fortissimos. It is quite pleasing to play. The keys have been re-bushed, and the key tops have been replaced.
Finally, the case has been restored to like new, with refinishing and painting the letters on the plate.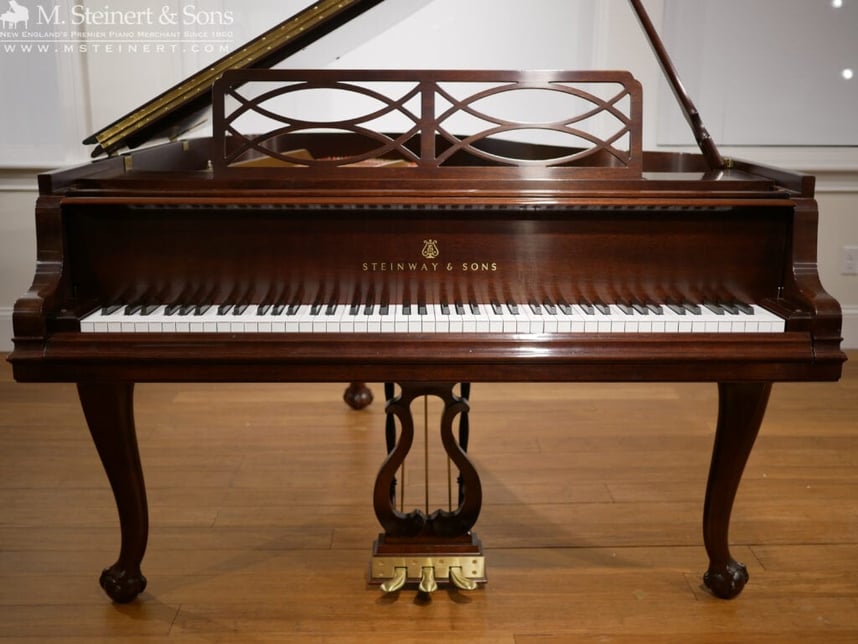 The refinished, dark mahogany exterior makes it suitable for any living room. This Chippendale is an impressive grand piano with a large, clear, concert quality sound for an instrument still small enough for the home.