Review: An honest review of the Essex EUP-123E
July 29, 2022 •Stephen Reed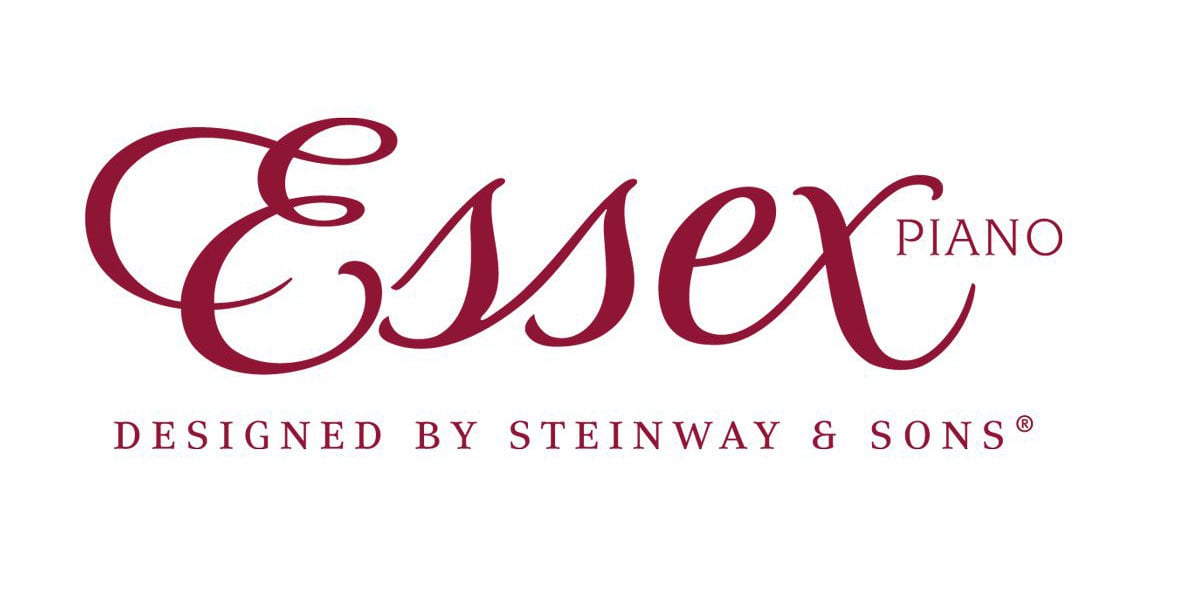 Review: An honest review of the Essex EUP-123E
by Stephen N. Reed
---
Essex pianos were introduced into the introductory and mid-level markets in 2001 by Steinway & Sons with a limited number of models. The Essex models are designed and engineered in New York and manufactured in China, allowing them to be considerably more affordable than its parent company's handcrafted models.
For several years, the Essex brand kept a low profile in the piano market. Then, In 2006, Essex had a major relaunch of Essex including a new line comprising 35 grand and 31 vertical models and finishes.
That relaunch included the popular upright piano, the Essex EUP-123E, the largest upright in Essex's line at 48.5 " in height.
The EUP-123E has a greater versatility of sound than other Essex uprights and is known for its stately appearance. This review will examine the EUP-123E, its dimensions, materials, and other features, and will address its pros and cons for specific buyers.
Dimensions and other features of the Essex EUP-123E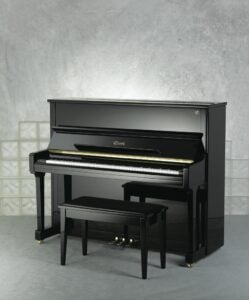 Height: 48½"
Width: 59½" – 59¾"
Depth: 26½"
Net Weight: 561 lbs
Made in: China
PRICE: $9,500
The EUP-123E is the tallest of the Essex uprights
At 48.5", the EUP-123E is the tallest of the Essex uprights, balanced with well-proportioned, classically-styled straight legs.
The EUP-123E is designed by Steinway & Sons in collaboration with renowned furniture designer William Faber, featuring matching classic style legs with a grand-style leg top, a fold-back Toplid, brass hardware, and Ebony Polish and Sapele Mahogany Satin Finishes.
In an effort to address the needs of those buyers in the entry-level market, Steinway created Essex model like the 123E as a tribute to the idea that beautiful piano styles and finishes can and should be possible in every price range.
Features of the EUP-123E
High-grade, straight-grained, quarter-sawn spruce is selected for its resonant qualities and high strength-to-mass ratio. The soundboard is solid and not laminated, which creates the best resonance and projection of sound.
In 1936, Steinway & Sons patented the diaphragmatic soundboard, which is thicker in the middle and gently tapered to the edges. The Essex soundboard is tapered from bass to treble resulting in a stronger, richer, fuller tone.
Like all Essex uprights, the EUP-123E has large backposts, giving a solid foundation for the resonating soundboard and tensioned vibrating strings. EUP-123E back post locations are staggered, placed where the string tension is greatest.
These sturdy backposts provide superb tone and maximum stability, ensuring the piano will last, tunings will be more stable, and piano tone will be enhanced for the years and decades to come.
A low tension string scale, designed by Steinway & Sons, gives a fuller, richer tone by allowing more of the lower partials to sing. It also has more sustain and has a more dynamic range than competitor uprights.
Materials play a role with the EUP 123E's action touch, as well. All-wood action parts, solid spruce keys, and action geometry work together to move the hammers to the strings. A warm, resonant tone results.
Who is the EUP-123E a good fit for?
Those looking for an upright piano closer to resembling the dynamic range of a grand piano, the flagship of the Essex Upright Series;
Buyers seeking a low-cost, high-profile, entry-level upright style piano.
Who is the EUP-123E NOT a good fit for?
Those looking for an upright piano closest to resembling the dynamic range of a grand piano.
M. Steinert's Trade-In Policy
If you decide to trade in your Essex piano for a new Boston or Steinway grand piano of double value at any time within five years, you will receive a trade-in credit equal to your original purchase.
Come in and try an Essex EUP-123E for yourself
At M. Steinert & Sons, we encourage our customers to try other brands first, then to come into our Boston or Newton showrooms to try models in our Steinway Family of Pianos: Steinway & Sons, Boston, or Essex.
In the meantime, learn more about how Essex pianos are infused by Steinway's design, adding value to this entry-level line of pianos or learn more about the other features of the Essex EUP-123E.