Piano lessons for kids: Online or in-person?
January 19, 2022 •Stephen Reed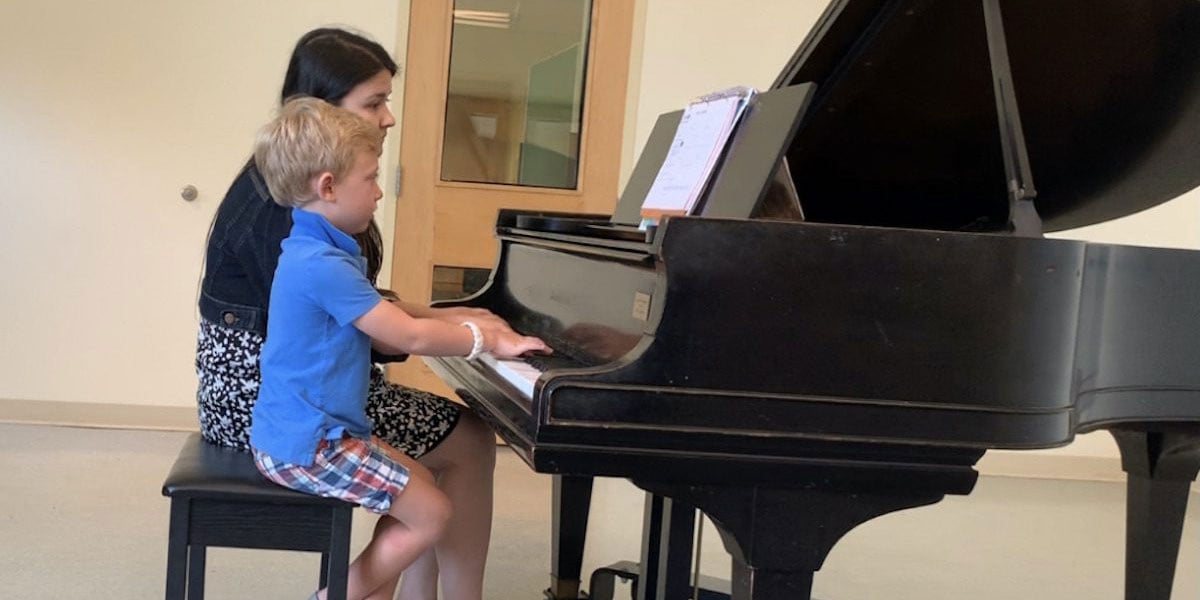 Piano lessons for kids: Online or in-person?
by Brendan Murphy, President, M. Steinert & Sons
Our family is most definitely musical: piano is a family tradition. In fact, piano is the family business. For four generations, our family has been at the helm of M. Steinert & Sons, the oldest Steinway & Sons piano dealer in the world.
While piano is definitely in our blood, playing the piano has never been a prerequisite for successfully operating a nearly two-century-old piano retail operation. For over a century, my family has been piano lovers, admirers, listeners, appreciators, aficionados, experts… but not pianists. Until now!
Many young children are naturally drawn to musical instruments
At four, my son Colin told me he was going to be a rock star. He somehow knew, at that young age, the exact guitar he'd play on stage (a red Fender Stratocaster). He was an air guitarist/rock and roll fanatic, with loads of stage presence.
He asked for a guitar for his fourth birthday and Christmas the same year, but we hesitated. Guitar lessons are usually not recommended at four, as children's hands are too small to really work the fretboard and too sensitive to depress the strings adequately.
We thought if we introduced guitar too early, Colin could end up frustrated by these limitations and give up on music. That would be tragic.
Learning to read and play music is helpful to a child's development
My wife and I believe music is vital. Learning to play an instrument and to read music is critically important to a child's brain development. The positive effects are real and undisputed.
For business, I've consumed articles and papers about the effect of music on the brain for years, well before starting a family of my own.
One particularly powerful quote is, "Unlike language, music activates every subsystem of the brain, including the structures involved in motivation and emotion. This makes it especially effective in creating bonds between individuals and in a group, and can contribute to well-being throughout one's lifespan."
It was tough, but we eventually convinced our young rock star-wannabe that he was too young for guitar, at least for now. He accepted that he needed to start with piano. At age five, he attended a week-long "piano camp" for beginners at South Shore Conservatory (SSC).
Honestly, we weren't sure how this would work out, concerned that piano lessons every day for a week would burn him out. Well, it turns out to be one of the best things we've done.
A good piano teacher can make the difference
It all starts with the teacher. Maral Annaovezova at SSC is fabulous: the right mixture of kindness and "no-nonsense" required to get an energetic, soccer-playing boy to focus on the importance of practicing and playing. Maral is the reason Colin is not a guitar player–yet.
Colin's piano journey has continued at SSC with three years of weekly private lessons with Maral. Nothing worthwhile is ever easy, but thanks to Maral, Colin continues to practice and progress in his musical journey.
A pause during the pandemic
During COVID-related restrictions, Colin took lessons over Zoom. Fun at first, it was just not the same. Colin became bored and less interested in the piano.
We knew it was screen time burnout, and not the curriculum or the piano lessons. We'd seen it with his Zoom calls at school, and experienced it ourselves at work.
In 2020, Colin made the decision to "pause" his lessons. We wouldn't let him quit, but we also knew the negative effects of constant screen time and were ok with this pause. We didn't know how we'd get him to restart.
A hybrid approach: In-person and on Zoom
Colin thought he was done with piano, on his way to his coveted red Fender Strat. Thank goodness for Maral and South Shore Conservatory! Maral texted me asking if Colin was ready to start lessons again, alternating in-person and on Zoom.
Her personal reach-out was just the motivation for Colin. "Maral asked if I wanted to play piano again? Tell her, yes, I'll do it." This is the power of a good piano teacher, and the importance of supporting local community music schools.
If South Shore Conservatory hadn't figured out how to get lessons going again in person (at least partially), Colin would probably not have restarted his lessons.
Lessons: Part of a child's healthy self-concept
Since restarting lessons, being a pianist has become part of Colin's identity. He recently met "an older kid" and quickly connected by saying "Oh, I play piano too!" Having this as his own thing has done a lot for his confidence.
On top of the physiological benefits of learning and playing piano, he has learned accountability, resilience and determination. He feels a sense of accomplishment when he finishes a recital or competition. He's a soccer-playing, swimming, sailing piano player… and future rock star.
---
Learn more about South Shore Conservatory at https://sscmusic.org/ or find South Shore Conservatory on Facebook or Instagram.