Is the Essex a good piano?
by Stephen N. Reed
---
Ready to take a deep dive into Steinway & Sons' Essex line of pianos? At M. Steinert & Sons, we've been selling Essex pianos since they were introduced by Steinway & Sons. Along with the Boston line, Essex pianos were developed for many years.
The Essex line was developed by Steinway & Sons to help them become competitive with other piano companies for the entry-level of the piano market. Next, we'll review the effects of adding the Steinway design to a manufactured piano. Does it work?
The Steinway design: Adding value to the Essex
Steinway understands that not everyone can afford a new Steinway. So their challenge was to create an affordable, quality piano that retains much of the 'Steinway DNA"--the latest design and engineering enhancements that go into all of Steinway's pianos.
As a result, the Essex can deliver a level of musical performance previously unattainable in its price range.
Steinway began to make significant changes to the Essex line in 2006. For starters, Steinway moved the entire Essex operation to the Pearl River facility in China.
Then, as a clear indication of the seriousness of Steinway's Essex changes, Steinway relocated their technical director from New York to China to oversee Essex production there. They even placed "Designed by Steinway" on the Essex plate for the first time.
The many benefits of the Steinway design for Essex owners
Steinway & Sons has backed up that signature on the nameplate with Steinway-designed additions, many Steinway-specified parts, and manufacturing procedures, including the following:
Rim is wider at the tail
For example, owing to the Steinway-designed rim shape, Essex grand pianos are wider at the tail than most pianos of comparable length. This creates a larger soundboard area, giving the Essex a richer sound.
Tapered soundboard
The Steinway-designed soundboard is tapered, not uniformly thick, allowing it to vibrate more freely and provide more tonal volume.
The soundboard has to be quarter-sawn, close-grained, solid spruce. Eight grains per inch is the specification, which is very high for a production piano. Finding any specifications of this sort on similarly-priced pianos is often difficult.
All-wood action
Essex pianos have a Steinway-designed, all-wood action for greater durability, responsiveness, and control.
Essex's hammers are made of 15lb premium wool outer-felt and a distinctly separate premium wool under-felt. The hammers are reinforced with compression wire (not simply glued as some manufacturers will do) and retain a pear-shaped design. The compression wire is important for reliability, and the pear-shaped design enhances the Essex's tone.
As part of the overall Steinway design, the action parts use solid maple for all moving parts. The keys are made of spruce and are individually balanced and weighted. The keybed is made of laminated maple and spruce wood, and the dampers consist of solid hardwood heads and premium wool.
Multi-layered pin block
The Essex pin block is Steinway-designed, but it is in multiple layers: 19 layers, very thin, of maple, layered at 90-degree distributions. This concept, choosing maple, then placing laminations at 90 degrees is a Steinway family trait, one not exclusive to the brand but a good feature.
High-tensile strings
Strings require good steel. Like Steinway, the Essex uses Roslau high tensile wire in the treble keys. For the bass keys, Roslau wire steel core, wound with pure copper, is used. Using quality steel strings gives the Essex a richer tone than expected for its price point.
Spruce backposts and braces
Backposts are made of spruce wood as in the Boston and Steinway lines. Backposts are for uprights only. They are staggered in the areas of highest tension and have industry-leading cross-sectional area, thickness, and width.
Braces are for grands. The Essex grand features the Steinway design of radial bracing. This is harder to do, but creates a much more solid foundation for the piano. There is no skimping here: their braces are laminated beech, unique to the Essex
Maple bridges
Bridges must be maple, vertically laminated, capped with solid maple. This rule is the same for Boston and Steinway bridges.
Steinway-design benefits summary
All of the aforementioned details work in concert to provide a playing experience that would otherwise be impossible at this price point, design, materials, and craftsmanship that only Steinway can create in the Essex home piano.
Past issues for the Essex
As the least expensive line in the Steinway & Sons family, the Essex has sometimes been misunderstood and mischaracterized. True, in the early going, Essex pianos were not as consistent in some areas as the Boston and Steinway lines. Plus, the fact that the Essex was manufactured rather than handcrafted was an obvious contrast with its Steinway counterpart.
The upshot of this is that some piano customers came into the M. Steinert & Sons showroom with the misconception that the Essex was not a good piano--simply because it is not a handcrafted Steinway.
However, the amount of Steinway-design features included in the Essex give it a rich tone for a piano of its price point. Additionally, the woods and other materials elevate the Essex and make it a consistent instrument in accord with Steinway & Sons' high standards.
Traditional stylings and an array of models, styles, and veneers
Steinway drew on the talents of popular furniture designer William Faber to create the Essex with the idea that attractive piano styles and finishes should be available in every price range. The Essex is available in an array of models, styles, and veneers and features traditional styling and finishes of museum quality.
While much of the same woods, like maple and beech, are used in the Essex and Steinway, the price for the Essex is kept much lower largely due to the large-scale production techniques, in contrast to the handcrafted process used to create a Steinway.
In addition, specially-engineered materials help to bring down the price point for the Essex, along with well-selected manufacturing environments.
One other way Essex is a part of the Steinway family is through its complete investment assurance. Each Essex piano is backed by Steinway & Sons and serviced by Steinway-trained technicians.
Additionally, at M. Steinert & Sons, each Essex buyer has the same trade-in guarantee as any Steinway or Boston piano: their Essex will be given a trade-in credit equal to their original purchase price on a new Steinway grand piano at any time within ten years.
Integrity of tone: The Essex has come of age
The hierarchy of the Steinway-designed piano lines has been the handcrafted Steinway, followed by the Boston line, then Essex. This placement seemed even more established in 2009 when Steinway & Sons went about "boosting the Boston" to make the Boston the main alternative to Steinway.
But today's Essex line has come a long way.
"Today's Essex pianos are at their best and most consistent in tone and touch," says Vivian Handis, a sales consultant at M. Steinert & Sons since 2002. Vivian brings well-rounded depth to the piano selection process as a pianist, piano educator, parent, and product specialist.
Vivian holds a Bachelor of Music degree in piano performance from Boston University and was recently elected to the New England Piano Teachers' Association Board of Directors. Dedicated to outstanding customer service, Vivian's transition from teacher to consultant has provided a new framework for supporting pianists of all ages and levels.
In 2013, after 11 years of service in our Boston store, she relocated to Steinert's MetroWest location. Vivian delights in serving our growing community of piano enthusiasts, professionals, and emerging artists.
"Today's Essex has an integrity of tone and impressive sustain," Vivian explains. "They possess inherent beauty and color. A pianist plays but also "paints" with sound. For example, coloring is much more interesting and inspiring with a 120-color box of Crayolas than a box with just 8 crayons."
Vivian says she was deeply moved while listening to a talented young pianist play on an Essex that inspired him deeply, "This makes sense when you realize that the little Essex's DNA is born from the Steinway Model D concert grand," she notes.
The Essex: An affordable quality piano
"Is the Essex a good piano?" The answer is clear: thanks to its Steinway design, the Essex is, quite simply, the best piano available in its price range today.
We've learned how the Essex came into being, as one of two lines created by Steinway & Sons to meet the demands of the piano market, particularly the entry-level end. The combination of solid materials and several Steinway-design features add value to this manufactured piano that its competitors do not have.
While the Essex may not be the ideal choice for a concert pianist or a college music department, it is an excellent option for the beginner piano student and any customer wanting to re-start their piano playing with an eye towards a future Steinway purchase through the M. Steinert & Sons lifetime trade-in policy.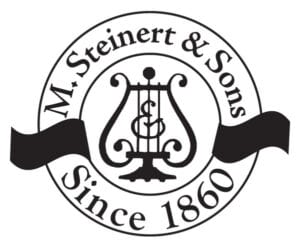 For the Steinway DNA quality included in every Essex, the resulting consistency in the tone of today's Essex, and a more than reasonable price point, this piano line has earned solid grades overall and will bring to any buyer many years of musical enjoyment.
To learn more about the Essex line, take a look at M. Steinert & Sons' Essex line page.