How much does major repair for a grand piano cost? Cost to repair soundboards, pinblocks and bridges
April 1, 2022 •Stephen Reed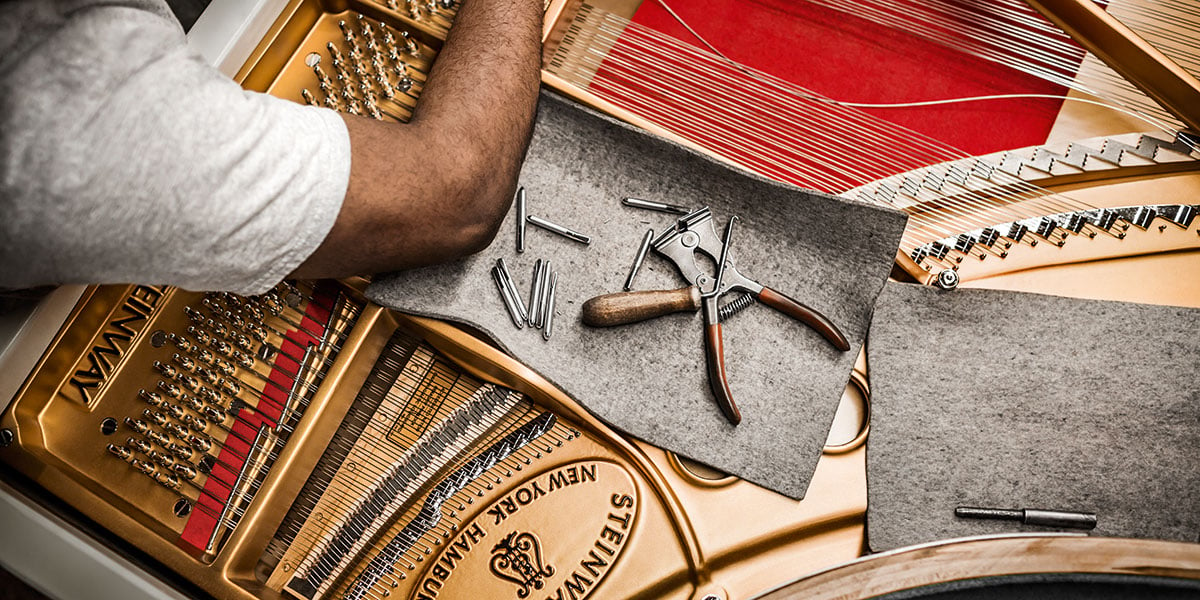 How much does major repair for a grand piano cost? Cost to repair soundboards, pinblocks and bridges
by Stephen N. Reed
---
A new piano, right out of the factory, has several advantages, one of which is the factory warranty that comes with the piano. This secures your multi-thousand dollar investment should your piano need a major repair, like fixing or replacing a soundboard or pin block.
Used pianos can be another story. Depending on their brand, age, or condition, a major repair is not as rare. With the exception of a piano store's limited warranty, such major repairs come out of your pocket.
As a result, hiring your own piano technician to examine a used piano you are considering is a good idea. What could be worse than paying for a used piano, taking it home, and soon after facing the reality that your piano needs a major repair, costing thousands of dollars?
At M. Steinert & Sons, our motto for 160 years has been to help our customers find the best piano for them. Clearly, a piano that needs a major repair before you play it much is not the best piano for you. We have assisted many customers to learn about the cost of piano repairs and have helped them avoid major ones.
For example, M. Steinert & Sons has a Certified Piano Program to give used piano buyers peace of mind that their piano passes muster from an expert piano technician.
By the end of this article, you will better understand why soundboards and pinblocks are so important to a piano. Next, you'll learn what is involved with major repairs to these and other key areas, particularly in Steinways, and the skilled work involved to fix them.
Who does the repair?
The Number One question to ask before embarking on a major piano repair is to determine WHO will do the work. There is no shortage of piano technicians who will eagerly take on a Steinway repair, charge considerably less than the numbers in the chart below, and potentially ruin or 'delegitimize' an otherwise fine piano.
References, credentials, and samples of past work are the best guides as to whether a technician can perform adequate restoration or repairs.
Please keep in mind that only Steinway & Sons can replace a Steinway soundboard or Hexagrip Pinblock. These are not installed by rebuilders or dealers. Dealers have the ability to send pianos to the factory for these installations but beware of rebuilders offering like-kind replacements.
| Item | Cost Range For Steinway |
| --- | --- |
| Steinway Soundboard Repair | $1,000 - $8,000 |
| Steinway Soundboard/Pinblock replacement | $11,000 - $22,000 |
| Steinway Replaced Pinblock, Soundboard, Bridge and Plate Refinish | $18,000 - $28,000 |
| New Steinway hammers | $7,000 - $8,800 |
| New Steinway wippens/& hammers | $12,000 - $14,000 |
| Steinway Restring | $1,500 - $3,000 |
| Steinway Refinish - black | $16,000 - $30,000 |
| Steinway Refinishing-- wood tone | $19,000 - $32,000 |
Helping you understand the costs of major repairs is all part of our job at M. Steinert & Sons. We want to be as transparent as possible as we openly address a subject that deserves attention.
Soundboards: The heart of a piano's tone
Using Steinway's patented "Diaphragmatic Soundboard" as an example, let's understand how important a soundboard is to a grand piano.
Steinway & Sons engineers understood early on how the right kind of soundboard could make all the difference in a piano's tone. The Steinway grand soundboard achieves optimum performance in dynamic range and maximum sustain.
Steinway uses Sitka Spruce for their soundboards, which is sourced entirely from an island in Alaska, the only location that meets Steinway's stringent specifications.
This unique micro-climate provides this spruce with the highest quality grain density, direction, and color, thereby improving the transmission of tonal string vibrations.
The Steinway-designed soundboard is gradually tapered from the center to the edge, permitting freedom of movement and creating a sound of unparalleled richness, sonority, and sustain.
Steinway's piano-rim machining center achieves a perfect fit between the soundboard and the rim. This provides the piano with a rich resonance, tonal color, and purity of sound.
How much does it cost to fix a cracked soundboard?
Soundboard repairs can be quite involved and costly. According to M. Steinert & Sons piano technician Jonathan Kotulski, soundboard replacement is more common these days and a superior fix.
"Soundboards crack, so they are shimmed," notes Jonathan. "This involves removing the plate and strings, digging out a groove in the soundboard, gluing and clamping a shim, and then planing/chiseling the shim down precisely flush with the soundboard." (See above chart for cost estimate.)
The importance of pinblocks and bridges
Steinway introduced the Hexagrip Pinblock in 1963, a breakthrough that enabled pianos to hold their tuning longer and with great precision. This exclusive design provides the tuning pin with smoother movement under torque, a more uniform retaining action, and a piano that holds its tuning longer.
Steinway constructs its soundboard bridges from vertically laminated Hardrock Maple, and then caps it with a horizontal grain, solid maple. Each Steinway bridge is notched by hand for precise, individual string-bearing, another advantage to a handcrafted piano.
Steinway's popular Model D and Model B have a single-piece bridge, a long, continuous bridge from the highest treble to the deepest bass. This design ensures optimal sound transmission from the strings to the soundboard.
Additionally, this design allows for the instantaneous transfer of the vibrations of the 233 strings throughout the bridge and the soundboard, adding more colors to the Steinway palette.
This wide range of colors to the piano's tone is one of the main reasons professional pianists prefer playing a Steinway: they simply have more ways to express their experience of the music.
How much does it cost when pinblocks need repair?
Pinblocks can loosen and need to be repaired or replaced. Minor repairs involve going up a pin size on problem pins, pin tapping, CA gluing or epoxying in the tuning pin to create higher torque.
Going up a tuning pin size on the entire piano and restringing the piano is becoming less common as a solution for pinblock problems.
"More often now, if you restring, it is recommended to replace the pinblock so you can start out with high torque on a 2/0 pin, the standard tuning pin size," notes Jonathan. (See above chart for cost estimate.)
Buying a piano from a dealer with a good warranty is the key to managing piano repair costs
Veteran Steinway sales consultant Phil Schoonmaker maintains that one of the first questions buyers on the used piano market should ask themselves is, "Am I willing to give up a factory warranty?" Such warranties come with new pianos.
This is not to say that a partial warranty given by the seller for a used piano isn't helpful for repairs. But a factory warranty on a new piano is more comprehensive. So if you can buy new, the factory warranty is a big advantage if a major repair comes.
For pianos in the Steinway Family, replacement parts and piano technicians who undergo regular Steinway training can only be found at an Authorized Steinway Dealer.
To learn more about Used vs. New pianos, read the following article: