Buying a used piano: 4 factors to consider
February 18, 2022 •Stephen Reed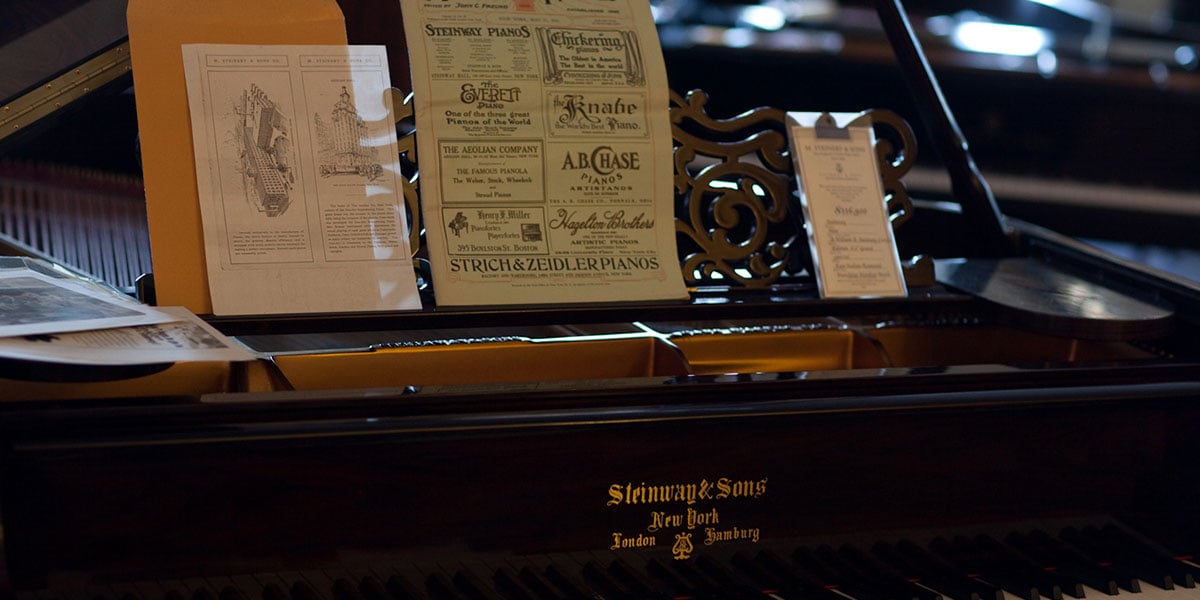 Buying a used piano: 4 factors to consider
by Stephen N. Reed
---
The used piano market in the United States is understandably huge, as there are some large groups of buyers each year that are looking for a used upright or grand piano:
Beginning piano players or parents of young beginners who hedge their bets and get a less expensive model–until they see if the piano lessons are going to "stick."
Buyers who could afford a new piano but who are as yet unable to discern the quality differences between new and used pianos, brands, and the age of pianos.
Buyers who do appreciate the quality differences between pianos but are on a tight budget.
The common denominator for all three of these groups is a keen desire to avoid getting a "lemon" of a used piano.
To have gone to the trouble of spending thousands of dollars on a used piano, only to find out after the sale is final that its soundboard or pin block is damaged would crush the enthusiasm for you.
For over 160 years, M. Steinert & Sons has strived to educate customers on how to find the right piano for them. We constantly talk with customers about what to look for in a used piano and how to find one that has plenty of good life left in it and is in good condition.
For example, you'll hear our piano consultants talk about Steinway's Certified Pre-owned pianos and M. Steinert's own program to certify quality used pianos.
By the end of this article, you'll learn which parts of a used piano are easily repaired–and which aren't. You'll have a better feel for a range of piano brands, assessing their respective value.
You'll also learn the advantage of buying a new piano, rather than a used one, if you can. Some people find that a new piano has such advantages that they are worth the added cost.
4 factors to consider before purchasing a used piano
1. The piano's age and musical quality
The best gauge of a used piano's value is if it still possesses musical quality. As you can see in this chart (each curve represents a piano example), even a handcrafted Steinway piano diminishes in musical quality over time. Much depends on the maintenance and environment of a given piano. Was it kept in a place with the proper amount of humidity? Was it tuned regularly? These factors add up over time.
What every piano buyer needs to know is that each piano has its own curve of quality over time as explained in our New vs Used Steinway article. In the chart below, each curve represents a piano example.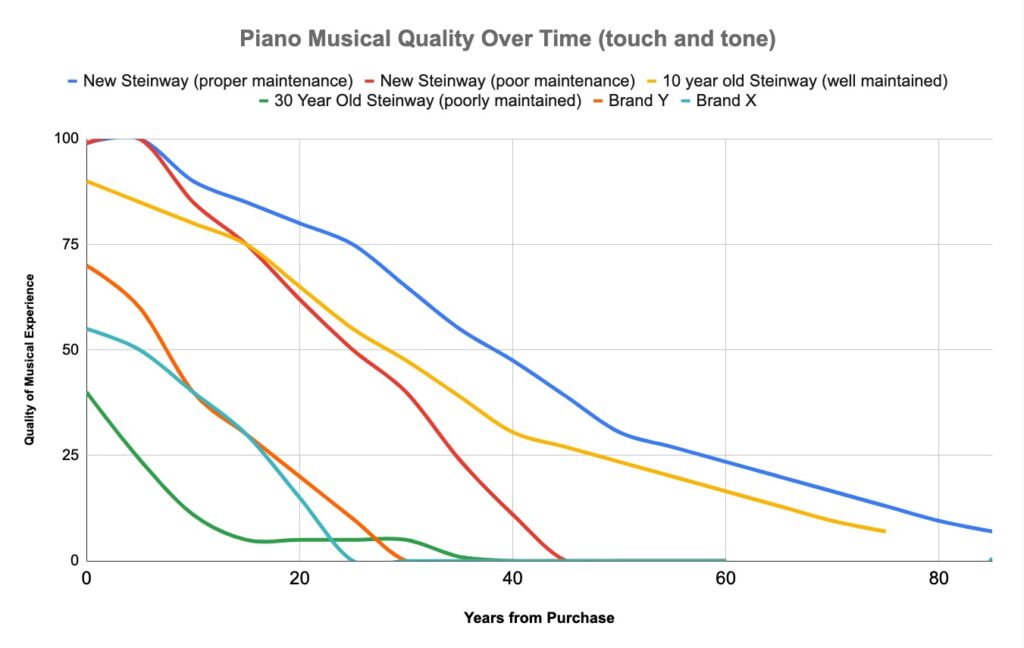 2. The piano brand matters
A higher-quality brand means its design, parts, and craftsmanship will last longer. Quality brands for mass-produced pianos include Kawai, Boston, Essex, and Yamaha. Quality handcrafted pianos include Bosendorfer and Steinway.
3. Does the used piano rattle or buzz?
By definition, a used piano is, well, used. So some mild buzzing or rattling may be minor and not a huge problem.
However, you'll want a piano technician to give you the "all clear" as sometimes such noises can be a sign that a repair–large or small–is needed.
A person with a bad cough may only have a cold or they may have pneumonia. Checking such noises out in a used piano is necessary before a purchase to avoid a lemon.
In addition, one other noise to pick up on is a key or keys that are significantly out of tune. You can avoid such problems by buying from a trusted authorized dealer, which should have already fixed these issues.
4. Are repairs easy to make?
Thankfully, many repairs to used pianos are minor. A key or string replacement can be a relatively simple repair. However, a new string can have a different tone than the rest of the strings until they are all replaced.
Also, marks on the exterior cabinet can be refinished, for example. Still, a piano's case can be a very misleading indicator of musical condition. you could have a poor quality, never-tuned piano with a beautiful cabinet that is musically inferior to a roughed up, well-maintained quality piano.
As a result, case condition is not an indicator of musical quality. However, as a general rule, a case that appears beaten up is indicative of older instruments.
Tuning pins can be a challenge if they are loose. A key will sound out of tune or even play two notes simultaneously.
A cracked soundboard can create a hum due to the piano's ribs becoming loose. A piano technician will be needed to make the right fix.
Hammer felt can be problematic, as felt is hard to replace. Hammers are even more difficult to replace.
A grand piano can have over 12,000 parts. Issues like these are common due to an instrument's natural wear and tear. Having said that, good, used pianos exist on the market. The trick is to find a good one with the help of a good piano consultant and piano technician.
The advantage of buying a new piano if you can
Phil Schoonmaker has 37 years of experience as a piano consultant and has sold both Yamaha and now the Steinway family of pianos at M. Steinert & Sons.
Phil says that one of the first questions buyers on the used piano market should ask themselves is, "Am I willing to give up a factory warranty?"
A factory warranty from the piano manufacturer would cover all of the aforementioned problems. That's more comprehensive than a partial warranty given by the seller.
Phil notes that, though a Steinway has a broader palette of color not found in its sister brand, the Boston, a new Boston could still be preferable to some older used Steinways. "The question is often, "Which piano has more good years left in it?" notes Phil.
Finding a good used piano
Searching for a quality used piano is a bit like an adult Easter Egg Hunt. You've been told some good eggs are to be found out there but also some rotten ones, too.
Again, if ever you needed a helpful guide before a big purchase, this is it. Bring along a knowledgeable piano consultant or piano technician who will give you confidence and peace of mind.
Then try out a number of different brands and ages of pianos to determine which you like. Try some new pianos in your price range, too, to get a feel for the difference between new and used pianos.
Learn more about new and used pianos by reading the following articles: