An interview with Anna Avetisyan, 2021 Steinway & Sons Teacher Hall of Fame honoree
November 16, 2021 •Stephen Reed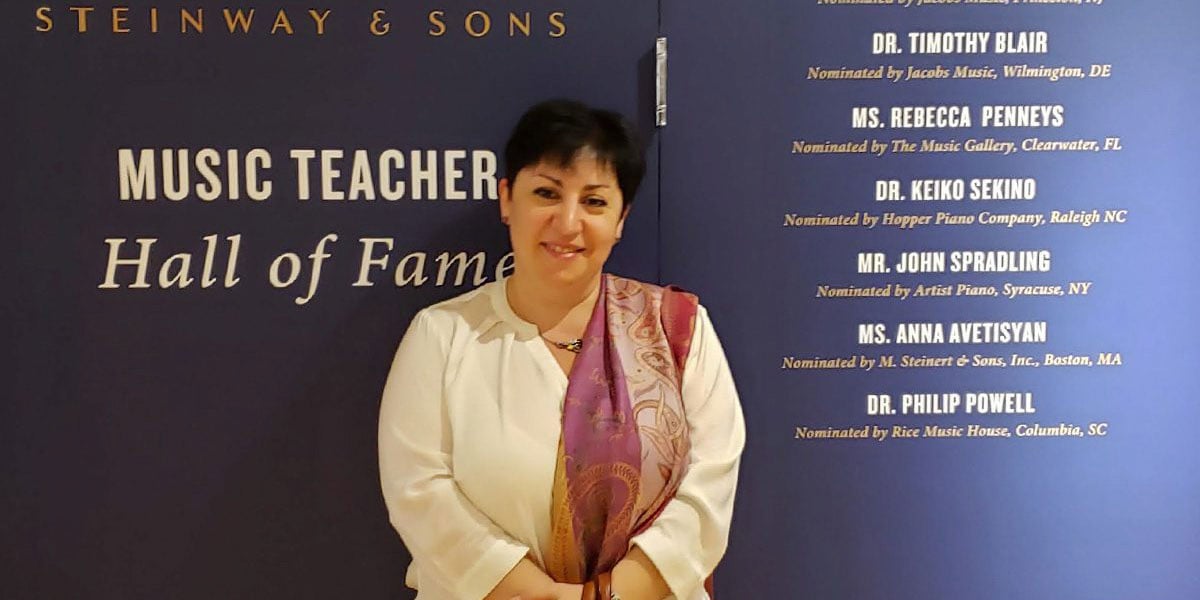 An interview with Anna Avetisyan, 2021 Steinway & Sons Teacher Hall of Fame honoree
by Stephen N. Reed
---
M. Steinert & Sons is proud to honor our Steinway Educational Partner Anna Avetisyan, a 2021 Steinway & Sons Teacher Hall of Fame honoree! Only one piano teacher per region of the U.S. achieves this distinction annually.
"We are always so glad to see one of our educational partners recognized for their work with their piano students," said Brendan Murphy, President of M. Steinert & Sons. "Anna deserves this, and we congratulate her and her family on this rare and distinctive award from Steinway."
Previously, Anna had won the 2018 and 2020 "Steinway & Sons Top Music Teacher Award."
For her part, Anna notes that she is deeply humbled by this honor and just wants to use it to help her students reach new heights at the keyboard.
A family background in music
"My father is a cellist and my mother a violinist, and they both taught at the conservatory and played in the state philharmonic orchestra," says Anna, who grew up in Armenia. "I grew up in that kind of environment. It was normal to have people come over to our home to play in a trio or quartet."
Anna has followed in her parents' musical footsteps. She started taking piano lessons at age nine and performing solo with an orchestra at age eleven. Despite her exceptional progress, Anna says her parents had mixed emotions about her choosing music as a career.
"They weren't wild about me becoming a musician," she notes. "Music can be very fulfilling, but they wanted me to be a breadwinner, too."
Graduate work prepares her
Undeterred, Anna graduated from the specialized Music School in Yerevan, Armenia, two years ahead of the scheduled graduation date.
She went on to receive her Bachelor of Music in Piano Performance with an emphasis in Piano Pedagogy from the Babajanyan State Music College, and her Master of Music in Piano Performance, Collaborative Piano Performance, and Piano Pedagogy from the Komitas State Conservatory.
Eventually, Anna's career brought her to Boston, where she received a Graduate Performance Diploma in Collaborative Piano Performance from the Longy School of Music of Bard College.
Anna has appeared in concerts and festivals as a solo and collaborative pianist in the United States, Canada, Armenia, and Russia.
In 2016, Anna founded Through the Looking Glass, a chamber music series that focuses on bringing chamber music performances to communities in the Boston area.
Anna is an active performer in the Boston area and has a full-time piano studio in Burlington. She is a Steinway & Sons teacher and educational partner, and a member of MMTA, MTNA, and NEPTA, where she currently serves on the board of directors.
For nearly thirty years, Anna has enjoyed teaching the piano. Her students have regularly participated in recitals and festivals in the Boston area and beyond, have won numerous competitions, and have performed in the prestigious Carnegie Hall.
"Music is not just what I do," says Anna. "It's who I am."
Teaching philosophy: Building confidence
Anna is truly dedicated to her piano students, as she knows what it takes to do well at the piano.
"I get completely submerged in a piece they're playing, and we may go overtime by twenty minutes as a result," says Anna. "My goal as a teacher is to provide a warm and positive learning environment encouraging the students to find their unique individual musicality."
Building the student's confidence is key, according to Anna. "As they achieve confidence and technical proficiency, we are able to explore any piece with knowledge and understanding while enjoying it."
A friend at M. Steinert & Sons
Anna credits her friend, Vivian Handis, for helping her find two exceptional pianos to use personally and for her students. Vivian was a piano sales consultant with M. Steinert & Sons for 19-years and now serves as a teacher-partner for the company.
"I went to M. Steinert in 2004, needing a special-sized piano for our home," explains Anna. "I got a Boston 178 baby grand. I loved its warm tone--it was a high-quality instrument. I've since had two Boston baby grands! Students were pleased with them, too. I have been friends with Vivian ever since getting my first grand piano. I know I could trust her in every possible way."
Now Anna has a Steinway Model M, having taken advantage of M. Steinert's "Trade-Up" policy, where those buying a new Steinway grand piano will receive an allowance equal to the full purchase price of their trade-in piano in reasonably good condition.
Anna reflects on her nearly 20-year relationship with M. Steinert & Sons.
"I have always felt a very special warmth whenever I stepped through their doors," says Anna. "There is always that magical atmosphere, being among the magnificent instruments. Even more so, there is almost a feeling of a sanctuary, a place where high standards and deep traditions are cherished, and where there is an almost familial feel among the staff and management.
"Everyone is caring, warm, and highly professional, and I am very grateful to have them among my colleagues and friends: Vivian Handis, Steve Hauk, Brendan Murphy, Chuck Johnson, Kayla Woodworth, Jonathan Tetzlaff, and many others."
A place on the Steinway Teacher Hall of Fame wall
Anna and her husband, Ash Khachatryan, attended the recent 2021 Steinway Teacher Hall of Fame induction at the company's Astoria, New York factory. She enjoyed meeting other inductees from around the country, hearing them discuss the same joys and challenges of teaching piano today.
At the awards dinner, each of the Steinway inductees received a certificate denoting their induction to Steinway's Teacher Hall of Fame and enjoyed a performance by a Steinway Artist playing pieces by Bach and Ravel.
While in Astoria, Anna and Ash greatly enjoyed a guided tour through the factory, seeing how meticulously each Steinway piano is made. She found the awards dinner and factory tour immensely satisfying.
Anna's name is now on a well-presented plaque listing all of Steinway's inductees into their Teacher Hall of Fame. Anna's dedication to music and her students remains the dominant theme in her approach to the piano. As she puts it:
"The more you are given, the more you have to give back."