A Review of Spirio: Steinway & Sons' 21st century player piano
May 21, 2022 •Stephen Reed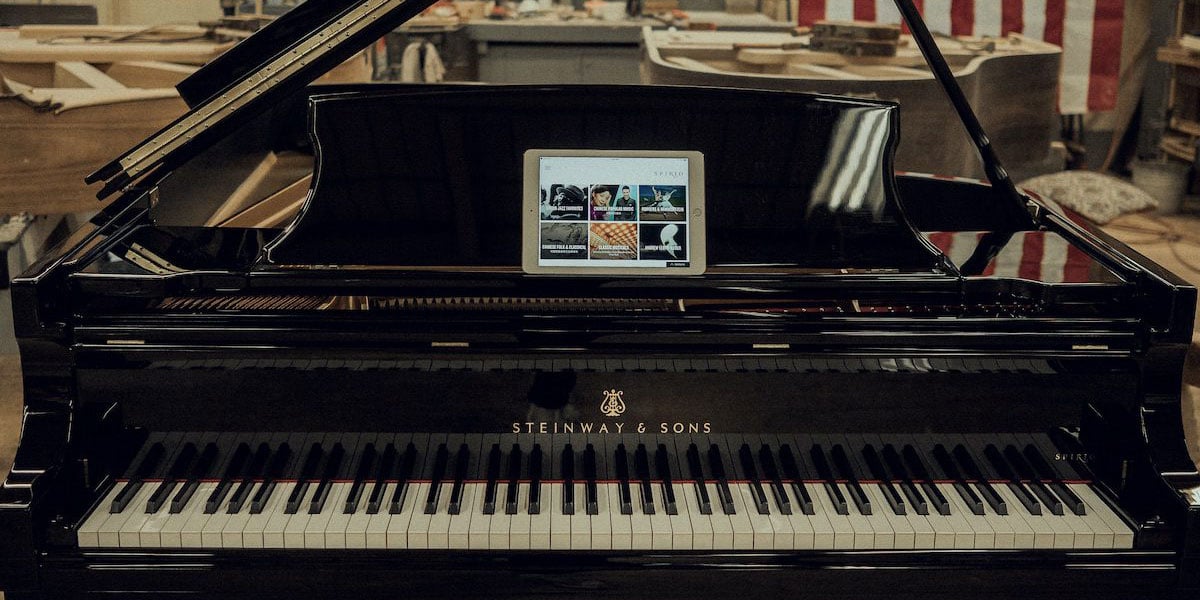 A Review of Spirio: Steinway & Sons' 21st century player piano
by Stephen N. Reed
---
When you say the words "player piano," your mind probably goes back to an older upright from the early part of the 20th century. Such early player pianos reached their greatest popularity n the early 1920s, as radio sets and record players grew in popularity. But for several decades, player pianos were the early 20th century's home entertainment center.
To get a feel for the original player piano again and to see how they work, go to this video.
Today's modern player piano is a huge advancement from the early player pianos. Gone are the old piano rolls and in their place, digital recordings continue the tradition of a player piano being not only playable but an entertainment center with thousands of recording recordings.
This digital technology adds to the price of a new grand piano, so making the best choice for your home is essential. No one wants to have buyer's remorse regarding such a significant purchase.
M. Steinert & Sons has been helping customers find the best piano for them for over 160 years. We've been tracking the modern player piano models from the earliest player grand piano models to today's Steinway & Sons' Spirio. We can answer your questions when it comes to the modern player piano revolution and its current models.
In a recent interview, M. Steinert President Emeritus Paul Murphy traced the beginnings of the earliest player grand pianos sold by M. Steinert in the early part of the 20th century.
"At that time, Aeolian had a pneumatic 'pumper' player that used pedals to move air through the device," notes Paul. "These were usually uprights although some were grands. The original players only played about 65 notes and there was no 'nuance' to the notes. Think off and on."
But as time went on, Paul says that Aeolian developed "reproducer" mechanisms that could reproduce the loud and soft play of the original performer.
"Later models with a "B" drawer could accommodate long-playing rolls and some included an electric clock which would activate the mechanism every hour between 7 a.m. and 11 p.m." says Paul. "The piano would play about two minutes of music appropriate to the hour. I thought of it as a sort of ship's clock with music instead of bells. M. Steinert sold all of these."
The 21st century player piano has much more nuance and other capabilities than the player grand pianos of the early 20th century. By the end of this article, you will understand better the 21st century aspects of Steinway & Sons' Spirio.
Steinway & Sons gets in the game
Steinway & Sons' decision to get into the modern player piano market in 2015 with its Spirio signaled that the modern player piano was not a flash in the pan. With its ability to be both a fully-functioning piano combined with high-resolution playback and recording experience, modern player pianos like Spirio redefined the market.
Steinway & Sons was taking a risk, as its reputation was built on handcrafted pianos of exceptional musical quality, not blending technology and traditional piano design. Would Spirio be a good fit in a player piano market?
On the other hand, having the latest digital technology plus a handcrafted Steinway all in one package could be the complete package for many 21st Century piano buyers.
Plus, for those who might not play the piano but wanted the combination of the high-definition, 5,000+ recordings audio library plus a top-quality, handcrafted Steinway piano was an appealing combination.
Visiting family members and friends who play the piano or who simply share a love of exceptional music recordings can enjoy hours of the high-resolution recordings on Spirio with the homeowner.
For all these potential customers, Steinway & Sons' engineers worked to create in Spirio a modern player piano that was user-friendly and which featured adaptable technology that guarded against becoming obsolete.
Features of the Spirio
Steinway engineers included key, sophisticated features which indicate that they built an improved player piano for today's buyer:
The Spirio recording process
Steinway engineers wanted Spirio to create performances, now or in future recordings, that would be as much like the original performances as possible. As a result, when George Gershwin's "Rhapsody in Blue" was selected, Spirio can present it exactly as Gershwin would play it–right on the Spirio owner's keyboard.
The sensitivity levels built into each key on a Spirio are quite subtle. The music industry's 128-level MIDI standard is well surpassed by a single Spirio key played at 1020 levels, sampled 800 times per second–yielding recordings playing at the highest resolution on the market. There is widespread agreement that going beyond these specifications would yield no perceptible difference in resolution.
Spirio's sensitivity in action dynamics, combined with 256 levels of pedal positioning, form the backbone of the Steinway Spirio performance library.
Just as a Steinway & Sons piano's design allows for a wider range of color for performers to pour themselves into on stage, Spirio's nuanced proprietary data file format captures the nuances and full range of emotion from each artist's level of performance for the benefit of the Spirio owner.
Spirio's ability to replicate smaller increments of velocity on proportional pedaling and the hammers gives it the edge over other player pianos in the market.
Spirio's Steinway Musical Library catalog
Spirio's Steinway Musical Library catalog, now over 5,000 pieces, is regularly updated with 3-4 hours of new content added monthly. Steinway guards against a music catalog that becomes obsolete by freshening it with Steinway Artists who perform both classical and contemporary pieces.
In the same catalog, a music lover can find classical works by Steinway Immortals like Sergei Rachmaninoff and modern jazz Steinway Artists like Aaron Diehl.
Easy to use, detachable iPad interface
Spirio's easy-to-use iPad interface will change as software technology does, but the hardware in the piano is solid. Spirio's hardware features are separate, detachable components, they can be repaired or replaced as necessary.
Spirio engineers realized early on that people tend to use only those technologies that are easily learned and used. Piano consultants at Steinway dealers regularly teach new Spirio owners how to navigate the detachable iPad interface with ease in a single visit.
SpirioCast: Spirio's latest high-tech feature
SpirioCast was added in November 2021. SpirioCast features Steinway curated events, master classes with Steinway Artists, and the sharing of international performances in real time between remote instruments.
This technology allows for a broad range of distance learning opportunities and remote musical practice sessions–enlivening one's living room with exceptional educational and entertainment experiences.
Steinway envisions a SpirioCast community that can enjoy a concert or class at the same time, with a performer or teacher channeling their music directly through thousands of Spirio keyboards simultaneously.
Does Spirio deliver on the promise?
Sometimes a piano company will add a few new bells and whistles to an existing model without going straight to the heart of what buyers want. Steinway & Sons' engineers took another tact. They wanted Spirio to be not only different but unique in the modern player piano market.
As a result, they focused on three critically important areas. They were willing to come into the market later with Spirio until they solved these two focused on two important areas to quickly become competitive in the modern player piano market.
First, they evolved and engineered the high-definition player hardware that is at the core of the Spirio playback experience.
Second, they focused on creating a large, high-definition performance library. One of the most important features of the Spirio is in the resolution available for its digital recordings. Steinway & Sons' data file format captures the nuances and full range of emotions from each artist's level of performance.
Third, they waited to rollout Spirio until they had conducted sufficient testing on the detachable iPad interface. Having a user-friendly, detachable interface is important, as people will not use an interface that is difficult to use.
More recently, the introduction of SpirioCast in November 2021 gives Spirio users a whole new high-tech educational and entertainment experience in their living rooms around the world, creating a new community for music lovers.
SpirioCast's development demonstrated Spirio's versatility and future potential as an adaptable, versatile instrument that would have future applications for families, as well as individual artists and students.
For the highest possible resolution musical library, ease of use, and a handcrafted grand piano, Steinway & Sons' Spirio is the total package. But is the added cost to upgrade to a Spirio worth it to you? And will Spirio's technology ever become obsolete? To learn more read the following articles: